Health care leaders applaud appointment of Kate Walsh as Massachusetts health secretary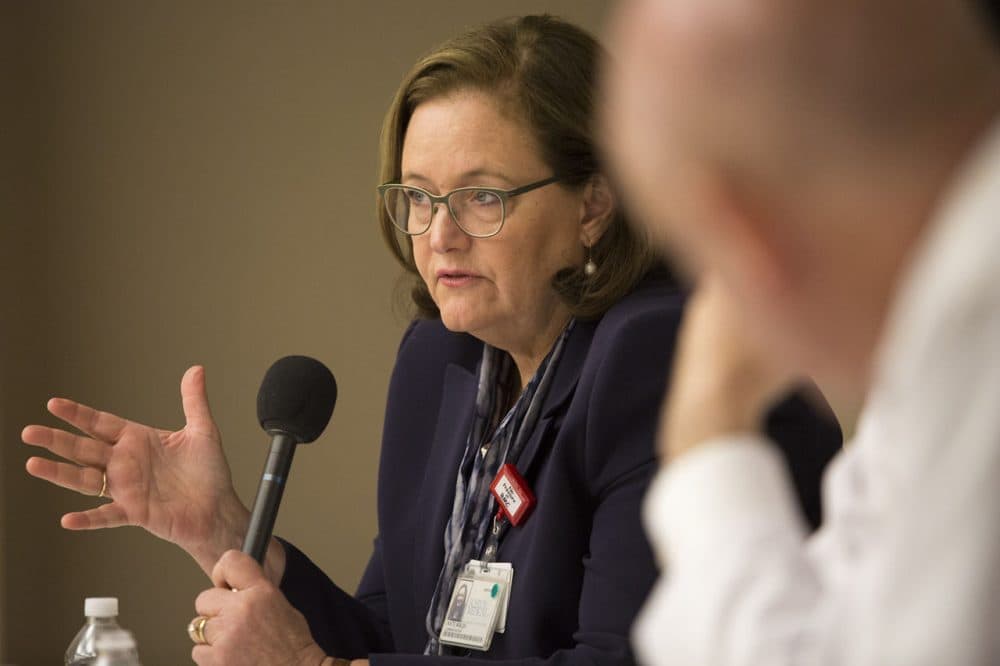 Gov. Maura Healey has tapped Kate Walsh, president and CEO of Boston Medical Center, to lead the state's sprawling health and human services secretariat.
Walsh, a seasoned health care executive, is the latest of Healey's appointments since the new governor took office on Jan. 5.
"Kate Walsh is exactly the leader Massachusetts needs for this moment in health care," Healey said in a statement. "She has a proven track record of delivering results on health equity, affordability and behavioral health, while also addressing social determinants of health like food and housing insecurity."
Walsh succeeds Marylou Sudders in leading the state's largest executive office. Sudders, the longest-serving secretary of health and human services, retired earlier this month as the new administration took office.
The Executive Office of Health and Human Services includes a dozen state agencies and the MassHealth program, with a combined budget of over $27 billion and 22,000 public employees. The services and programs that fall under the office's oversight represent 53% of the state's budget and provide treatment to one in every three residents, according to EOHHS.
"This is a critical moment for our state, as we continue to address the impacts of the COVID-19 pandemic, widening health disparities, skyrocketing health care costs and a devastating behavioral health crisis," Walsh said in a statement.
Health care leaders applauded her appointment to Healey's cabinet.
Steve Walsh, president of the Massachusetts Health & Hospital Association, (who is not related to Kate Walsh) called her "an embodiment of everything our health care system strives to be," and "an outstanding choice."
Amy Rosenthal, executive director of the consumer advocacy group Health Care For All, said, "We are confident she will continue advancing health equity, affordability and accessibility of care amidst the ongoing effects of the COVID-19 pandemic and the challenges in our health care system that impact people of the commonwealth every day."
Tim Foley, executive vice president of 1199SEIU, the biggest health care labor union in Massachusetts, said Walsh understands the many challenges facing the health care system and its workers.
"But I think she's got a lot to learn as it relates to nursing homes and home care," he told WBUR. "And that's an area where we hope to work with her, as well as on the issues that are affecting hospital workers."
Walsh has led BMC for nearly 13 years. She previously worked as executive vice president and chief operating officer of Brigham and Women's Hospital, and senior vice president at Massachusetts General Hospital, among other leadership roles.
She is a graduate of Yale University, where she earned a Bachelor of Arts degree and a Master's Degree in Public Health.
At BMC, Walsh has launched initiatives to promote health equity and behavioral health and addiction treatment. She advocated on Beacon Hill for greater resources for behavioral health care, and led a collaborative to create affordable housing in Dorchester, Roxbury and Mattapan to train and connect Black and Latinx residents with full-time jobs in health care, technology and biotech.
"We are excited for her to bring her experience, passion and commitment to excellence to the commonwealth of Massachusetts, and have no doubt that she will be a positive force for people across the state," Mark Nunnelly, chair of BMC's board of trustees, said in a statement.
BMC Health System's president, Dr. Alastair Bell, will serve as interim CEO.
With reporting from State House News Service's Sam Drysdale.
This article was originally published on January 25, 2023.