Celebrating 25 years of the Lizard Lounge Poetry Jam and the man who started it all
Resume
Sunday nights at the Lizard Lounge are a time when poets can slam, spit and carry a chorus alongside jazz musicians. In February, the community celebrated the Poetry Jam's 25th anniversary and the man who started it all.
Jeff Robinson founded the Lizard Lounge Poetry Jam in 1998 as a way to perform. He became a host, a slam master for competition, the person setting up chairs and testing sound equipment. Those who have been there since the beginning confirm he rarely if ever missed a Sunday.
But to truly understand his legacy, you have to ask the poets. He's pretty humble, a jazz musician who doesn't like to talk about himself. So as he prepared to retire, finding a way to celebrate him took some convincing.
Poet Joyce Cunha, known as the "slam mama," has been a co-host with Robinson at the Poetry Jam for years. "He fought us tooth and nail. He's like, 'Joyce, I'm not an attention seeker," she said. "I was like, 'Ok, but you have hundreds of people who are attention seekers who want to pay tribute to you. So let us do it!"
He gave in eventually. They gathered on a recent Sunday, in that same dark basement where poets have performed for years. Here, music perpetually mingles with spoken word that lingers in the air like a haze. A bar in one corner serves a drink called the "Jeff Robinson." There's soft carpet underfoot. The host that night, Harlym 125, set the mood for the evening and the poetry to come.
"Turn to the person next to you and say you look good," he said. "Turn to the person behind you and say you look beautiful…"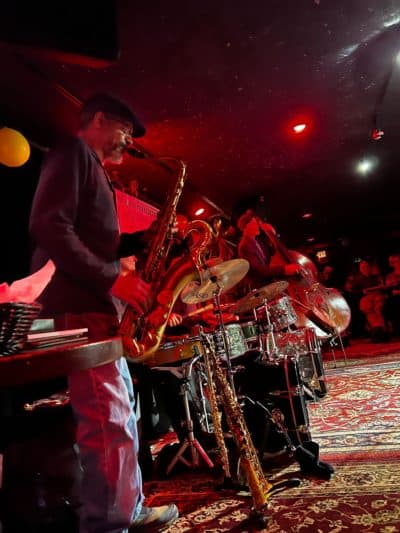 Poet Trish Ginese took to the mic. Robinson backed her on the sax.
"I can see you through the prism of my life," she said, slowly drawing out the words. "Colored, overlapped, conceptual, magnified."
She finished her poem and quickly noted that she had another. A tribute.
"I have known and loved and adored this man for 25 years," she said. "That is something very special and very magical."
Singer and poet Iyeoka Okoawo concurred. "I consider myself a lobbyist," she said. "This is a 25-year dissertation in the making underground. Berklee College of Music needs to give this man a doctorate, a doctorate in jazz and music and poetry and engineering — everything."
This is how the night went, one poet after another, celebrating the man who made it happen week after week, dealing with poets, egos, and technical difficulties with grace and a sense of humor.
"I'm not a poet, but I do love playing music with poets," Robinson said during an interview earlier that week. "It's been an eye-opener and it's changed my music dramatically."
A poetry night with this much history is a rare thing. Bassist and composer Blake Newman remembered riding high in those early days when spoken word was on the rise and the nights were packed with energy.
"I literally remember talking about, 'Oh, man, you know, we're just going to keep doing this. You know, we'll be old men. We'll have to walk out of here using a cane. We're going to do this forever,'" Newman said. "So the thought was definitely there. We were going to do this for as long as we could."
If you ask Robinson, creating the poetry jam was a journey, one that started after he arrived in Boston from Saint Louis to study music at Berklee. He found poetry through his love of theater. Though he's played his saxophone behind poets across the country, he's also a trained actor, director and playwright. His one-person show about jazz legend Charlie "Bird" Parker, titled "Live Bird," appeared off-Broadway and in Charlie Parker's hometown, Kansas City, Missouri.
"One of my teachers, when I was studying theater, had said that every actor should be a poet," Robinson said. "And I liked that saying, but at the time I was and still am a musician and an actor. And I thought, you know, I can only wear so many hats, but that never left me."
Over the years, the poetry jam has drawn all kinds. This Sunday brought newcomers who arrived nervous, but ready to share poems about love or their pet who just passed away, and legends of the poetry community like Regie Gibson.
"There was something in the space tonight, because of the people who were there, that is beyond my experience to be able to name," Gibson said. "Which for me as a poet is what creates poetry. Because if you can name it, then you just write prose. If you can't name it, you write poetry."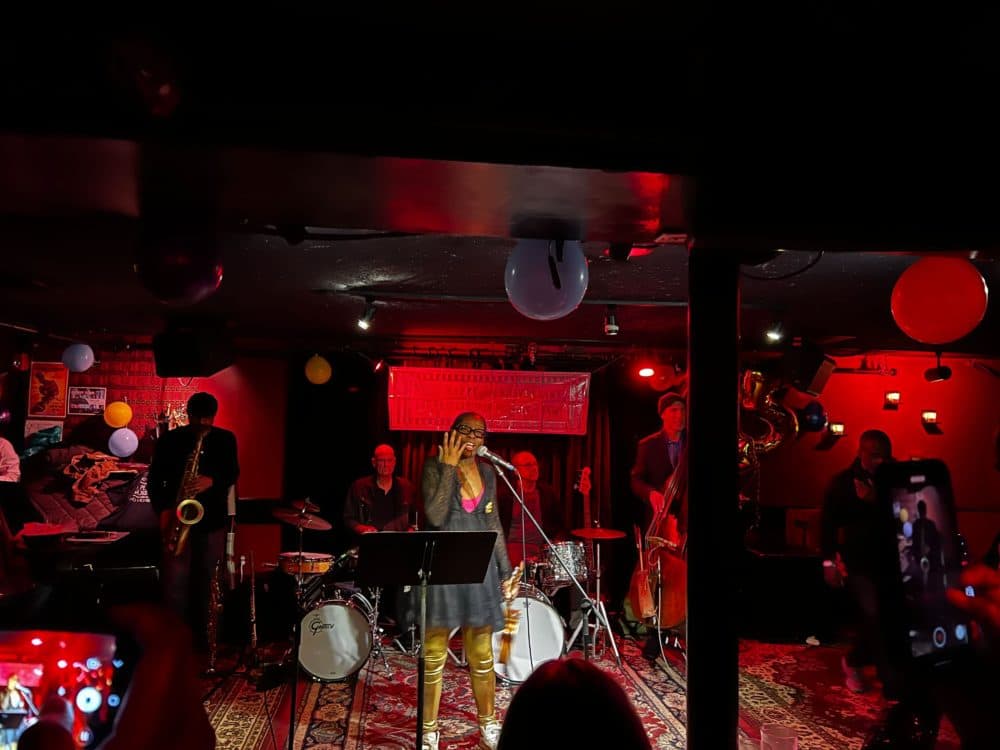 That indescribable feeling is what keeps people coming back. Roxbury native Jeannie Nunes, who won the slam that evening, has been attending the poetry night for 22 years.
"Like we all do it out of love," Nunes said. "You know, the majority of the poets you heard tonight are all well in their 40s, some of us are hitting 50, [with] grown kids, some of them [are] even grandparents on that mic," Nunes said. "But when you get on that mic, on that stage anyway, we defy age. We defy any other thing, any barrier. It's church. That's what I call it."
Margot Malia remembers being a 25-year-old on the mic, talking to Robinson almost every week about her dreams.
"I found my voice here," Malia said. "I was not a singer until I came here. I'm classically trained on the piano and the violin. So, I had a musical sensibility about me. And when I would get in front of the band and I'd hear them, I was triggered to sing, and it's very inspiring."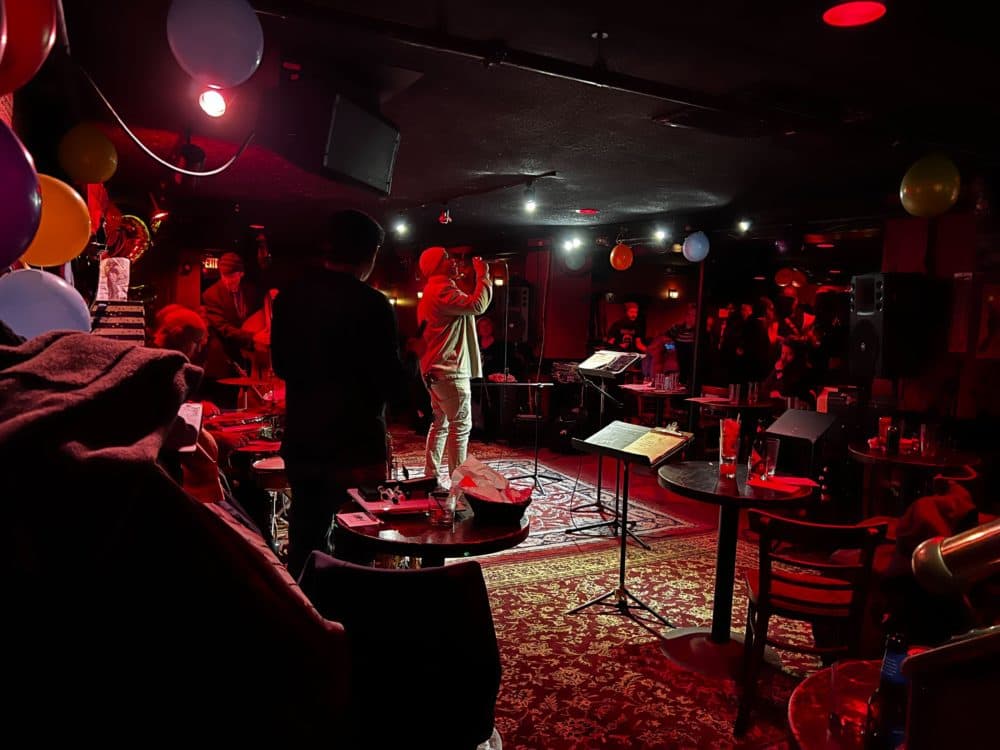 Though Robinson is stepping away from the Poetry Jam, the mic will still be there on Sundays. Poet and frequent host Nicole "cole" Rodriguez made a promise to continue Robinson's legacy of uplifting artists. She also can't wait to hear what he does next.
"I am grateful for what you have created," Rodriguez told him. "And I look forward to you not on this mic. I look forward to [you] visiting as a guest saxophone player. I look forward to you telling me stories about what you do on the weekend now that you don't got to come here every week. I look forward to when you show up with a poem of your own."
At the end of the night, Robinson took to the mic, thanking those in the room and giving some parting words in the best way he knew how. On his saxophone.
This segment aired on March 1, 2023.