The Confidante: Author Christopher Gorham revives the story of Anna Rosenberg
Play
For history teacher Christopher C. Gorham, inspiration came from a photograph.
He spotted the black and white photo about five years ago. It showed President Harry Truman sharing a hearty laugh with a middle aged woman wearing a smart suit, a big brooch and a hat. Gorham had to find out who this woman was.
She turned out to be Anna Rosenberg, who fled Hungary with her family as a child around 1900, just before World War I. She had no education beyond high school, but through a mix of political acumen, patriotism and personality, she became an indispensable advisor to several U.S. presidents.
Rosenberg was the top woman at the Pentagon in the Truman administration as it desegregated the armed forces. She became Truman's assistant secretary of defense in the Korean War. President Dwight D. Eisenhower nominated her for the Medal of Freedom, the highest civilian honor. And President Lyndon Baines Johnson leaned on her counsel during the tumultuous battles over civil rights.
Yet, historical records rarely mention her.
Gorham, who teaches modern American history at Westford Academy in Westford, Massachusetts, told his high school students about Rosenberg, and some of them decided to do a project on her. Since they couldn't find a biography on Rosenberg, Gorham took the students to the Schlesinger Library at Harvard to search through her archives.
What they found exceeded their expectations.
"There were handwritten letters from Harry Truman, President Roosevelt, Eleanor Roosevelt, General Eisenhower, Lyndon Johnson," Gorham recalled. "It was a treasure trove of history."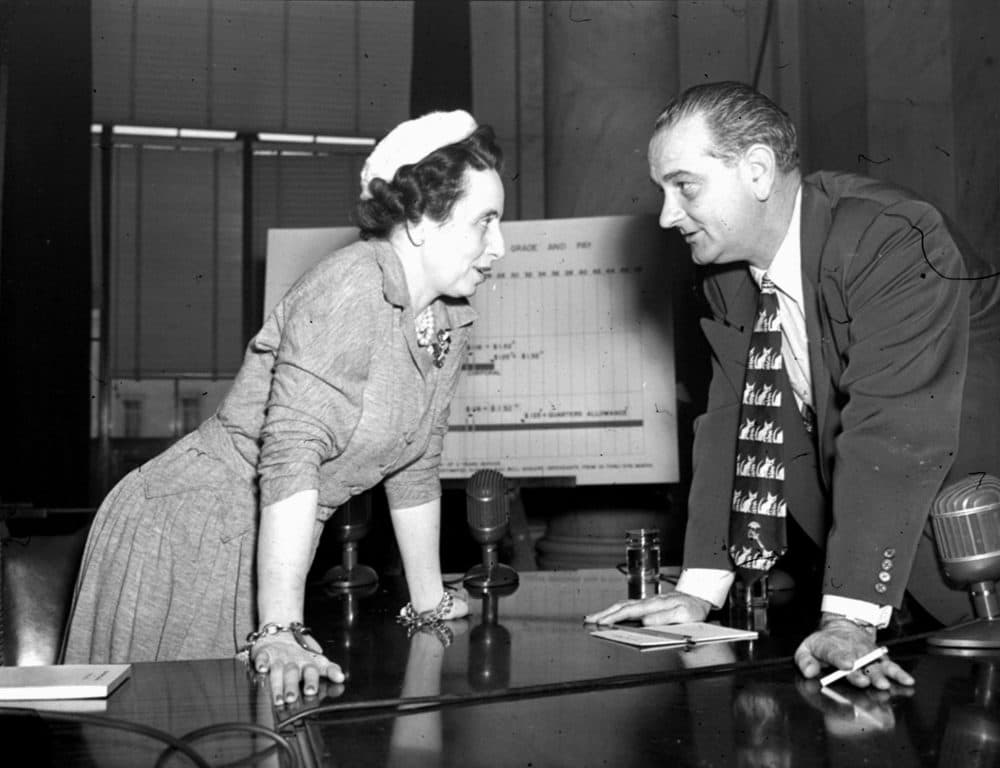 That's when Gorham decided to tell Rosenberg's story, himself. His book, "The Confidante," hit the shelves last week.
Gorham sat down with All Things Considered host Lisa Mullins to talk about the fascinating life of Anna Rosenberg.
Highlights from this interview have been lightly edited for clarity.
Interview Highlights
On how Rosenberg navigated the unwomanly world of politics: 
"She was genuine, I should say that to start. But she was a chameleon insofar as if she was talking to a Teamsters Union of truckers, she could talk tough. She could use some of the salty language.
"But she could also be demure and very womanly. It was just a very rare combination of skills and emotional intelligence that Anna Rosenberg possessed."
On how Rosenberg masterminded the "Buffalo Plan" during World War II:
"(President Franklin) Roosevelt sent Anna Rosenberg [to look into the labor shortage in Buffalo, New York in 1942.] And she said right away: 'We're going to need more women.'
"It wasn't just single women, [it] was married women with children. They were going to need childcare, housing and a place to cash their checks at two in the morning when they got out of work.
"[She involved] not only women but Black Americans and disabled Americans. When the leaders of Buffalo resisted, she lectured them and said there was no time for disunity and discrimination. It was all hands on deck. Everybody pitched in and those contracts were fulfilled and we were able to fight the war on all fronts."
On how close encounters with soldiers inspired change: 
"Just a few weeks after D-Day, Anna followed General [George] Patton's army across France. She was sleeping in the tents, eating rations off the hoods of jeeps and she was listening to soldiers. They were pulling pictures out of their helmets and telling her stories and sharing their dreams and hopes for the future.
"And what she found is that they wanted an education. They wanted to go to college. This generation of Great Depression and then war had never even dreamed that that was a possibility. But if they made it back alive, that's what they wanted to do. That became a major part of the G.I. Bill."
On Rosenberg's dedication to Veterans Affairs:
"She loved the guys that she had spent time with in Europe. She'd seen what they'd seen: the death, the destruction, the widows, the orphans. And she knew they were different people when they came back to the States than when they left. So she worked very, very assiduously for Veterans Affairs." 
On leaving no memoir: 
"One of the reasons was her own reluctance to trumpet her accomplishments. All the folks that had worked in the New Deal and through with Roosevelt during World War II had written memoirs and she found that distasteful.
"She had been told in the Oval Office, in the sun room of the White House, and over lunches and dinners, one on one with President Roosevelt, all these things and she was going to keep the confidence. She was the confidante, after all."
This segment aired on March 2, 2023.