Yes, this winter has been warmer than usual — and we may have to get used to that
Resume
At the Blue Hill Weather Observatory and Science Center, the highest point in Greater Boston, Don McCasland pointed to a long white board on the ground used to measure snow accumulation throughout the season. McCasland said this winter, there's been little to measure.
"I've worked here for 22 years and, um, this is tough," said McCasland, an atmospheric educator and program director at the observatory. "We've had some winters where we had to walk across mud to get to certain [areas], but nothing to the extreme that we've had this winter."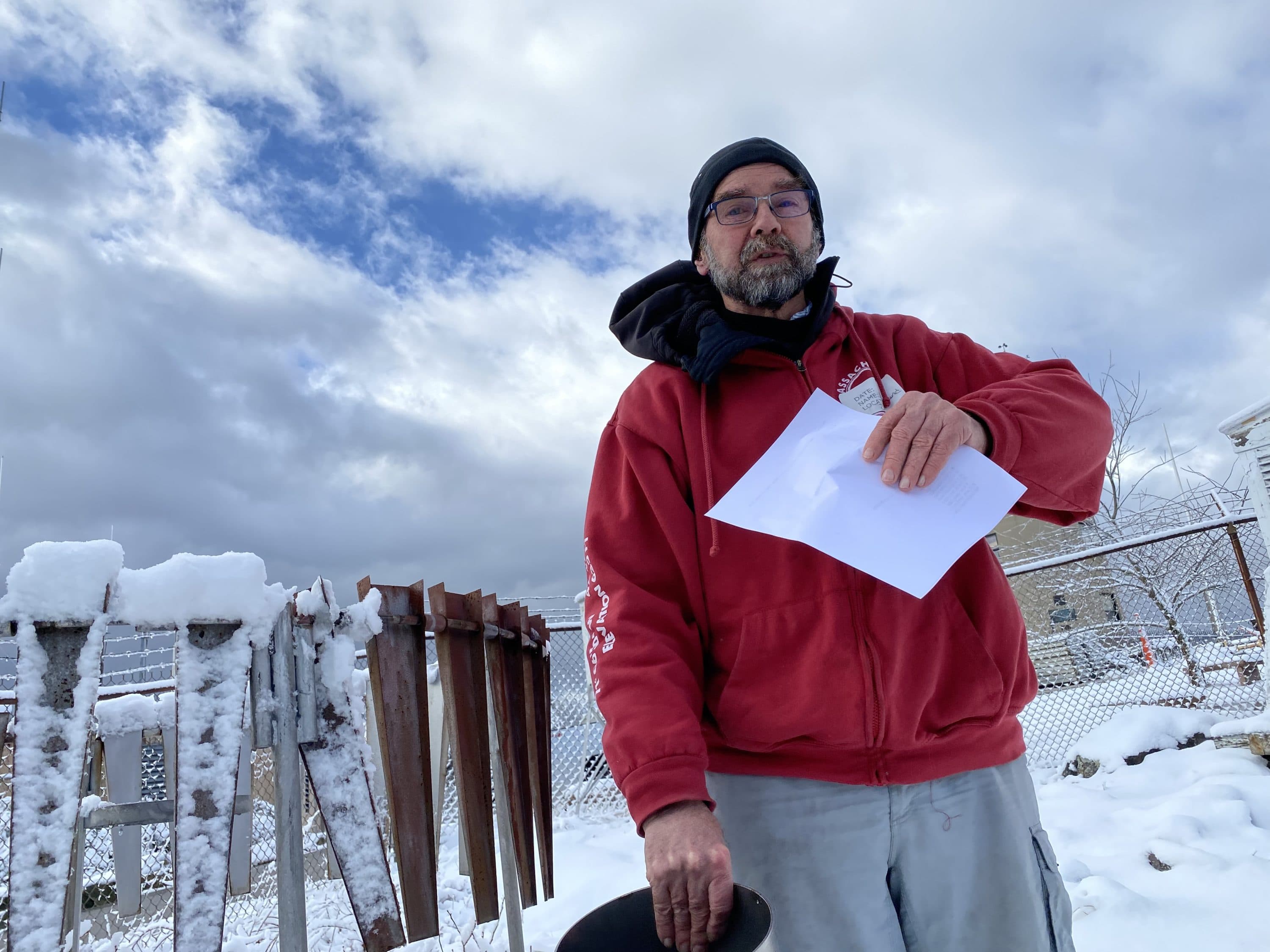 While many locals are relieved they haven't had to fire up their snow blowers all winter, climate scientists see a symbol of a quickly warming New England.
According to researchers, the southern part of the Northeastern U.S. — which includes Boston — could see an almost total loss of snow and freezing temperatures by the end of the century, especially in coastal areas. That means this year's warm winter could be the new norm.
So far, this is the fifth warmest winter on record for Boston — with average temps at 36.7 degrees  — compared to normal winter average temps which are below freezing.  This year, Worcester recorded its warmest winter ever with average temperatures of 33.7 degrees, compared to its usual average of 27.4 degrees.
But McCasland said what's remarkable about this winter isn't the lack of snow or the higher temperatures — it's the almost-complete lack of snow accumulation.
"If we get three inches of snow and it's 30 degrees, that snow is going to compress very quickly," he said. "And then if the next day it's 40 degrees, it's gone — out of sight, out of mind." 
The lack of snow cover is a problem for flora and fauna that have adapted to freezing winters over millennia. Take trees, for example, which can have sensitive root systems close to the ground. Without snow cover, the roots can be damaged by freezing and thawing that would be less likely with an "insulating blanket of snow," said Andy Finton, an ecologist who specializes in trees at the Nature Conservancy.
"I think one winter of no snow is not going to destroy entire populations of plants or animals," he said. "But it's one more stressor that can reduce the abundance of a population, whether it is a tree species or a small mammal or a bird species."
At Mass Audubon's Drumlin Farm Wildlife Sanctuary in Lincoln, biologist Tia Pinney points to a host of little mammals that neither migrate nor hibernate — like voles and moles and field mice — but instead find protection beneath the snow, both from predators and the cold.
Even though there was some white stuff on the ground, Pinney said it wasn't enough to create a habitat for creatures who dwell under the snow. To demonstrate, she scooped up a handful from the ground, crunching the icy-white mix in her bare hands.
"I can feel several different layers of ice and snow where it has frozen and thawed and refrozen and thawed again," she said, adding that ice does not provide the same level of protection for the organisms that live under it.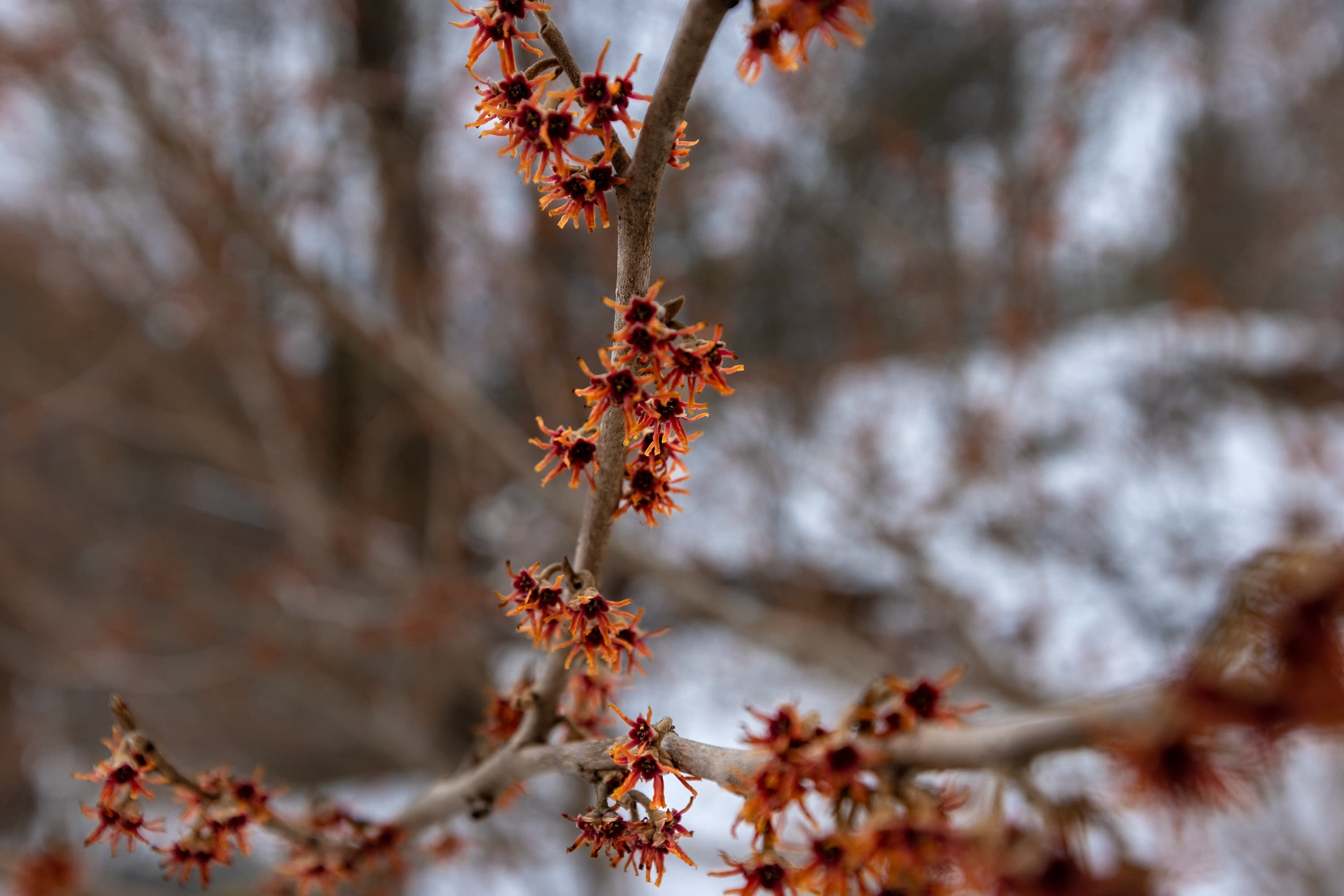 New England's winters are warming faster than any other season — and it's happening more quickly here than in most of the country, said Elizabeth Burakowski, a climate change researcher at the University of New Hampshire. Burakowski grew up in southern New Hampshire in the 1980s, and said the winters she knew as a kid are gone.
"Winters were snowier in the past, winters were colder in the past," she said. "When I look at climate data from stations all over the northeastern United States, we see that winter has indeed lost its cold, it's lost its snow."
Burakowski said the duration of the cold period — from the first freeze to the last — is around three weeks shorter than it was a century ago. That trend has accelerated in recent years.
None of this is to say we won't see proper blizzards in the future, Burakowski said, but Boston winters are likely to be more like winters in more southerly regions.
"What we grew up with is now changing to a climate that's much more like, say,  northern New Jersey," she said with a laugh. "And I don't know about you, but I'm not one to plan winter vacations in northern New Jersey."
By the end of the century, our winters could resemble the winters we see today in Virginia or North Carolina, Burakowski added. We'll likely have to go farther into northern New England to get the same kinds of winters Boston had just decades ago.
The cold months are also bound to bring fewer winter wonderlands and more sloppy slush-scapes in the years to come, said Emma Gildesgame, who studies climate change adaptation at the Nature Conservancy. She pointed to climate models that predict major increases in winter precipitation levels in the coming years.
More precipitation, coupled with warmer winters, means we're likely to see slushiness on the ground throughout the winter, said Gildesgame. "It's dangerous and we'll have to put down more salt."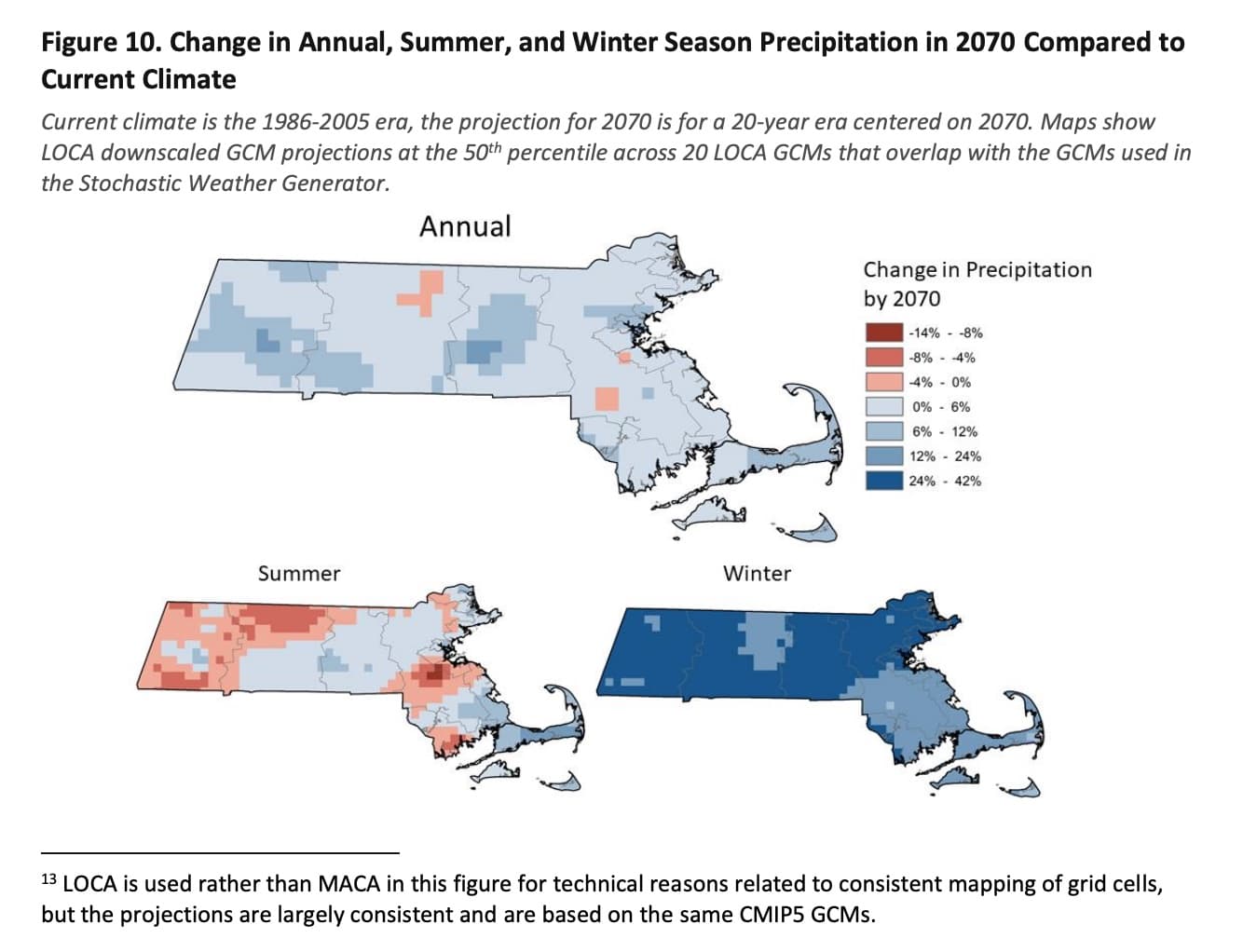 And what will those snowless, wet winters, mean for our sense of self as hearty northerners? Gildesgame thinks we'll have to recalibrate.
"As New Englanders we go sledding, we have snow days, we shovel out our spots and fight over a parking spot," she said. "And all of these things are just little pieces of what it means to be a New Englander — all of that is changing."
Lowering emissions could help slow climate change, experts say, but even with drastic interventions, New England winters will continue to warm.
There is, perhaps, one silver lining of this unusual winter, say the scientists interviewed for this story: it's a wakeup call. And it's a reminder to enjoy our fleeting snowstorms, even if we have to get the shovels out again.
This segment aired on March 9, 2023.