5 things to do this weekend, including an improv show and a travel-inspired exhibit at the Gardner Museum
We're almost there — just a week and a half until spring is officially here. And regardless of what the weather decides to do, knowing that the calendar says springtime is enough for me. But until we get there, I will fill my weekends with fun things to do so I can forget the cold. Or at least distract myself from it, and this weekend is no different. From an exhibit exploring the travel albums of Isabella Stewart Gardner to a concert highlighting the talented students of Project STEP, here are five things to do over the next few days.
Friday, March 10
ImprovBoston's National Touring Company performs at The Rockwell in Somerville on Friday night. For those who have never been to an improv comedy show before, the cast creates scenes inspired by the audience. According to its website, ImprovBoston is in a restructuring phase as it works to rebuild after the COVID-19 pandemic forced the organization to give up its space. While they continue to perform and teach around New England, Improv Boston is working on building a new space. Support their efforts Friday night and enjoy a few laughs while you do it. The show is for those 21 years of age and older.
---
SpeakEasy Stage's 'Fairview'
Through Saturday, March 11
There are only a few more days to catch SpeakEasy Stage Company's production of Jackie Sibblies Drury's "Fairview," the winner of the 2019 Pulitzer Prize for drama. WBUR theater critic Jacquinn Sinclair summed up the plot of the play as "a birthday party for Grandma becomes the lens through which to interrogate the white gaze, overt and subtle racism, unwanted scrutiny and all the squirming discomfort that comes along with it." For WBUR readers, there are a couple of familiar faces both behind the scenes and onstage, including director Pascale Florestal (a member of our 2021 ARTery 25) and actor Lyndsay Allyn Cox (a member of our 2019 ARTery 25 cohort). The show runs through Saturday at the Boston Center for the Arts' Roberts Studio Theatre.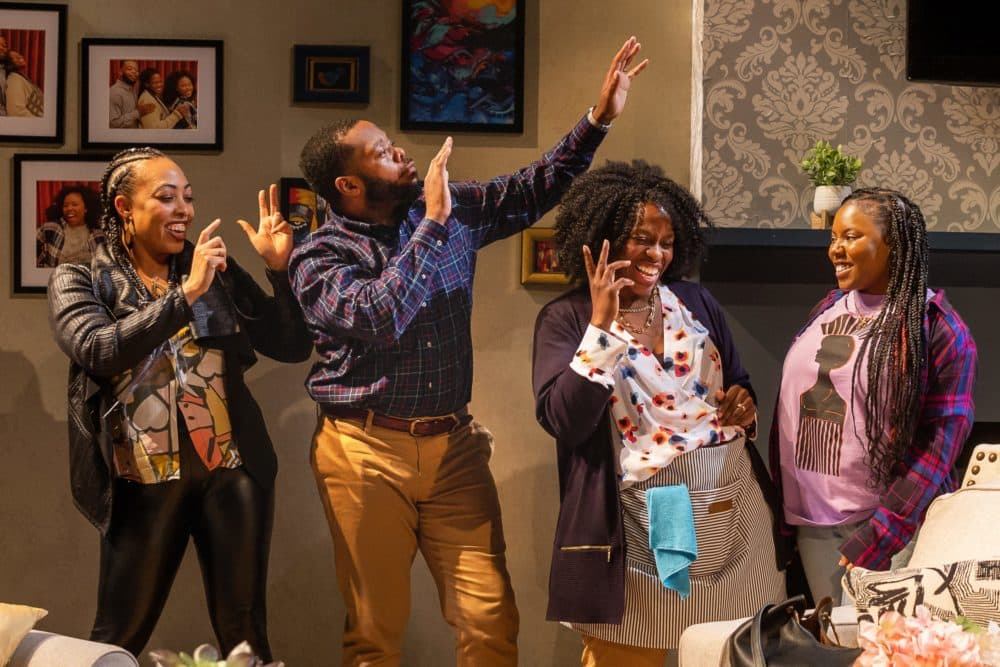 ---
Saturday, March 11
Head to the Somerville Public Library to meet some of the city's writers for "locally sourced, organically grown literature." Cartoonist Dave Ortega will be in attendance. His latest graphic novel, "Días de Consuelo," is a memoir based on his grandmother's recollections connected with the Mexican Revolution. Also in attendance? Our own arts critic Lloyd Schwartz, who is also Somerville's Poet Laureate. Poet Denise Provost, short story author Lesley Bannatyne and novelist Kevin M. McIntosh round out the roster. The afternoon will be full of readings, and the authors will be on hand to sign books and answer questions. The event is free and open to the public so swing by the auditorium to check out what these local authors have in store.
---
Sunday, March 12
Celebrating 40 years, Project STEP (String Training Education Program) is hosting an anniversary concert at Rockport Music-Shalin Liu Performance Center. With the goal of creating more equity and diversity in classical music, the organization focuses on training and supporting young musicians from underrepresented backgrounds. Project STEP will perform with Castle of Our Skins, presenting a program that includes works by contemporary composers Anthony Green and Quinn Mason and classics from Franz Joseph Haydn. While the event is unticketed, reservations are encouraged.
---
Through May 21
The Isabella Stewart Gardner Museum is an intimate experience — it feels like you're walking through someone's house (or a really wealthy person's mansion), getting to look through their things, open drawers and flip through the pages of albums. The museum ups this feeling with the show "Fellow Wanderer: Isabella's Travel Albums," displaying a selection of pages from nine of Gardner's travel journals that are collaged with photos, plant samples, handwritten notes and watercolors. As part of the exhibit, the museum rounded up a selection of artists and scholars to respond to the privilege Gardner experienced during her travels as an American tourist and what is missing from those albums.