An awkward romance takes flight in SpeakEasy Stage's 'Wild Goose Dreams'
Loneliness chews away at the soul. For Yoo Nanhee and Guk Minsung, two people far away from their families, it's too much to endure. In search of something to fill the void, the two find each other on a dating app and connect. Kind of.
Hansol Jung's "Wild Goose Dreams," presented by SpeakEasy Stage Company through April 8, tells the nuanced story of Nanhee (Eunji Lim), a North Korean defector, and Guk Minsung's (Jeffrey Song) awkward romance and the context that brings them together.
Bright pink, green and blue strings flank both sides of the stage and signs of Tom N Toms Coffee, KFC and more hang high above. The setting is the city of Seoul, Korea. It's a busy place, and the noise of it — at least the sounds of the social media (including the ads) the city dwellers use — is beeped, sung and spoken by cast members. They are the overwhelming personification of the internet: think voices singing or shouting "open Angry Birds," "zero Facebook notifications," "Your Google search results are…" and more). Even the phone's ring is vocalized. Ensemble members also portray the digital versions of Nanhee and Minsung. It's a metaphorical undercurrent of sorts that teems with the chaos and vibrancy that regular life sometimes lacks.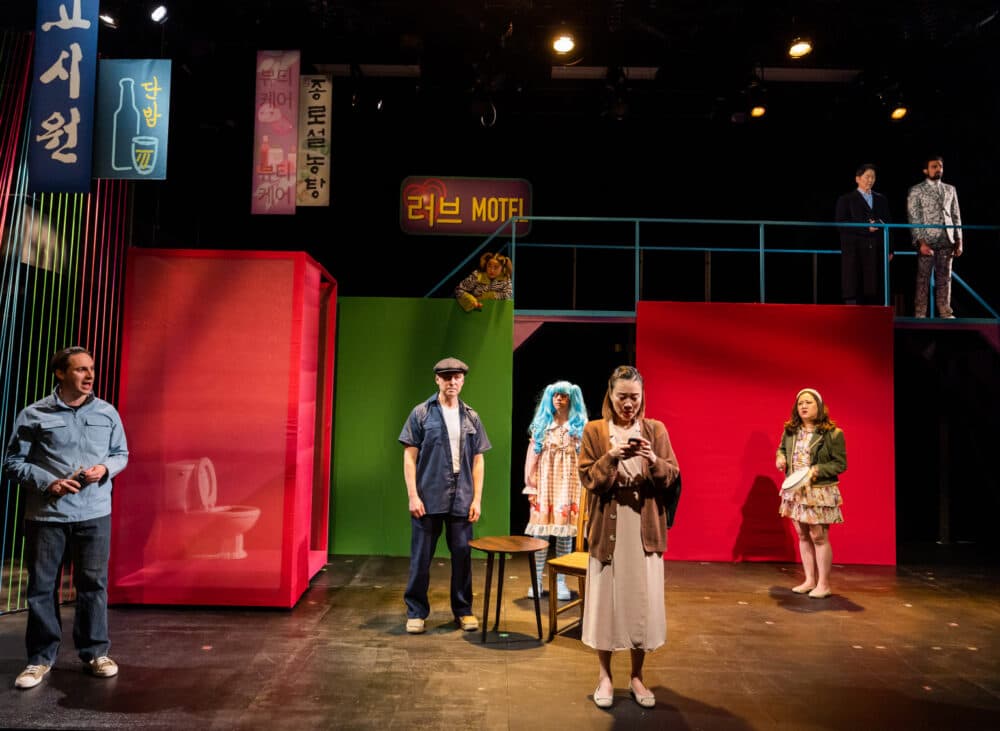 It's helpful to know some of the differences between living in North Korea and South Korea before viewing the play, but even if unaware, Jung's dialogue teases some of it out: living under significant restrictions, the inability to trust others with plans of defecting, societal rules in both places and more. The narrative doesn't linger too long in differences or darkness, but there is an overtone of sadness. But the show is also quirky and funny at times. There's a smattering of Greek chorus-style singing most memorably when North Korean soldiers appear, brief internet fame for Minsung for a song about suicide, and a comedic scene where Nanhee believes that Minsung stole her bra.
On her website, the show's director Seonjae Kim—who penned the musical "Riot Antigone" (her take on Sophocles' tragedy) and recently served as associate director of "KPOP" on Broadway — writes that "growing up between South Korea and the United States, I've always identified as a liminal being. My sense of belonging in two cultures used to make me feel fragmented and lost." That transience and fragmentation shows up in Jung's script with these two characters who seem like they're not fully knowable to each other. They speak the same language but they're from two very different worlds. Even the scenic design aligns. Set designer Crystal Tiala's colorful, modular structures that act as living spaces are inspired by Korean artist Do Ho Suh's "Passage/s," a work that gives "form to ideas about migration, transience and shifting identities."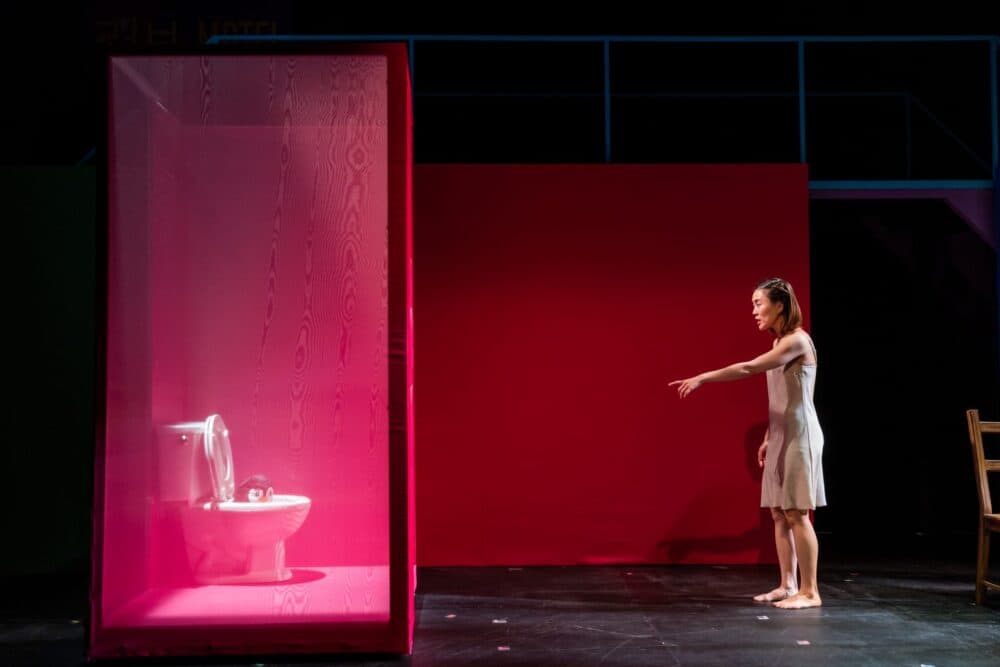 While Nanhee is free of some of the challenges she faced in North Korea, she remains worried about her father and is without community in South Korea. Her thoughts manifest as penguins (cast members with penguin heads on or penguin props when appropriate) without wings ambling about tormenting her. What's sweet about Minsung's realization of it is that instead of teasing her, he helps. If Nanhee says a penguin is in the toilet, he flushes it — no big deal.
Minsung is a gireogi appa, or goose father. A goose father stays in Korea to make money to support his family. In Minsung's case, he sends money from his job at Samsung to his wife and daughter in the U.S. Over time, it's clear that the thread holding Minsung's relationship together is thin. His wife and daughter don't seem real to him anymore, separated by geography and too much silence. Nanhee's thoughts of her father, on the other hand, seem very real to her as he (or the representation of him) follows her around.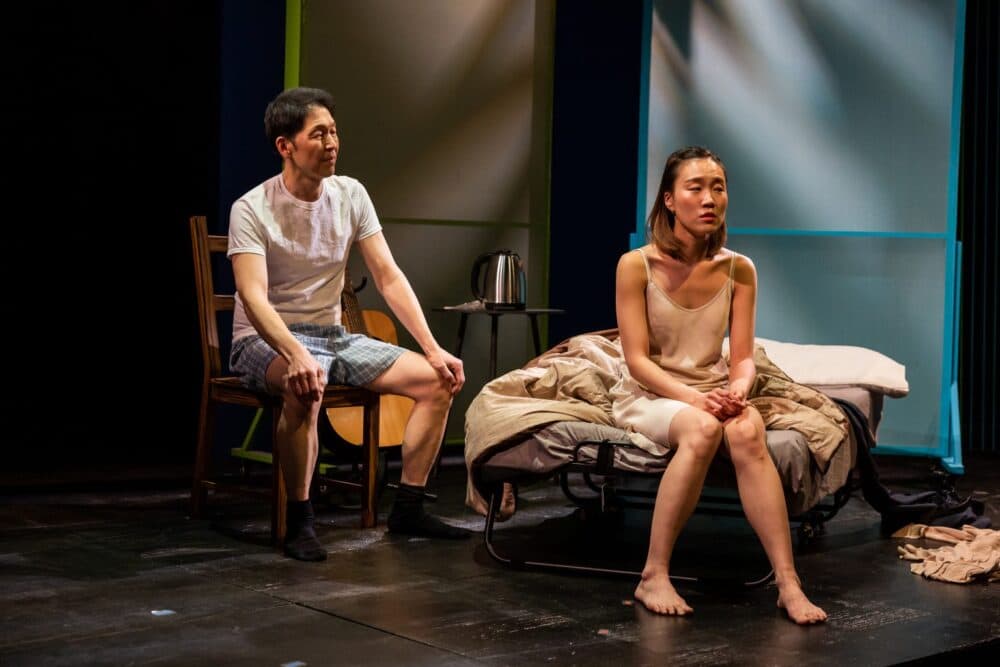 Nanhee and Minsung, who plays guitar and sings in the show, meet and have a one-night stand. The following day, Minsung declares how responsible he is and that he will care for Nanhee and the baby if one comes. Even with that offbeat, well-meaning declaration, they persist nonlinearly for a while. There's a little love, and Minsung says so. He writes a song about Nanhee, but she misses the meaning. The two often misunderstand each other, wondering if a joke is specific to North or South Korea; even coitus is cumbersome to initiate.
Still, what's universal is the need for love, connection and community. What's tough about this narrative is that even after a terrible event occurs, emotionally, I'm left empty. But maybe that's the point too. Social media can be a place where one can build a brand or community and be catapulted to fame; it's also filled with images that can remind one of what and who is missing from their lives. Though it's a great short-term stand-in when apart from loved ones, nothing can fully replace in-person relationships.
---
SpeakEasy Stage's production of "Wild Goose Dreams" runs through April 8.