Nepali artist Imagine reflects on her work joining the MFA's collection
If you live in Massachusetts there's a pretty good chance you've seen one of Nepali artist Sneha Shrestha's massive, eye-popping murals. Via her street name Imagine, she's enlivened buildings in Allston, Cambridge, Lynn, Dorchester, Worcester and beyond with curvaceous Sanskrit and Nepali lettering.
We got to know Shrestha as part of our 2019 series highlighting millennials of color making an impact on the Boston arts scene. Back then, she explained how — through fluid gold, orange, red and blue brush strokes — she riffs on American graffiti's use of tags. Shrestha's calligraphy, writ large, broadcasts her homeland's alphabet and culture in public spaces.
This international artist's signature walls can be found in Cambodia, Istanbul and her native city of Kathmandu. But Shrestha also makes her singular visual voice heard, a bit more quietly, in galleries. While her works on canvas are much smaller than the murals, they're just as vibrant, meditative and deeply personal.
In February, the Museum of Fine Arts, Boston acquired one of Shrestha's paintings — titled "Home416" — and it's the first by a contemporary Nepali artist to be included in the MFA's collection.
"Home416 encapsulates many things within a single canvas," said Laura Weinstein, the museum's curator of South Asian and Islamic art. "It speaks to the language and art of Nepal, to the street and public art landscape of Boston, and to the power of words and scripts to express fundamental human truths and needs. It also conveys the unique vision of a Boston-based artist who has made a real impact at the MFA, and more broadly, across the city."
Shrestha shares the creation story behind the piece, and also reflects on what it means to her that a major Boston art institution now owns one of her paintings. Her lightly edited response to this milestone moment takes us back to before she started working on "Home416" in early 2020.
---
Sneha Shrestha
"I was yearning to be home during COVID, especially when many people I knew were packing and going off to their families' homes when they found out COVID might be here to stay. But Nepal was even worse off than here, so going home wasn't an option.
When you don't have the choice to go home, it's quite a difficult feeling. The yearning for home becomes so…primal. My mind was always flooded with things that were the ESSENCE of what home means to me.
I remember my home phone number, the landline, by heart — 416 is the beginning three digits of what used to be a six-digit number in Nepal. Now there are seven digits, and nobody uses landlines. In fact, we don't even have a landline in our home anymore.
I have this piece of information that…is useless at this point. But it is etched in my mind. I think home is a collection of information like this, kept in our hearts.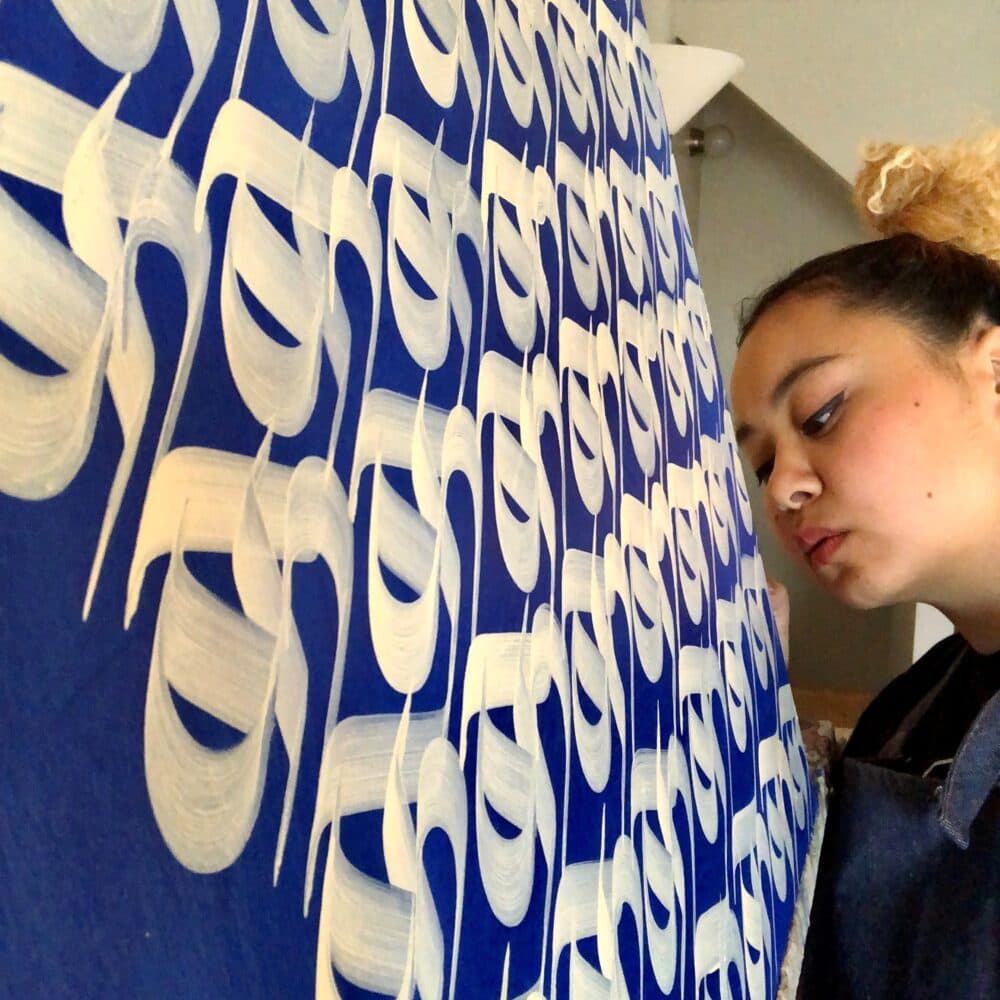 "I had a lot of time to think about what I missed, and part of it was being surrounded by objects that I grew up around; the street where I waited for my school bus, my home stairs that I can still run up and down — even in the dark — because I know them by heart. These were the thoughts going on in my mind when I started this painting.
I chose to write the first letter of the Nepali alphabet, over and over again, in the same size. It's the letter my hand is most familiar with because it's the first letter we learn as children. Think of the letter 'A,' and the familiarity one has with it.
I have a steady mindfulness practice, and I reached for it during this dire time. So, I wrote the letter over and over again while regulating my breath in a pattern to paint each one with the same even pressure on the brush. When I repeated the intention — same breathing, same pressure, same focus — I could get the letter just about the same each time.
"I did this painting in multiple sittings. It took a while because I would have to get into a space where my mind wasn't racing out of uncertainty and bad news. I also didn't have my green card yet. It was in process, but we didn't know what was going to happen. Not getting to go home during that time made it harder.
In a way, this painting represents my mind at its stillest. And I love this. I love that my mind has this power. When I didn't know what was coming next, I painted to help myself cope; not for an audience, but for me and my mind. So, I went back to why I started painting in the first place as a child growing up in Kathmandu, when it was just for me.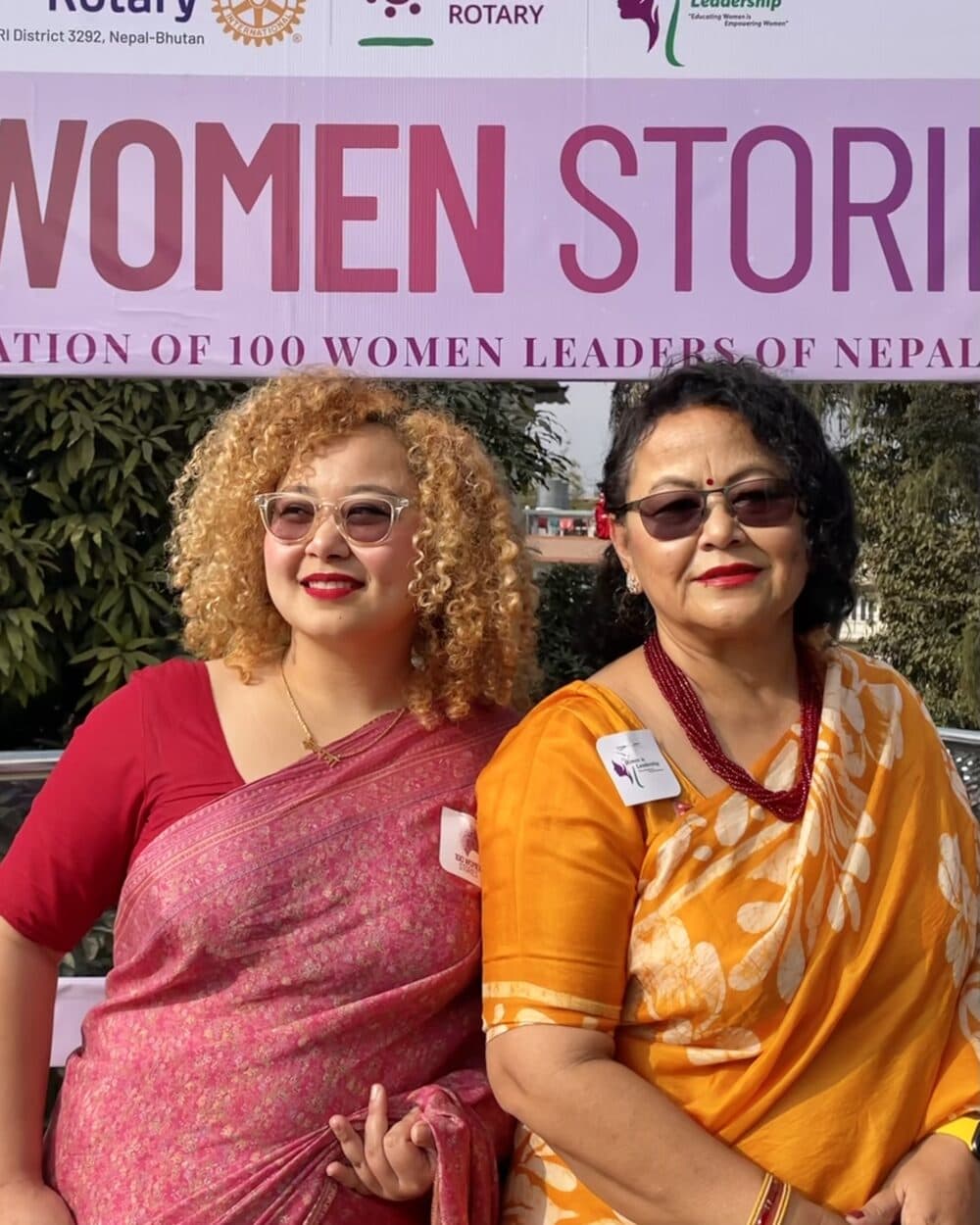 I chose the blue background on the painting because it is the color of the sky. The sky is blue all over the world, and so I saw this to be something that brings people together. This thought was helpful during a time when I didn't want to feel alone.
The blue layer on the left side represents the pleats on my mom's saree. My mom is, of course, the essence of my home, too. To this day, I can't figure out how to properly pleat my saree when putting it on and I need her help.
"To me, this painting is a marker of my resilience. And it's a visualization of my meditation. It is reaching back to the native letters I learned as a child in an attempt to grasp the meaning of home at an uncertain time. It is making me emotional as I write about it now!
I am honored the MFA recognized my work in what I consider to be its purest form. I made it solely for me. It was a meditation — for me. It is also very special that the first big acquisition of my art by a major museum is a painting of my native Nepali letter, and the first in my alphabet.
This being the first contemporary Nepali art ever acquired by the MFA, it feels like an introduction to Nepal and my culture that is authentic. I hope it frees Nepal from being seen through a romanticized version of the past, and I feel proud to represent my country this way. Everything about 'Home416' is so authentically me, and authentically Nepali, that I can't think of a better beginning."
---
Correction: An earlier version of this post misidentified Laura Weinstein's first name. The post has been updated. We regret the error.