Folk music icon Patty Larkin returns to the stage 10 months after severe accident
Boston folk music icon Patty Larkin is as admired for her inventive guitar playing as she is for her singing and songwriting. But her musical and personal future hung in the balance when, following a spinal cord injury last June, her surgeon feared that she might be a lifelong paraplegic.
Instead, after months of intensive therapy, Larkin is back performing. She recently concluded a national outing with the "On A Winter's Night" tour of four singer-songwriters and will perform solo in Lexington on Saturday, April 29.
Larkin was on vacation with her family last summer when she tripped and fell in a dark room after waking up. "I just went straight down, and then when I woke up, the paramedics were there," she recalls. "It's not usually a serious injury when you fall that way, but the way I fell impacted the spinal cord, and the injury was worsened by a congenital spinal condition. It was so unexpected and random!"
An operation immediately after the injury was a success, but doctors could not predict the time she would need for a full recovery. When she first entered her ten weeks in rehabilitation, everyday tasks like feeding herself were impossible. Her fall also severely damaged her ability to play the guitar and sing.
"It impacts everything," she explains. "It's like when a hard drive crashes on your computer. You have the screen, but it doesn't do anything. My brain worked, but the signals from my brain weren't getting to my limbs," says Larkin, who says she had to relearn all of her musical skills. "My vocal therapist said that if there was nerve damage on my vocal cords, I wouldn't ever regain the range I'd lost. But week by week, I kept exercising the vocal cords, and they came back."
The singer reports that her beloved voice has come back stronger than ever. "I've had amazing caregivers who have led me through the paces. It's kind of this fearless moment. It's a new normal for me. Playing guitar is still slightly painful, but it's coming back. I'm very lucky." Her surgeon called her recovery a miracle.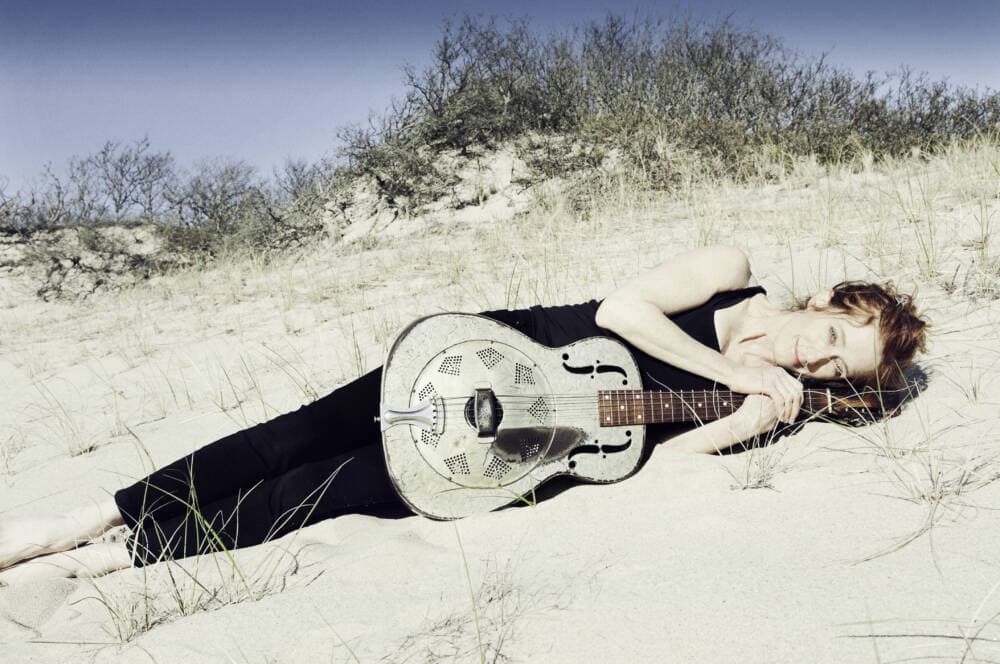 Larkin initially went to the Spaulding Rehabilitation Clinic in Sandwich, which had an on-staff music therapist. "What I realized was that the pathways in my brain signal my fingers to play guitar or play piano, and so I used that therapy to rebuild those pathways," she said. When she started additional rehab at the Spaulding in Brighton, her goal was to walk out of the facility unassisted. "Every step was difficult, but the staff was amazing, and they redesigned their programs to accommodate how quickly I wanted to get through it."
The accident forced Larkin to cancel all her 2022 summer and fall concerts — many of them opportunities to perform for fans who hadn't seen her since before the pandemic. Larkin is a longtime favorite of Concerts in the Courtyard at the Museum of Fine Arts, Boston, and will return to the series on August 10. They were also some of the first in-person opportunities for Larkin to play songs from her 14th album, "Bird in a Cage," a 2020 release that found Larkin setting the words of poets like Billy Collins and Natalie Diaz to music. "I really wanted to do the [February 2023] 'On A Winter's Night' tour, so the whole time that was the goal," she says of her rehab.
Her first show after the injury was an open rehearsal at a small venue in Wellfleet, where Larkin and her manager consultant and partner Bette Warner live with their family. "It was really a thank you to all of the people who have worked with and helped take care of me," says Larkin, who admits to being a "wreck" the first time she returned to the stage. "I had to figure out how to connect my [guitar] cable again!"
"On A Winter's Night" is a reunion of a tour that started in the '90s. The current edition also features fellow folk stars John Gorka, Cliff Eberhardt and Lucy Kaplansky. A one-off "On A Summer's Night" with the same lineup plays at the Payomet Performing Arts Center in Truro on Thursday, July 13, and the 2024 tour will stop at the Regent Theatre in Arlington. "I really didn't know how the tour would pan out. I had a lot of fun playing, and I felt like my old friends John, Lucy and Cliff supported me. They said, 'Oh no, you are doing this tour, and we'll make it work for you.'" Typically, each artist would stand during their segment, but her tourmates decided to sit in solidarity with her for the entire show.
Larkin says that songs she's been singing for years, like "Who Holds Your Hand" and "Coming Up for Air," now have a new meaning to her. "Many of my songs have delved into my spiritual belief that there's a higher power, so that material still works," she says.
Saturday's show in Lexington, which also features rising queer folk singer Crys Matthews, is a benefit for the Mary Eagan Garden at Children's Hospital in Waltham. Larkin says it's a cause close to her heart because when she was in rehab, some of her most exciting moments were being able to go outside. "I joined the garden club. When you're in the hospital [going to the garden] can be so positive and transformative."
---
Patty Larkin and Crys Matthews perform Saturday, April 29 at 7:30 p.m. at the Maxwell Auditorium at the Scottish Rite Masonic Museum & Library.