College internships are back in Mass., and the competition is fierce
For many of the region's college students, warming weather signals the end of classes and the start of summer internship season. Hannah Ng, a junior at Boston College, started her quest for one of those coveted positions in October.
"It was actually really stressful and very time consuming," she said of the hours spent writing cover letters or scheduling interviews. "I think my social life kind of suffered over the past few months."
Ng is a business analytics and finance major. She said she applied to 73 internships, both inside and outside of Massachusetts. That was modest compared to some of her classmates, who applied to more than 100.
"So many people have told me it's just like a numbers game, which is apply to as many as you can, and you'll get at least one," she recalled. "But it's very hard to believe when you're in the process, and you keep on getting rejections."
Research shows strong evidence that internships contribute to higher academic performance for students and can lead to higher post-college earnings. Internships also can benefit employers by helping them build a pipeline of skilled workers.
During the height of COVID, some businesses — including WBUR — cancelled internship programs. Others made them remote. Since then, internships appear to have recovered from their pandemic dip, but some students and college career advisors are finding the competition for these opportunities is intense.
Nationwide, employers said they plan to increase intern hiring this year by about 9.1%, according to a survey from the National Association of Colleges and Employers.
In Massachusetts, employers posted 23,531 internship positions online last year, according to Lightcast, a company that tracks labor data. That's a more than 50% increase compared to 2020 and 2021. It's also an increase from 2019, before the pandemic hit.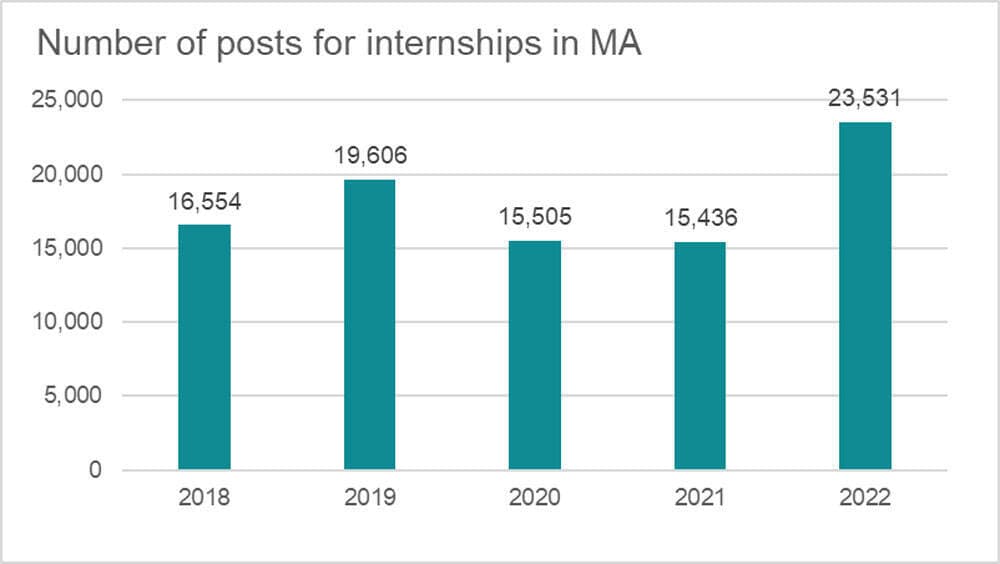 But the picture is a little more complicated than the overall numbers might suggest, according to Monique Cooper, the assistant vice provost for academic and career advising at UMass Boston. She said internships in some sectors have been slower to rebound.
"For example, health care facilities were not able to offer clinical placement due to COVID, but now we're seeing an increase in offerings," she said. She's also noticed that more employers are offering remote or hybrid internships.
At Cambridge-based CarGurus, a company that manages an online marketplace for vehicles, interns spend 40% of their time in the office and the rest of their time working remotely. Kyle Jackson, who works in talent acquisition, said competition for these positions is tough. His team receives about 100 applications for every internship or training opportunity for students.
Amy Donegan, who advises undergraduates like Ng at the Carroll School of Management at Boston College said its been more difficult to collect data on internships this year than in previous years because so much of the recruitment now happens online, rather than on-campus.
But comparing this year's internship market to last year's, Donegan said it's been a lot more competitive for students.
"They're having to work a lot harder at lining up those interviews, so a lot more networking calls and then going on a lot more interviews," she said.
Donegan said part of this may be because some companies over-hired last year and are now pulling back or "over-correcting." Many companies also are hiring interns much further in advance than they did in past years.
"When I talk to you about who's getting hired for summer internships, they're sophomores [and] they're getting hired for the summer of '24," she said.
For Ng, the third-year business analytics and finance major, the long search finally paid off. Last month, she got an offer for a paid, in-person internship at a logistics company in Pennsylvania.
"I kind of low key had tears. I was praying to God," she said. "Because at this point, I was very done with this process. I did not want to do this anymore."