At the Huntington, Taylor Mac's 'Joy and Pandemic' is stuffed with ideas — and great acting
Taylor Mac thinks big.
In "The Lily's Revenge" the playwright and performer skewered traditional notions of love and marriage; "Hir" poked at the possibilities beyond dysfunctional family drama; "The Last Two People on Earth: An Apocalyptic Vaudeville" layered comic shtick around a musical revue at the end of the world. Each of those works was both imperfect and exhilarating.
"Joy and Pandemic," which is having its world premiere at The Huntington's Calderwood Pavilion through May 21, is less ambitious than Mac's earlier efforts, and yet more exhausting. While Mac always asks audiences to think actively while letting theatricality support the storyline, "Joy and Pandemic" tells a much more personal story in which the emotional threads that might energize it are instead crushed by the weight of too many ideas tossed about.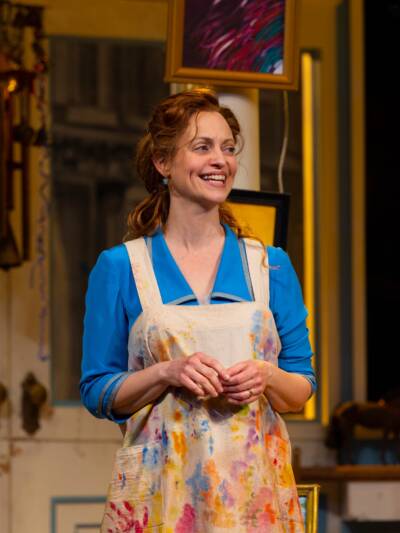 The action opens in Philadelphia circa 1917, at a progressive art school for children whose first open house is threatened by the twin specters of the Spanish flu and World War I. The school is run by Joy (Stacy Fischer), a devout Christian Scientist, supported by her anxious but enthusiastic daughter Pilly (Ella Dershowitz). Joy's mother-in-law Rosemary (Marceline Hugot) is the reluctant patron of the operation, while Joy's husband Bradford (Ryan Winkles), a respected painter, is supposed to be the face of the operation but instead is an unreliable teacher and a feckless husband.
Set designer Arnulfo Maldonado's gloriously cluttered storefront functions as an active participant in the storytelling, as children's artwork is hung up, moved around, stacked and unstacked and party pieces for hoped-for guests are set up and taken down even as the characters keep bumping into the noisy chimes at the door.
The catalyst for the action is the arrival of Melanie (Breezy Leigh), the mother of one of Joy's most precocious students, who engages in fraught dialectical conversation — or is it a debate? — about Joy's unshakable faith and her conviction that fear and illness are simply illusions that can be overcome through prayer. Although Melanie arrived fearful of the flu and wondering if the school can continue in light of external forces, the conversation inspires her to cough in Bradford's face and hug him — both inappropriate gestures — although she defends them as in keeping with art school's emphasis on expression over control. She returns after confronting her own fears – joining a parade despite not really being accepted because she's Black and revealing Bradford's own inappropriate behavior toward her.
The play is less ambitious but more exhausting than Taylor Mac's earlier work.
Time passes, and post-intermission we are back in the art room decades later, when the school has been converted into a sickroom for Joy who is cared for by the now middle-aged Pilly. Melanie's daughter Marjory returns to pay her respects to her one-time teacher and engage in an updated debate about memory and faith.
But when time, memory and reality are all illusory, it's challenging for an audience to find the urgency or what's at stake in the drama. While ideas are batted about in a bit of a free-for-all, director Loretta Greco does her best to anchor them in characters whom Mac sketches out in only the broadest of strokes. She has chosen two outstanding actors — Stacy Fischer and Breezy Leigh — and given them the almost impossible task of breathing life into these representational figures.
Fischer delivers a truly bravura performance, playing Joy, a devout Christian Scientist and calm, devoted art teacher in Act I, and then Joy's hyper daughter Pilly decades later. One of the most compelling scenes in the play comes when Fischer, playing Pilly, engages in a long monologue in which her scene partner is a telephone. This one-sided conversation, with a brother we never meet, becomes a tango-with-a-telephone cord. The dance — around her feet, her body, a nearby desk — never feels choreographed, emerging instead from her active mind, anxious for movement during her long vigil at her mother's deathbed.
Leigh, too, infuses her whirlwind of a character with delightfully broad expressions, but struggles to find the character beneath declarations of important ideas. A potent pause, a quiet turn away signal so much in this complicated woman, but as soon as the moment starts to get prickly or vulnerable, Mac returns to a soapbox.
Too much of the dialogue in "Joy and Pandemic" feels like a lecture, with characters talking at each other rather than to each other. For this drama to move audiences it must go deeper into these characters and the impact of time, faith and illusion on shaping these children and their view of the world. The beauty of Mac's work has been in a fearless use of theatricality to plumb ideas and emotions. "Joy and Pandemic" has introduced some interesting characters, but too much debate and too little development make it hard to take their issues to heart.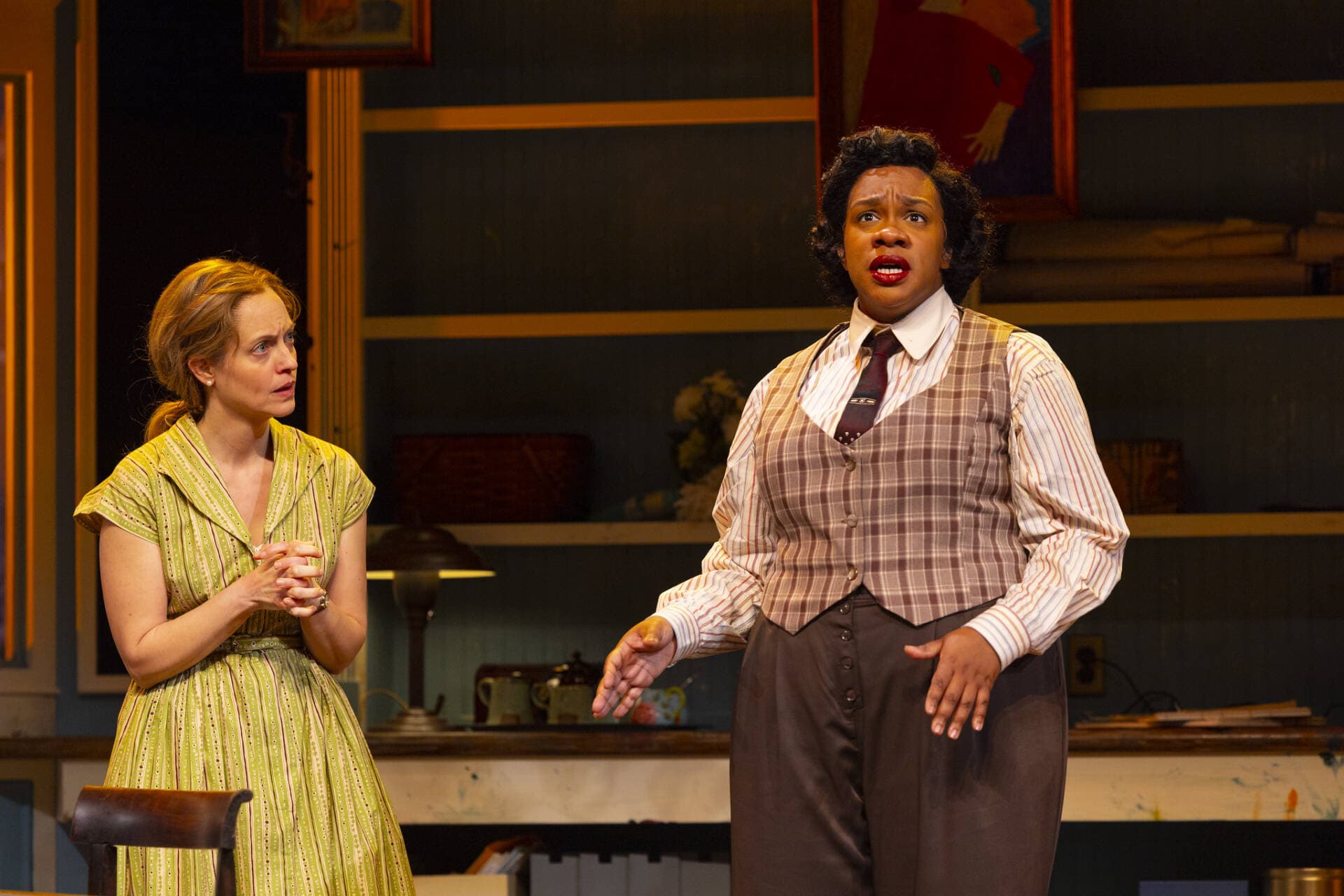 ---
"Joy and Pandemic" is produced by the Huntington Theatre Company at the Calderwood Pavilion, Boston Center for the Arts, through May 21.