As GOP presidential candidates visit New Hampshire, Trump still casts long shadow
Play
Florida Gov. Ron DeSantis officially launched his campaign for the Republican presidential nomination on Wednesday, joining a field of a half dozen GOP hopefuls.
DeSantis has been busy in recent weeks raising his profile in New Hampshire, which will hold the first Republican presidential primary in early February. He's been airing ads, and just last Friday was greeting potential voters at the storied Red Arrow Diner in Manchester, a mandatory stop for aspiring presidents. Then he was off to a meeting with Republican state legislators to promote his record as governor of Florida.
"We just completed what I would say is the boldest and most far-reaching agenda that we've seen in the modern history of the Republican Party," DeSantis told the state lawmakers.
His speech was laced with the kind of hard-right rhetoric made famous by the candidate DeSantis and his GOP rivals must catch if they are to have a chance: former President Donald Trump.
Those testing the waters in New Hampshire also include former Vice President Mike Pence; U.N. Ambassador Nikki Haley; former Arkansas Gov. Asa Hutchinson; biotech executive Vivek Ramaswamy; and South Carolina Sen. Tim Scott, the only Black Republican in the Senate, who also jumped into the race this week.
With the primary less than 40 weeks away, candidates are already making regular visits to the state, attending town halls, political forums and backyard barbecues. And they're striving to get out from under Trump's long shadow.
Ever since DeSantis's decisive re-election as governor in 2022, many Republicans see him as a viable challenger to Trump. In a not-so veiled swipe at the former president, DeSantis has said it's time for the GOP to end its "culture of defeat."
The Florida governor embraces many of Trump's positions but is seen as more disciplined. That convinced some 50 New Hampshire state legislators to endorse him earlier this month, including the House Majority Leader, Jason Osborne, who said that with DeSantis on top of the GOP ticket "the Republican Party will be in great shape."
Osborne, who said he voted for Trump twice, believes many in his party don't want another Trump presidency.
"I can read the room, and I know it's not going to happen," Osborne said.
And yet the numbers tell a different story. While the twice-impeached former president faces indictment, multiple investigations and was found liable for sexual assault by a federal jury, he is the front-runner by far, according to recent polls. A survey by Saint Anselm College found Trump running ahead of DeSantis, 42% to 29%.
"As soon as Trump got indicted, DeSantis started to sink..."

Neil Levesque
Neil Levesque, who runs the Institute of Politics at Saint Anselm, said Trump's popularity appears to grow as his legal challenges deepen, creating a challenge for other candidates.
"As soon as Trump got indicted, DeSantis started to sink, despite the fact [he was] spending large amounts of money on mail, and on television here in New Hampshire," he said.
No matter what happens, Levesque said, "Trump is standing right there" — a looming force in the race.
The Trump shadow was apparent during a recent visit to New Hampshire, by Pence who's moving closer to a White House run. Speaking to members of the Josiah Bartlett Center for Public Policy, a free-trade think tank, Pence called for leadership "that will stand up and lead America back to fiscal solvency and reform."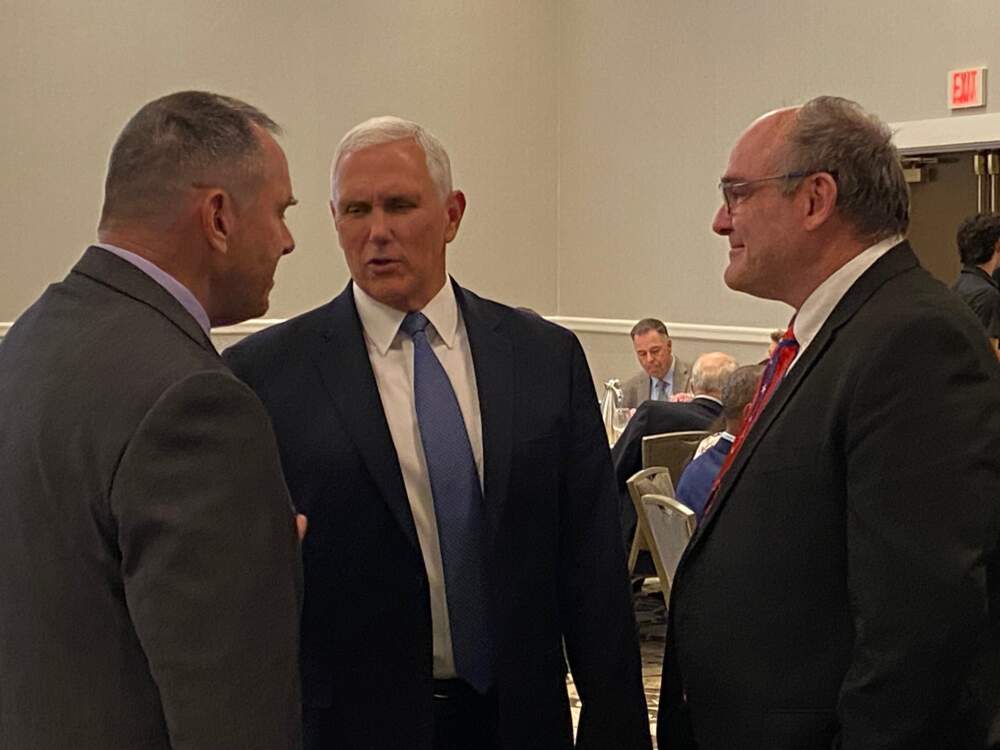 Pence's pitch is essentially a return to Trump policies — without Trump. He doesn't explicitly criticize his former boss but says he's ready to debate him.
"I've debated Donald Trump many times — just not with the cameras on," Pence told reporters.
Asked if Trump belongs in the race for president, given his many legal challenges and liability in a sexual abuse case, Pence said he doesn't want to be "dismissive" of sexual abuse. But he stopped well short of condemning Trump.
"I think that's a decision for the American people and for him," Pence said. "It's a free country."
It's an awkward dance that most of the GOP candidates are engaged in — because Trump remains popular with many Republican voters. That includes voters like Max Ahmad, a businessman from Manchester, who came to Concord to hear Pence speak.
"Well, I'm a Trump fan," said Ahmad, who believes the economy was stronger under the former president.
"I want to see America great again," he said with a chuckle.
Ahmad said he appreciated hearing from Pence, but he's sticking with Trump. At this point, early in the race, so are lots of other New Hampshire Republicans.
"I want to see America great again."

Max Ahmad
During his visit to New Hampshire last week, DeSantis touted a record of cutting taxes, supporting school choice and reducing crime. He did not mention signing into law one of the strictest abortion bans in the country — which might not play well in moderate New Hampshire. But the governor, a culture warrior fond of saying, "Florida is where woke came to die," did trumpet his legislative efforts to oppose diversity, equity and inclusion (DEI) programs at state universities and colleges.
"Our view is that DEI really, the way it's practiced, stands for 'discrimination, exclusion and indoctrination,' " DeSantis said to applause.
While his message landed well with the state lawmakers, his challenge — and the challenge facing other GOP presidential candidates — is that most Republican voters haven't moved on from Trump.
This segment aired on May 25, 2023.