What the Supreme Court's clean water ruling means for Massachusetts
Editor's Note: This is an excerpt from WBUR's daily morning newsletter, WBUR Today. If you like what you read and want it in your inbox, sign up here. 
---
But seriously… Celtics in seven?
Massachusetts lawmakers may need to take action if they want to blunt the effects of a Supreme Court's decision yesterday rolling back the EPA's power to regulate wetlands. WBUR's Paula Moura reports that experts say the ruling leaves nearly half of all U.S. wetlands unprotected from being filled in for development and agriculture.
What the court did: In a 5-4 majority decision, Justice Samuel Alito ruled that the 51-year-old Clean Water Act only applies to oceans, lakes, rivers, streams and wetlands with a "continuous surface connection to those bodies." That leaves wetlands that are adjacent — but not directly connected above ground — to those water bodies newly unprotected by the CWA. (Critics say the ruling fundamentally misunderstands how water works.)
The local angle: Brad Campbell, the president of the Boston-based Conservation Law Foundation, told Moura they're still assessing the impact of the decision in Massachusetts. Campbell noted that the state has its own wetland protections "that may fill part of the gap that's now been created." Emily Norton, the head of the Charles River Watershed Association, said many communities also have local bylaws that go further. But both said action from the State House may be needed to fill other newly created gaps.
Why does it matter? "Wetlands are essential to protecting not only clean water but habitat," Campbell said. "They provide flood protection, storm protection, and they really undergird the [tourism and recreation] economy that the health and prosperity of millions of families and businesses depend on."
Go deeper: Alito's logic was disputed by Justice Brett Kavanaugh and the court's three liberals, who argued the ruling goes against five decades of precedent and will have "significant repercussions for water quality and flood control." NPR has more coverage here.
Shipping up: Boston Calling returns today — and (just like last year) we have another last-minute lineup change. The Dropkick Murphys will be filling in for the Yeah Yeah Yeahs today at 5:55 p.m., after the indie band dropped out of the festival due to an illness.
The change also moves The National into the 7:05 p.m. slot, before Foo Fighters take the stage to close out the first night.
Heading to Boston Calling? Here's everything you need to know. (And no, you probably don't have to get there this early.)
Do you really like lighthouses? Now's your chance to own one. The U.S. government is giving away six lighthouses this year, including five in New England. (GPS technology has basically made them obsolete.)
The catch: You have to be willing to preserve the lighthouse, and make it publicly available for educational, recreational or cultural purposes.
If there are no willing takers, the lighthouses will be auctioned off to private owners instead. Four are up for auction this year.
The MBTA is reducing its scheduled bus frequencies by about 3% this summer — but the move is less of a service cut than it is "truth and advertising," as one T official put it Thursday. That's because the MBTA is currently dropping about one in every 25-30 bus trips. So they're adjusting to match that reality and even out service.
It's a flip from the T's spring approach, when officials scheduled bus service they knew they couldn't deliver due a driver shortage.
T officials say the new approach is better — primarily because it provides more reliable service. The scheduled waits may be longer, but at least canceled buses won't create huge holes that leave riders hanging for disruptively long periods of time.
What's next: The new schedule takes effect July 2.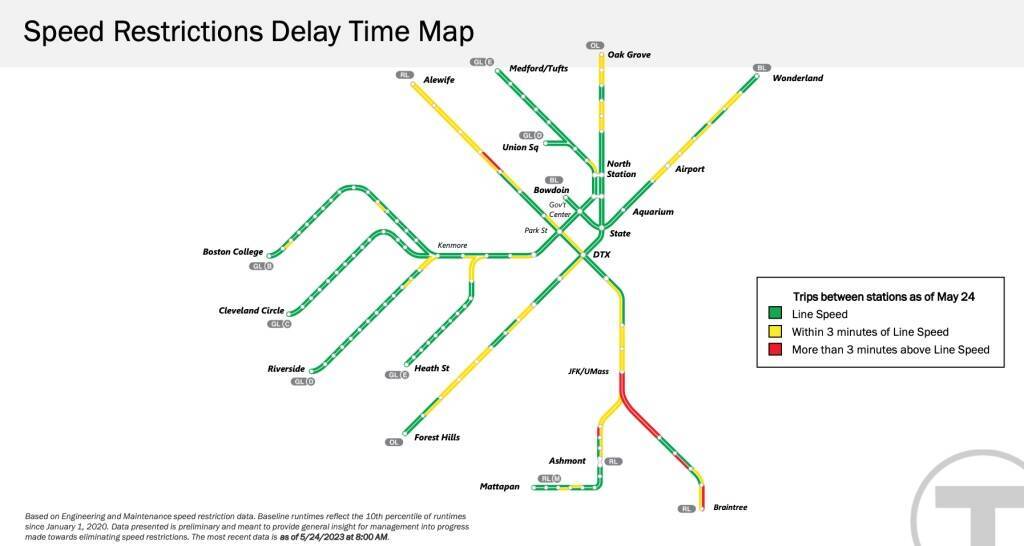 MBTA making progress: After a series of early closures, the T has successfully lifted all slow zones on the downtown stretch of the Blue Line. General Manager Phil Eng said yesterday that the work effectively chops 10 minutes off overall trip times, ahead of this summer's two-month Sumner Tunnel closure.
Now the focus turns to the Red Line. The T is planning 8:45 p.m. weeknight closures the next two weeks (May 30-June 1 and June 5-9) between JFK/UMass and North Quincy to address a cluster of severe slow zones on the line's Braintree branch.
The Green Line Extension will also close for two weekends in June so crews can finish some final items on the project's checklist. Click here for more details on the diversions coming next month.
But first: This weekend, the Green Line's Kenmore station will be closed and the entire C branch will be replaced by shuttles due to track work.
P.S.— For the fellow news junkies out there: Mayor Michelle Wu announced a new plan aimed at making Boston's streets safer. Do you know the main pillar? Then take our Boston News Quiz and test your knowledge of the local stories we covered this week.