The A.R.T.'s new production of 'Evita' keeps the audience at an arm's length
As the audience of the American Repertory Theater's "Evita" enters the auditorium, they are met by a shimmery, white, strapless ballgown, which looms over hundreds of white flowers on stage. The gown, of course, represents Eva Duarte Perón, the onetime "spiritual leader of Argentina," whose determination and ambition, not to mention her political savvy, led to her position as the first lady of Argentina from 1946 to 1952.
The challenge of this production, a version of which Sammi Cannold directed for the New York City Center in 2019, is connecting the dress to the woman who wore it. Of course, the origin of "Evita," the musical, was a concept album by composer Andrew Lloyd Webber and lyricist Tim Rice, so the show was always heavy on symbolism and light on character development. But Cannold's more academic attempt at a feminist approach keeps both the actors and the audience at an even more distant arm's length. And the addition of Emily Maltby and Valeria Solomonoff's tango choreography throughout the scenes, while lovely to watch, adds little to storytelling.
Cannold has certainly chosen well with her casting of singers Shereen Pimental in the title role and Omar Lopez-Cepero as Che. Pimental is appropriately regal, with a breathtaking vocal range that does justice to the anthemic "Don't Cry for Me, Argentina." In 2023, we are more attuned to the complexities of a woman who recognized "I'd Be Surprisingly Good for You" after enduring early years of poverty and abuse and was dismissed as a woman who "slept her way to the top." But how do you reconcile that with a song like "Goodnight and Thank You," in which Eva dismisses a string of lovers as she acquires an increasingly expensive wardrobe (note the fur stole drop)? And we never quite feel the charisma or star quality vibe required for her ascent to fame in "Buenos Aires."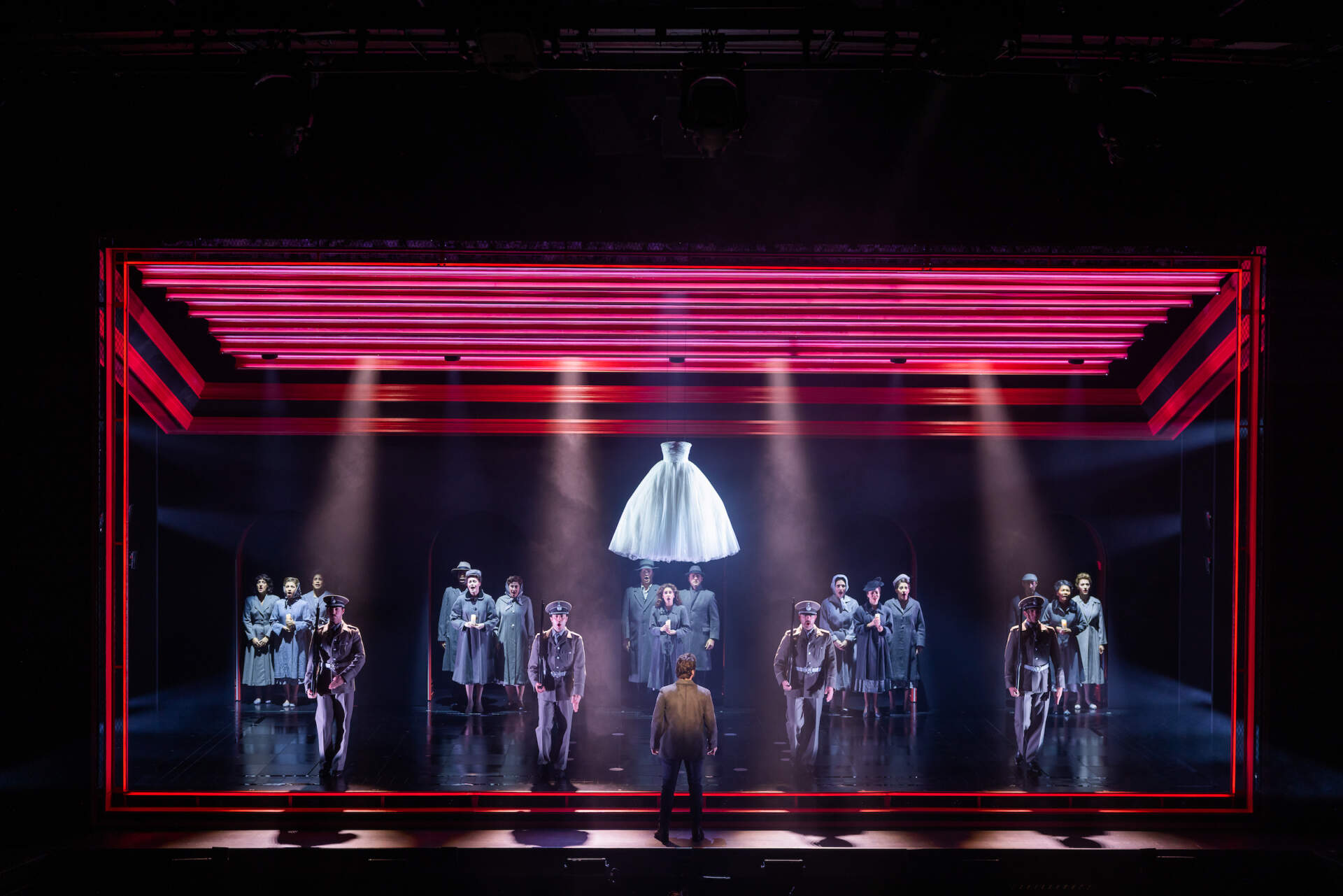 Lopez-Cepero has a beautiful falsetto and powerful voice, and his Che seems to be bubbling with a fury that's just about to explode even in the opening bars of "Oh What a Circus, Oh, What a Show." However, things take a turn when he leads the show's other anthem, "A New Argentina," he is overwhelmed by the chorus and never feels like a leader or even a spoiler. He enjoys one delicious waltz with Evita, but they never connect on any emotional level. Che is left to lounge at the lip of the stage, and every time he heads toward the center, he's forced to retreat, and his role devolves into the Stage Manager from "Our Town," commenting but never engaging in the action.
Pimental and Lopez-Cepero are supported by an outstanding cast, which could have won the day had it not been for the poor audio mix, which was cranked up so loud it was impossible to distinguish the lyrics in the ensemble numbers. Mona Seyed-Bolorforosh conducts a 15-piece orchestra through Lloyd Webber's lush score, which might have been more enjoyable (with their references to "Jesus Christ Superstar" and suggestions of "Phantom of the Opera" to come) if the speakers hadn't been so overpowering.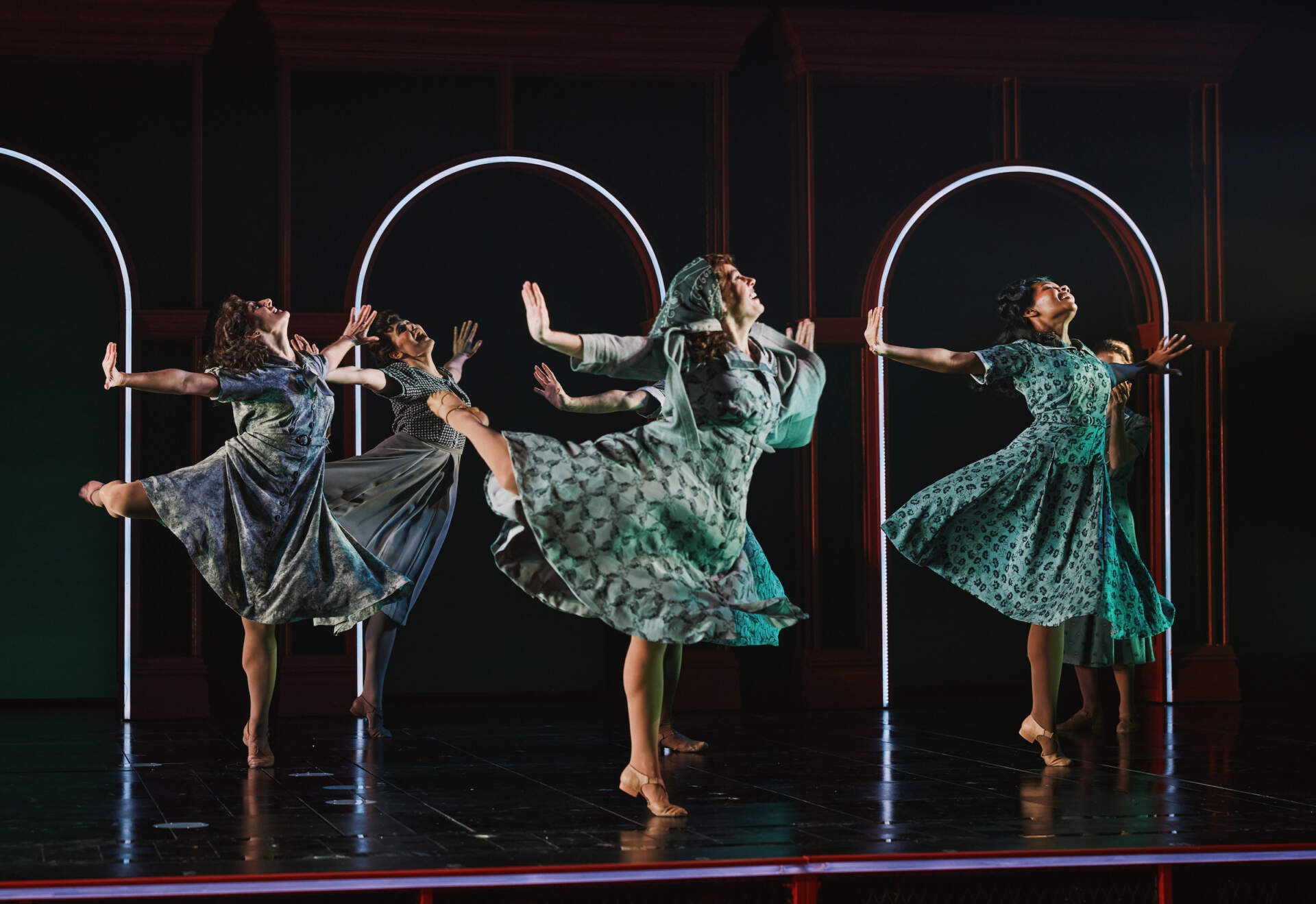 Most successful were the solo numbers, which showcased the company's talents, especially Gabriel Burrafato's "On this Night of a Thousand Stars," Naomi Serrano's heartbreaking "Another Suitcase in Another Hall," and Caesar Samayoa (who found some surprising humanity in the dictator Perón) in "She is a Diamond." We are, however, reminded that he led a brutal military coup in "The Art of the Possible" (the always-entertaining game of generals in musical chairs). It's also fun to see young Boston actor Sky Vaux Fuller ("Matilda" at Wheelock Family Theatre) have a chance to shine in a brief solo tribute to Santa Evita.
Without any emotional stakes, striking imagery becomes the signature of this production. In addition to that empty dress, Alejo Vietti's costumes offer an array of exquisite grays for the ensemble, while Evita nearly glows in a series of white outfits (including a dish-like hat that looks exactly like a halo). Jason Sherwood's spare scenic design offers a nod to Hal Prince's original direction, and the use of a series of arched doorways allows background scenes to take place and tableaus to take shape. Lighting designer Bradley King creates a kind of shoebox frame with strips of light above the playing area that shift in hue and intensity depending on the action below. The enclosed effect may be intentional, but it feels distracting and not integral to the storytelling.
Oddly enough, as my companion noted, Evita only comes alive when she begins to die. While we get glimpses of Evita's ego inflating as her political power grows, "You Must Love Me" (added to the 1996 film version) and "Eva's Final Broadcast" finally dive deeper into emotional depths that provide a little complexity for this two-dimensional icon. But it's too little, too late. When even the creators seem ambivalent about their heroine — the abrupt ending has Che noting that money was raised to build a monument for Evita, but "only the pedestal was completed, and Evita's body disappeared for 17 years" — perhaps it's better to simply enjoy the music and not attempt to fill that empty gown.
---
"Evita" continues at the American Repertory Theater's Loeb Drama Center through July 30.