Greg Hawkes from The Cars embarks on a new adventure — in Alice's wonderland
Greg Hawkes has gone down the rabbit hole.
Over the past few years, Hawkes — best known as the keyboardist in The Cars, the Boston new wave band that exploded in the late 1970s and '80s — has become a bit obsessed with John Tenniel's illustrations in Lewis Carroll's 1865 fantasy novel "Alice's Adventures in Wonderland."
Using his iPhone and iPad, in conjunction with six editing apps, Hawkes has created 17 whimsical photo collages that are on exhibit at the Lincoln Public Library through the end of June. Hawkes transformed himself into Alice, the Mad Hatter, the Cheshire Cat, the King of Hearts and the Queen of Hearts, among others. He calls the exhibit "Wonderland."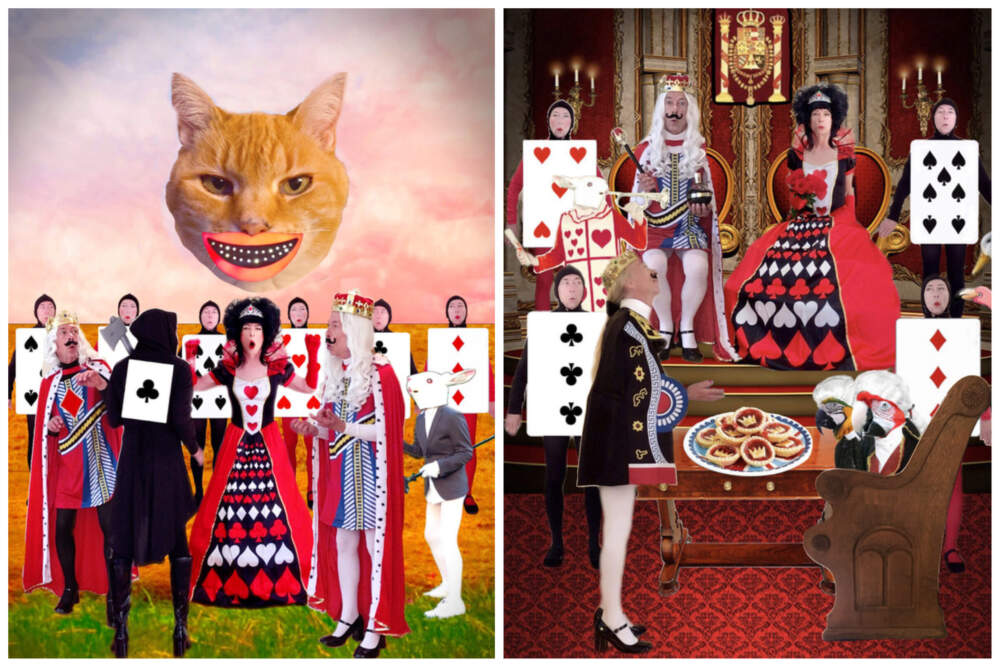 He got into "Alice" first via the 1951 Disney movie, then the book. "It was a combination of the story and pictures," Hawkes says, "but it's as much the pictures as the story, especially the original black and white pictures, which are ingrained in my memory. I've read it a few times at different stages of my life, and when I glommed onto the idea of doing this series, I went back and re-read it."
He started working on it four years ago. For Hawkes, who is generally shy by nature, it was an opportunity to take on different personas, much like he does on stage. "It's a way to express different facets of my personality in a somewhat whimsical way. Gender is included in that, going from one to the other, a blurred line with no distinct boundaries."
In his artist statement, Hawkes writes: "By inserting myself into Alice's fantasy world and the characters who inhabit it, I have been able to explore my interest and fascination with issues of self-expression, gender fluidity, and crossdressing."
Hawkes uses the term gender fluidity because of the characters he steps into with his art — some are feminine and some are masculine. "A lot of it just has to do with the fact that I have always enjoyed acting, but there's also something about the transformative power of clothes and costumes."
The idea to visually insert himself into the multiple settings was, in some ways, sparked by the psychedelic era of the Beatles.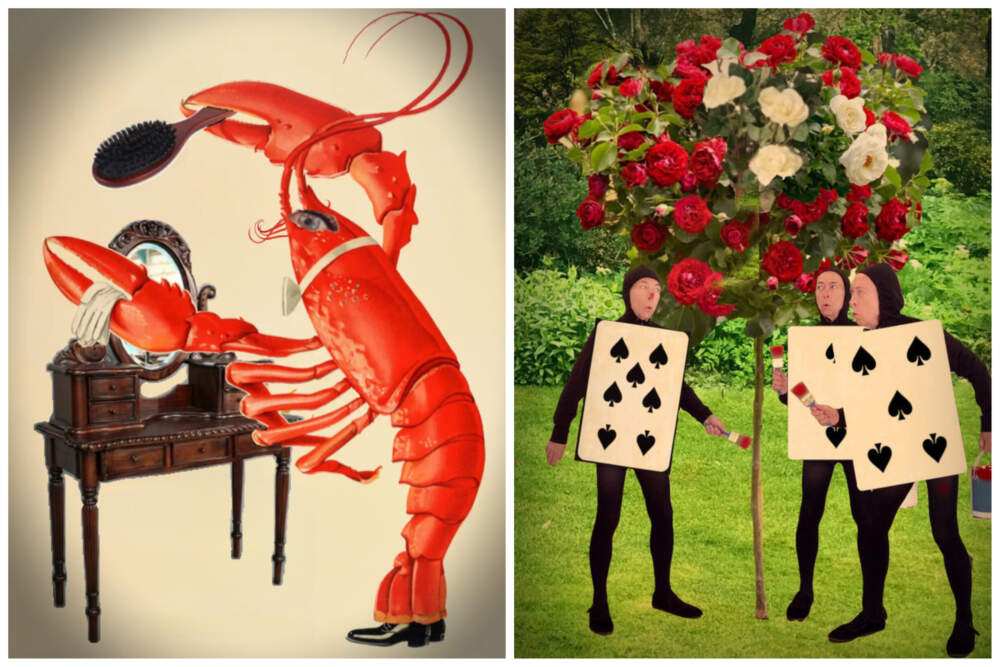 The fantasy world that Alice adventures in "is not very far from 'Strawberry Fields Forever' and 'Lucy in the Sky with Diamonds," he says. "That idea that 'nothing is real' and the contradictions — up is down, bigger is smaller, the whole aspect of nothing is quite what it seems."
Hawkes and his wife Elaine, who is also an artist, hosted a private opening at the Lincoln Public Library last Saturday night. Not surprisingly, he looked somewhat different that evening than he does in his new works. For one, the face featured in his collages, while still his, is much younger.
Making such drastic changes to his appearance was a challenge for Hawkes. Luckily, he had apps like YouCam Makeup and FaceApp at his disposal.
While the artist says his collages are definitely inspired by Tenniel's art, there are a few works "that don't have parallels to the original illustrations." And he decided not to pursue Carroll's side stories — everything he created comes from Alice or her experiences.
"I enjoy the process of putting these pieces together," he says, "even down to the detail of spray painting the frames." The frames holding his work were objects found at Goodwill, other thrift shops, and even a swap table at the Lincoln town dump.
In recent years, Hawkes has used social media to explore his creativity — wearing imaginative costumes and makeup. However, he wanted to take it further and  "explore another character in depth." Alice's world was the one he was most drawn to.
Hawkes — or multiple Hawkes — are featured in all the collages, though the star of the Cheshire Cat piece is the smiling orange face of Lil, the Hawkes' cat who died a year ago. She and her wide grin hover over dancing playing cards featuring Hawkes' various, oft-bemused visages.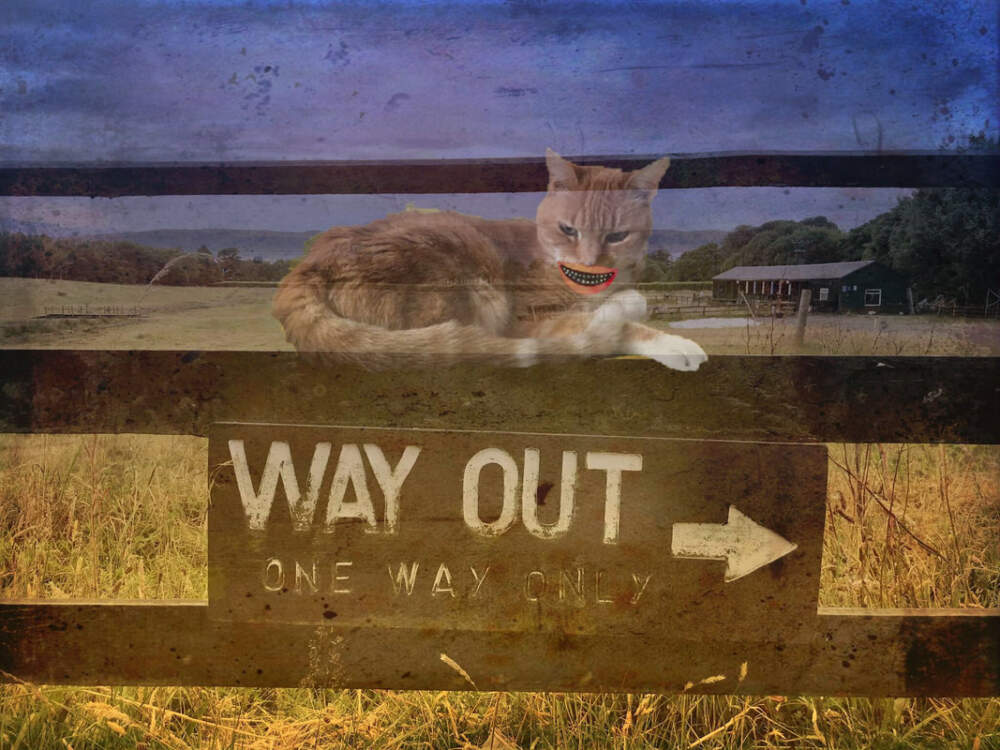 "In a way," he adds, "they're glorified selfies. I got kind of fascinated with Snapchat, where they have all those filters. You take a selfie, and you're a cat or have a crazy hairdo or look like a baby or look like a duck. So, in a way, this was almost an extension of being obsessed with altered selfies."
The photo collages were all made in the Hawkes' Lincoln home. He says, as with most anything, there was a learning curve. "I can do them pretty quickly now because I've done so many of them," he says, "but at first, it took a while: I never went the super sophisticated Photoshop route. Part of the charm for me was to see how much I could do on my phone and iPad with off-the-shelf apps."
As with a musical instrument, he says, "The learning is generally in the repetition. You struggle at first to figure out, 'How do I get from this note to this note in another chord?' It's sort of the same with the pictures: 'How can I change the color of the background without changing the color of the figure?' Once you learn that one little trick, the next time, it's ok."
Hawkes is not the first member of The Cars to explore the art world. Drummer David Robinson designs jewelry, operating out of his gallery in Rockport. The late singer-guitarist Ric Ocasek created both imaginative doodles and colorful Warhol-ian pop art that has been exhibited at the Wentworth Galleries.
Although he's venturing into new art forms, Hawkes is not done making music. He does sporadic gigs with the Boston sextet Eddie Japan, which rocks up Cars songs where Hawkes serves as the soft-spoken, genial MC and keyboardist. "They do the heavy lifting," Hawkes says.
Greg Hawkes has a gig with Eddie Japan on July 22 at The Center for the Arts in Natick. And while the dates are yet to be announced, he'll take the stage again at City Winery in Boston in the fall. By no means is Hawkes jumping back into the rock arena with both feet. Those days are gone. In fact, he says he prefers playing in his comfort zone of New England clubs."While I'm enjoying it, I'm not actively seeking more gigs. I'm happy with the small scale, " says Hawkes.
As to the collage art, Hawkes has recently been posting situational pictures on Facebook featuring Capt. Rufus Plummer, the Hawkes' new cat, and their daughter Annie's cat, Betty Cooper, complete with dialog captions concerning, for the most part, ice cream. And he's already creating another collection based on — you guessed it — "Alice Through the Looking-Glass."
Though primarily a musician, Hawkes doesn't consider the art merely a sideline. "It's an important aspect of my life, and I do some every day."