Massachusetts to receive over $1 billion in opioid settlements
Massachusetts can expect to receive just over $1 billion over 18 years from settlements with opioid manufacturers and distributors sued for their roles in the nation's opioid crisis. That figure includes some recent agreements with Walmart, Teva, Allergan, CVS and Walgreens.
The new total was presented at a meeting of the state's Opioid Recovery and Remediation Fund Advisory Council. Massachusetts could see an additional $110 million from some Sackler family members and Purdue Pharma once that settlement is finalized.
Of the settlement funds secured so far, 60% will go to the state, the balance to municipalities. To date, the state has received just under $87 million from the more recent as well as earlier settlements. For municipalities, that figure is just over $42 million.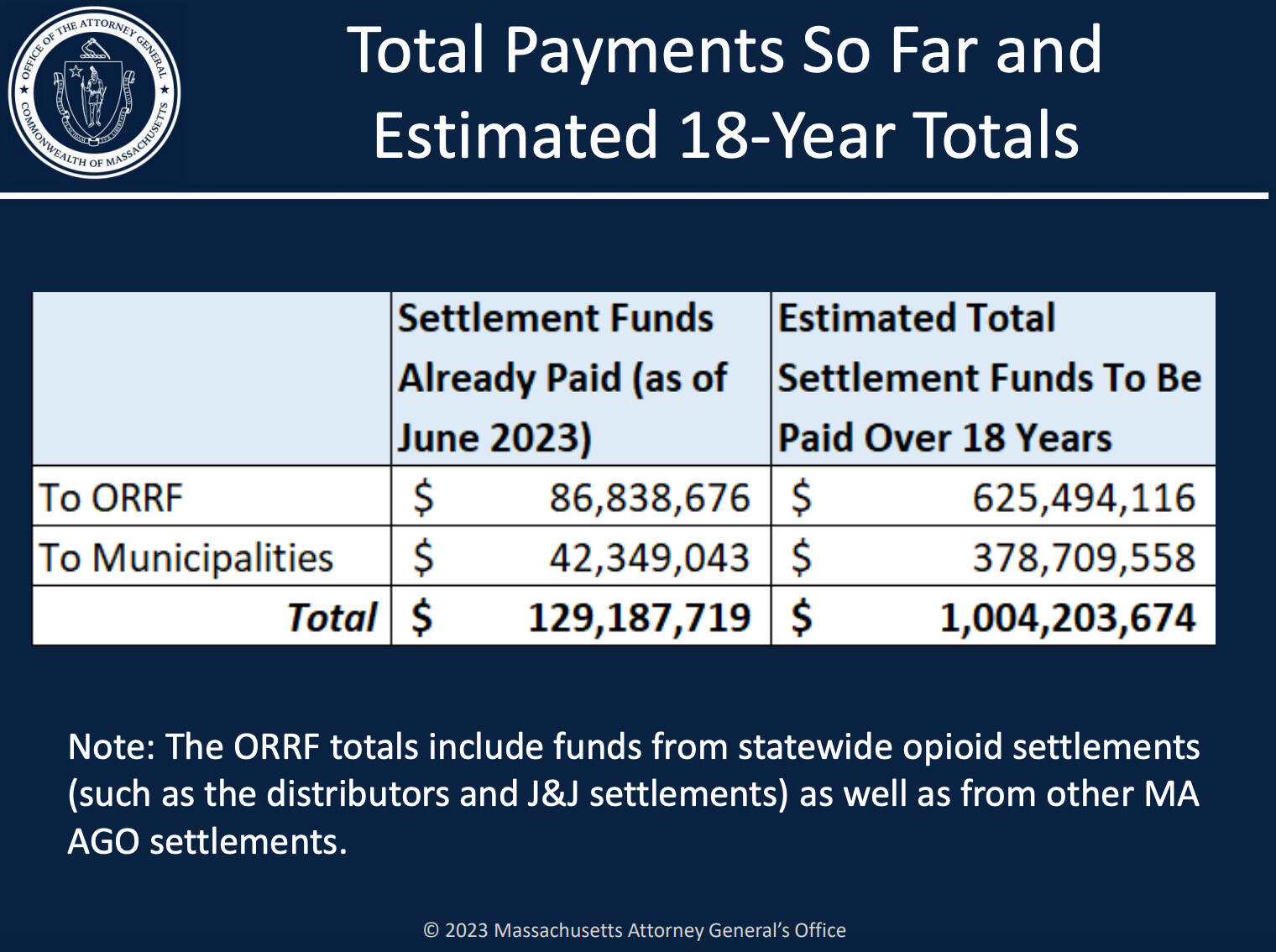 State spending so far has focused on widespread distribution of naloxone or Narcan, expanded access to medications used to treat drug addiction, a new loan forgiveness program for students in behavioral health career programs and housing for people with a substance use disorder and those in recovery.
A woman in one of the state's more than 400 new housing units says she's grateful.
"The sheer amount of stress removed from not living in a tent or shelter or doorway — it's invaluable," said Kris, who lives just north of Boston. We're only using her first name because she still uses some illegal drugs. "Things can still be chaotic when you're housed but having that worry gone has changed my life."
Kris said housing is even more effective for people coming off the streets when it includes case managers to help residents engage with treatment, health coverage and other medical care. The council discussed those ideas as well as the need to support grandparents who are raising grandchildren, people leaving jails and prisons who are at higher risk for overdose and supervised consumption sites.
"What I want is a call to action," said Health and Human Services Secretary Kate Walsh. "Our state has prioritized this and yet we continue to lose people to overdose deaths."
However, there is a potential roadblock with using the millions of dollars going to municipalities from these settlements. The money is supposed to be used to address the opioid crisis, but cities and towns aren't authorized to set up special funds for that purpose. So the money is being deposited in municipal general funds across the state.
Council member Lindsay Hackett said that's a problem because municipalities don't know exactly how much they are getting and when. It's hard to make spending commitments in a budget that is finalized before funds are available.
"This funding is coming to us for a specific reason and we would like to make sure that is appropriated for that purpose," said Hackett, deputy chief administrative and financial officer for the city of Springfield.
Legislation that would allow cities and towns to create special funds for opioid settlement dollars has been proposed on Beacon Hill.