The company that sent a tourist submersible to the Titanic wreck has faced safety questions before
The company whose submersible vessel went missing Sunday during a dive around  the wreck of the Titanic has a history of questions over its equipment's safety — including from a former submarine pilot who said he was fired after raising concerns about the vessel's structural integrity.
Records from a 2018 lawsuit show that former OceanGate director of marine operations David Lochridge had earlier flagged potential safety issues with the company's submersible Titan.
That same vessel is now the subject of an international search and rescue mission off the Atlantic coast. U.S. Coast Guard officials in Boston on Tuesday afternoon said the passengers have about 40 hours of air left but the search efforts "have not yielded any results."

The Coast Guard said the submersible's surface crew lost contact with the vessel and the five people aboard about 1 hour and 45 minutes after it launched. The search is ongoing, with numerous ships and airplanes from multiple agencies involved.
"This is our top priority right now," said Chief Petty Officer Robert Simpson at the press conference at the Coast Guard unified command center in Boston.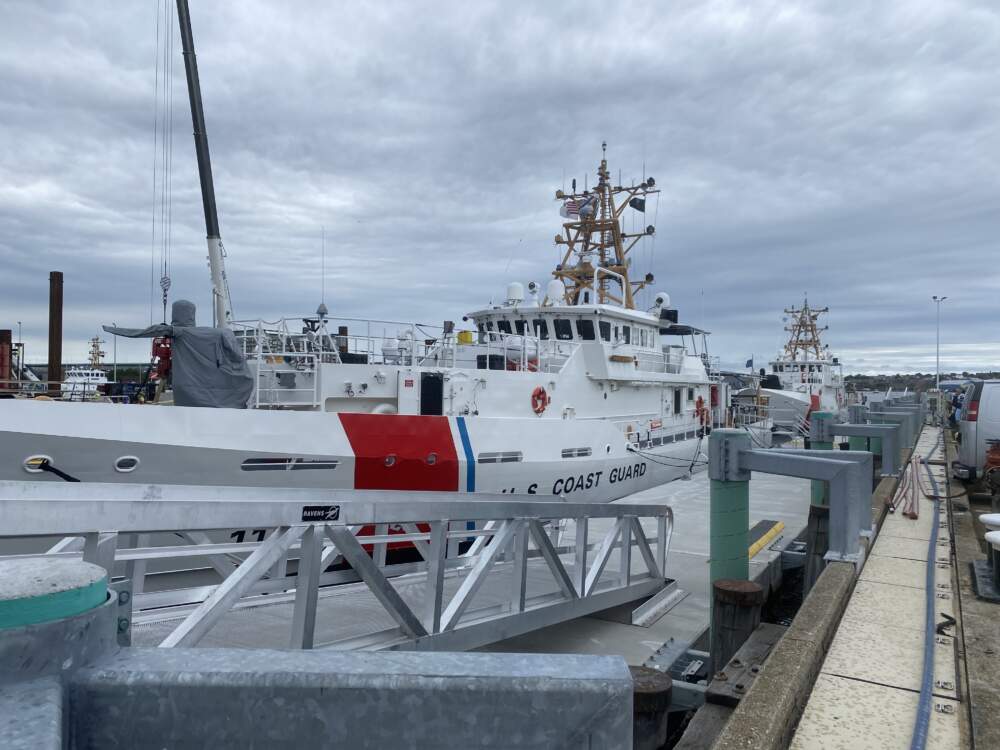 Lochridge, an experienced Scottish submarine pilot, was hired by OceanGate in 2015 to captain its 21-foot carbon fiber submersible Titan, which was then under development, according to court records filed in Seattle federal court in a dispute with his employer.
Lochridge said he became increasingly concerned about the company's lack of testing on the vessel's hull — which needs to be able to withstand massive pressure as it descends thousands of meters to the sea floor.
"Paying passengers would not be aware, and would not be informed, of this experimental design, the lack of non-destructive testing of the hull, or that hazardous flammable materials were being used within the submersible," Lochridge alleged in a court filing.
The company refused to pay for non-destructive testing and unmanned pressure testing, Lochridge said. He alleged he was fired after telling company executives he would not authorize any manned tests of the submersible until that testing was completed.
Lochridge declined to comment through his lawyer.
In legal filings, OceanGate said it relied on acoustic tests "better suited" to detect safety issues, and accused Lochridge of breaching his contract. OceanGate did not respond to questions from WBUR.
During an expedition in 2022, OceanGate reported that the submersible had a battery issue during a dive, and had to be manually attached to its lifting platform, according to court filings reviewed by the Associated Press.
"In the high sea state, the submersible sustained modest damage to its external components and OceanGate decided to cancel the second mission for repairs and operational enhancements," the filing stated.
Concerns about OceanGate's ability to communicate with its submersible came to light as recently as last year. On a dive at the Titanic site last summer, the surface crew lost contact with Titan for nearly five hours, according to CBS correspondent David Pogue, who'd been invited to observe the mission.
Pogue later said the submersible did "not have any kind of beacon" to be located in an emergency.
Photos of the inside of Titan show a cramped space that can just hold five people, who must sit on the floor and sometimes crouch to fit. It's controlled by a PlayStation-style video controller.
The five passengers aboard the vessel when it lost contact include OceanGate Expeditions CEO and founder Stockton Rush. He was joined by Hamish Harding, a billionaire adventurer, and a father and son from a wealthy Pakistan family, Shahzada Dawood and teenage Sulean Dawood, according to the Associated Press.
In addition, Paul-Henry Nargeolet, a former French naval officer and a Titanic specialist, was aboard. Passengers reportedly paid $250,000 to take this excursion in a tight underwater metal tube.
Harding on social media had posted Saturday, "Due to the worst winter in Newfoundland in 40 years, this mission is likely to be the first and only manned mission to the Titanic in 2023. A weather window has just opened up and we are going to attempt a dive tomorrow."
This was OceanGate's third excursion to the Titanic wreckage.
With additional reporting by the Associated Press.
This article was originally published on June 20, 2023.