NAACP leaders preview national convention coming to Boston in July
National leaders of the NAACP visited Boston on Tuesday to preview the organization's 114th annual convention, which will be hosted in the city in July.
The convention, which runs from July 26 to Aug. 1 at the Boston Convention and Exhibition Center in the Seaport, comes as civil rights are under attack nationwide, said NAACP president and CEO Derrick Johnson.
"We work to secure a future where everyone can exercise their civil and human rights in every aspect of life — education, health, criminal justice and the environment — without discrimination," said Johnson. "That's why this convention is a sacred space to us."
Johnson noted that the first chartered branch of the organization was established in Boston in 1912. The NAACP is the oldest civil rights organization in the country.
Boston previously hosted the convention in 1982, and was scheduled to host the conference in 2020 before the pandemic shut down the in-person event.
In her speech at the preview event, Mayor Michelle Wu emphasized the city has grown in the 41 years since the first convention in Boston, with greater representation at the state and local levels. She also emphasized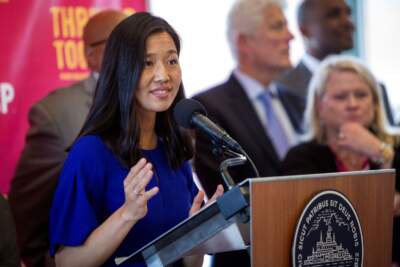 "Black leadership, Black excellence, Black resilience, and Black joy are not new here in Boston," said Wu. "Boston is not only the cradle of democracy, but the birthplace of the abolitionist movement without which our democracy would've remained inequitable and incomplete forever.
Wu said that the city is "honored" to host the convention.
The theme of the convention is "Thriving Together" and will include meetings between organization members, a gala, parties, an awards ceremony, and an organization election.
Some convention events are free and open to the public, including a community reception with Mayor Wu and Governor Maura Healey, and the 23rd annual Gospel Fest. The public is also welcome to The Hub, a gathering space at the Convention Center with food, music, Black-owned businesses, and family-friendly activities running July 28 through July 30.
The convention will also feature the Afro-Academic, Cultural, Technological and Scientific Olympics (ACT-SO), where high school students from around the country create projects and compete for scholarships and awards in science, arts, and humanities.