Electric rates are going down for Eversource Mass. customers on July 1
Just in time to crank the AC for the hottest part of the summer, many Eversource customers in Massachusetts are about to get a reprieve on their electric bills.
Beginning on July 1, customers who are on the utility's basic service rate will see a 38% decrease in the price of electricity if they live in eastern Massachusetts, and a 33% decrease if they live in western Massachusetts.
With these changes, the average household using 600 kilowatt-hours of electricity per month can expect to save about $58 per month in eastern Massachusetts and $42 per month in western Massachusetts.
Jim Shuckerow, director of electricity supply at Eversource, called it "terrific news" for customers who have been paying record-high rates for the last six months.
Are all Eversource customers getting a rate cut?
No. The only customers who will see a rate cut are those who are on the company's "basic supply rate." This is the default rate, and according to the utility, about 486,000 customers use it.
If you are an Eversource customer but are part of a municipal aggregation plan, or if you get your electricity from a competitive supplier, this rate change does not affect you. (For help figuring out whether your supplier is a utility, a municipal aggregator or a third-party company, click here.)
If you live in National Grid territory and are thinking, "what about me?" know that your supply rate decreased substantially on May 1. Unitil customers will see a change on Aug. 1.
Why is this happening now?
This was a scheduled change. In Massachusetts, utilities can adjust the basic supply rate twice a year after holding competitive auctions. To calculate the rate, the company estimates how much power it'll need for the next six months, and then signs contracts with various suppliers to provide it.
Importantly, the price per kilowatt-hour that your utility gets in the market is the price you pay. Utilities don't make money on the electricity they sell you; they profit by building infrastructure and delivering power to your home.
Utilities hold their auctions at different points in the year, which can help explain why rates change on different dates, and why there can be big price variabilities across the region. But generally speaking, electricity prices drop every summer and rise every winter. And this "seesaw effect," as Shuckerow called it, has everything to do with fossil fuel prices.
New England is very dependent on natural gas for generating electricity and heating homes, so in the winter, when demand increases, prices and electric rates tend to follow. Summertime rates, by contrast, tend to be lower — though experts caution that how much energy you use can be a big factor in what you pay monthly.
What else contributes to electricity prices?
As you might imagine, a region that uses a lot of natural gas will see energy rates that reflect the price of this commodity. (New England is not unique in its reliance on natural gas, but getting enough of it to meet demand is particularly challenging. And as such, prices tend to be higher than in other regions.)
Fossil fuels are a particularly volatile energy source, and prices can change quickly based on geopolitical events or extreme weather.
"Over the past few years, major global events have made the price volatility of natural gas so volatile that it's driven huge increases in electricity prices," said Joe Daniel, an expert at the climate and clean energy think tank RMI. Between Russia's invasion of Ukraine and a big winter storm that impacted much of the U.S., natural gas prices reached nearly unprecedented levels during the first half of 2022.
"That volatility has calmed down recently," he said. "And that will mean that utilities can lower their prices for customers."
According to Dennis Wamsted, an analyst at the Institute for Energy Economics and Financial Analysis, there are several reasons why natural gas prices have been falling.
"The market's concern with the uncertainties surrounding the impact of the Russian invasion have eased," he said. And "U.S. storage levels of natural gas are running above the five-year average, which helps keep prices low."
Other factors include record-high domestic natural gas production, relatively mild winter weather in the U.S. and Europe, and a relatively mild spring and early summer.
This "keeps a lid on electricity generation, which in turn keeps gas prices down," he said.
What to expect in the future?
It's hard to say.
But at least in the short-term, given the annual "seesaw" of prices, Shuckerow of Eversource said he expects that any price increases in the fall will be more typical — a few cents more per kilowatt-hour.
It's too early to say with certainty, though, he cautioned. "There's market conditions and also geopolitical events which can cause significant changes."
Wamsted of the Institute for Energy Economics and Financial Analysis agreed.
"Unexpected global tensions can always spark price volatility and those tensions are impossible to predict," he said. "Storage supply levels are also a key factor in winter prices. Starting the winter heating season with normal to above normal levels of gas in storage plays a big role in keeping prices in check."
Weather will also play a big role — a prolonged cold-snap could send prices skyrocketing.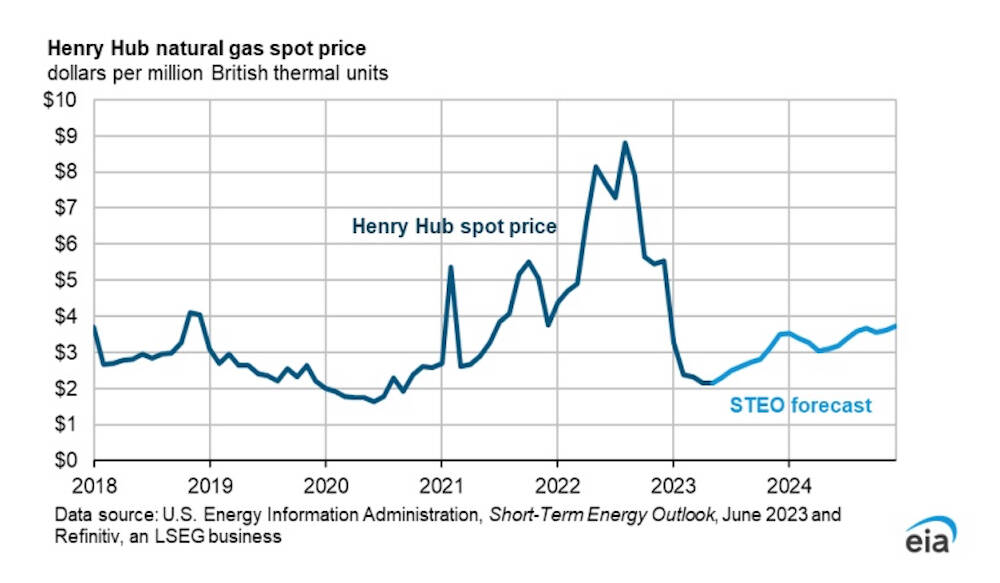 In the longer term, as Massachusetts and other New England states continue to add more renewables to the grid, electricity  prices should decrease and become more stable.
"There's no fuel volatility in a fuel-free resource like solar or wind," Daniel of RMI said.
A recent analysis from ISO New England, the regional grid operator, showed that in May, 51.9% of the region's electricity was produced from natural gas. The rest was generated by nuclear power (20%), hydropower (10.7%), wind (4.9%) and solar (7.1%). Burning wood, garbage and landfill gas also accounted for 4.9% of power generated.