Mass. employers remain pessimistic about the economy
Massachusetts employers say they are still pessimistic about the economy, according to the latest Business Confidence Index released Monday by the Associated Industries of Massachusetts (AIM).
This is the second month in a row business owners have indicated they are feeling cautious about the future. In May, business confidence dipped to the lowest level since December 2020.
The June index was roughly the same as the prior month — coming in at 49.7 on a 100-point scale, which is below the 50-point mark that separates an optimistic outlook from a pessimistic outlook. It comes as the Federal Reserve paused interest rate hikes, though many expect more hikes are likely, and amid a strong job market in the state, with unemployment dropping to 2.8% in May, according to AIM.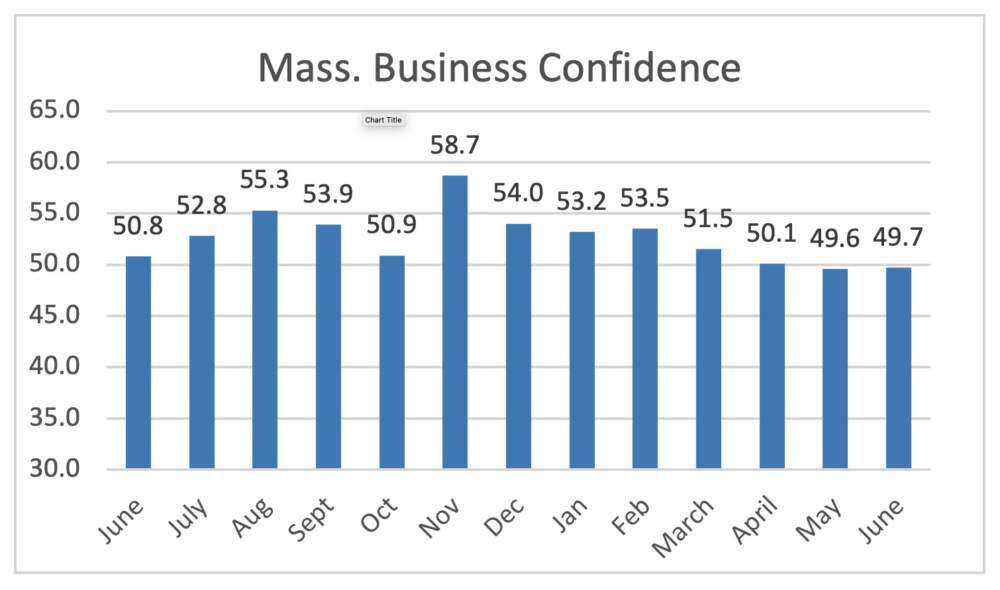 Employers seem to be reacting to mixed economic signals, according to Christopher Geehern, AIM executive vice president.
"On the one hand, the economy is pretty resilient. We saw that in the jobs report on Friday most recently," Geehern told WBUR, referring to the U.S. Bureau of Labor Statistics' "employment situation" summary for June. "At the same time, inflation has subsided certainly, but not nearly enough for the Federal Reserve to stop cranking up interest rates."
Business leaders told AIM, the state's largest business association, that finding qualified employees remains a major concern. Taken together, the combination of economic factors has businesses changing how they plan for the future, Geehern said.
"Perhaps somebody who was going to add a new wing onto their manufacturing plant, maybe instead of doing that in the fall they're now looking into doing it next year," Geehern said. "So I think it's not critical slowdown, but it's just enough hesitation to make employers maybe push out some projects that they had planned."
Business confidence did vary a bit by region. Employers in central Massachusetts and Springfield were less optimistic than employers statewide. In central Massachusetts, the index fell from 50.4 to 46.3 between May and June. In Springfield, the index remained at 45.7 from the previous month. In the North Shore, employers had a more positive outlook about the economy: there, the index increased from 50.5 to 55.
The June Business Confidence Index  — which measures how the employers are feeling about the economy — was based on a survey of more than 140 employers in the state.
With reporting from WBUR's Newscast Unit