Over-the-counter birth control: Why it matters and one big remaining question for Mass. customers
Editor's Note: This is an excerpt from WBUR's daily morning newsletter, WBUR Today. If you like what you read and want it in your inbox, sign up here. 
---
TGIF! If any of you are brave enough to try Sam Adams' new pickle beer, there's a special release party tonight at the brewery's downtown taproom. (Apparently, it's a big weekend here for pickle things.)
To the news:
Massachusetts reproductive rights advocates are pretty stoked about the federal approval of the first over-the-counter sales birth control pill. The FDA's decision yesterday means women will soon be able to get the once-a-day tablet Opill without a prescription. "Over-the-counter birth control is essential to our reproductive freedom," Rep. Ayanna Pressley said in a statement celebrating the news.
How you can get it: Opill's maker Perrigo says the pills will be in stores and online in early 2024. There will be no age restrictions on who can buy it. And while it's called "over the counter," you should also be able to buy it off the shelf just like Dayquil or Tylenol (though some stores may choose keep it at the counter).
Why it matters: The big factor is convenience, according to Kelly Blanchard, the president of the Cambridge-based group Ibis Reproductive Health, which led the decades-long OTC push. Blanchard says it means people won't have to take time off work for a doctor's appointment to access birth control. They can just swing by the pharmacy or even go on their computer.
The key question: Will it also be cheaper? Opill's manufacturer hasn't announced what the pill will cost. While over-the-counter medicines are usually cheaper than prescriptions, they typically aren't covered by insurance, the Associated Press reports. Some advocates want the Biden administration to use its executive authority to require insurers to cover Opill. (They're reportedly considering it.) Pressley is also pushing legislation to do so.
Between the lines: Without insurance, other birth control pills cost around $15-$30 for a month's supply, according to the AP.
Who says no? WBUR's Gabrielle Emanuel recently explored why there was surprisingly little pushback against the FDA's decision, despite the polarization over reproductive rights.
Heads up: Green Line service is a bit wacky this weekend. There's basically going to be no underground trolley service and all E branch service is suspended south of North Station. (There'll still be service on the Green Line Extension and the above-ground B, C and D branch stops.)
Why? T officials say they're doing a whole range of inspections to the Green Line tunnel (electrical, mechanical, fire, etc.).
What are your alternative options? Shuttle buses will run from the Boston University East and St. Mary's Street stops to Back Bay station so riders can take the Orange Line downtown. Meanwhile, the T is suggesting E branch riders take the 39 bus.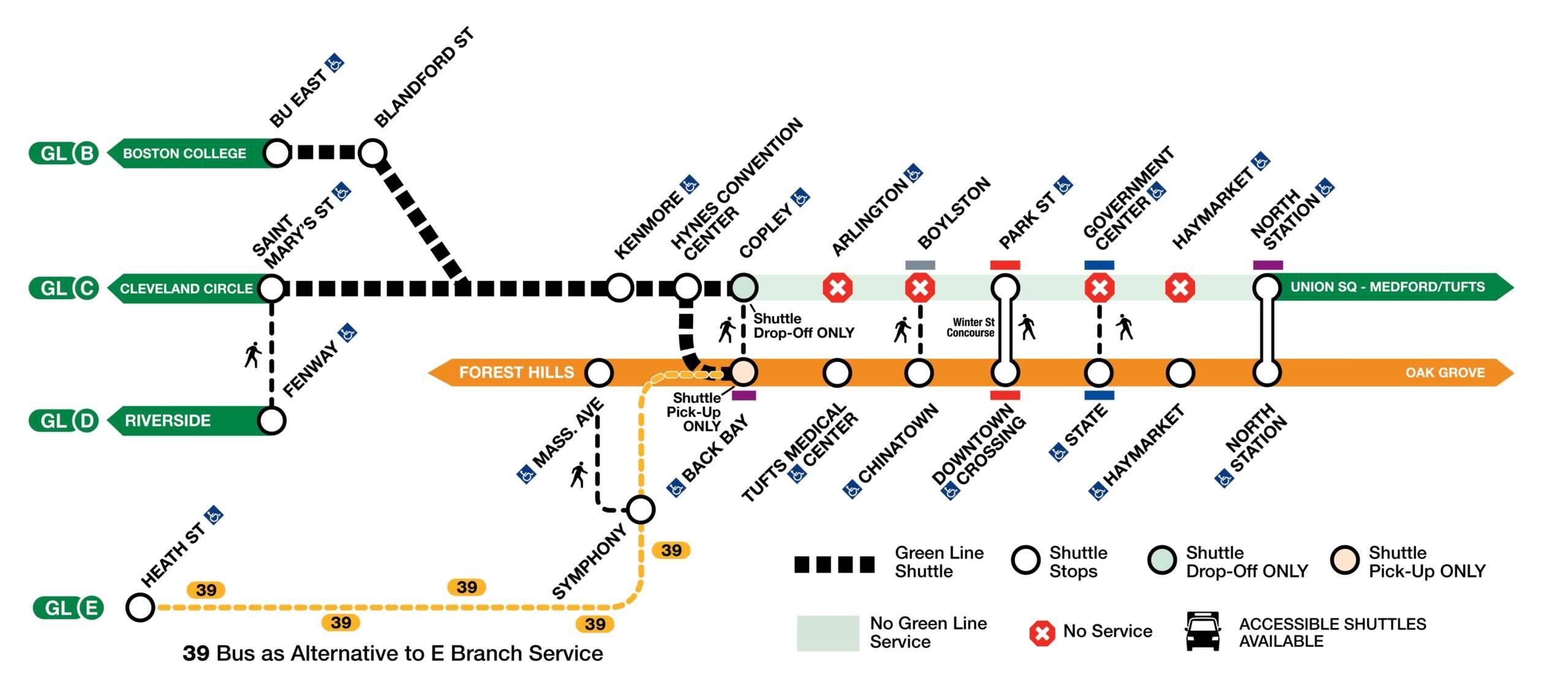 Boston leaders are encouraging people to turn over guns, after the shooting death of a 12-year-old boy Thursday in Mattapan. "I just implore folks that you have guns in your home, particularly illegal or whatever, turn them in to us," Boston Police Commissioner Michael Cox told reporters.
Police have arrested 22-year-old Walter Hendrick in the shooting. He's charged with unlawful possession of a firearm and improper storage, and is due in court in Dorchester this morning.
Veep veep: Vice President Kamala Harris is coming to Boston at the end of the month to speak at the NAACP's national convention. The conference schedule — which runs July 26 to Aug. 1 — shows Harris speaking Saturday night, July 30. Other convention speakers include Hillary Clinton, Pressley and Tennessee Rep. Justin Jones.
Looking for a greener way to get to the zoo? The Franklin Park Zoo officially launched a free weekend electric shuttle bus to and from the Forest Hills Orange Line station, thanks to a grant from the Massachusetts Clean Energy Center. Zoo officials hope the new connection encourages more transit riders to visit — and fewer car trips, according to John Linehan, the CEO of Zoo New England.
The deets: The 14-person shuttle will run from 9 a.m. to 4:30 p.m. every weekend through Labor Day. The maximum wait should be roughly 20 minutes, according to a spokesperson from the MCEC.
P.S.— What sport took over Fenway Park from Wednesday to Sunday this week for an exhibition series? If you think you know the answer, take our Boston News Quiz to find out.