Boston expected to get its first heat wave of the summer
Resume
We've only hit 90 degrees or higher two times so far this summer in Boston — but that stat is about to change.
Our first heat wave of the year is moving in. Temperatures will likely start to rise Wednesday, and last possibly through Saturday.
The hot temperatures will be accompanied by oppressive humidity, resulting in stifling heat index values, over 100 degrees on Thursday and Friday. It will be a close call as to whether or not we will hit the 90 degree mark Wednesday and again on Saturday. If we do, this will be recorded as a four-day heat wave.
Boston Mayor Michelle Wu issued a heat emergency for Thursday and Friday; and a heat advisory Wednesday through Saturday.
For the official heat wave designation, there needs to be three consecutive days of 90 degree, or higher, readings. Last summer, we hit 90 degrees or greater 21 times, and had two heat waves: one in July (for seven days) and one in August (for six days).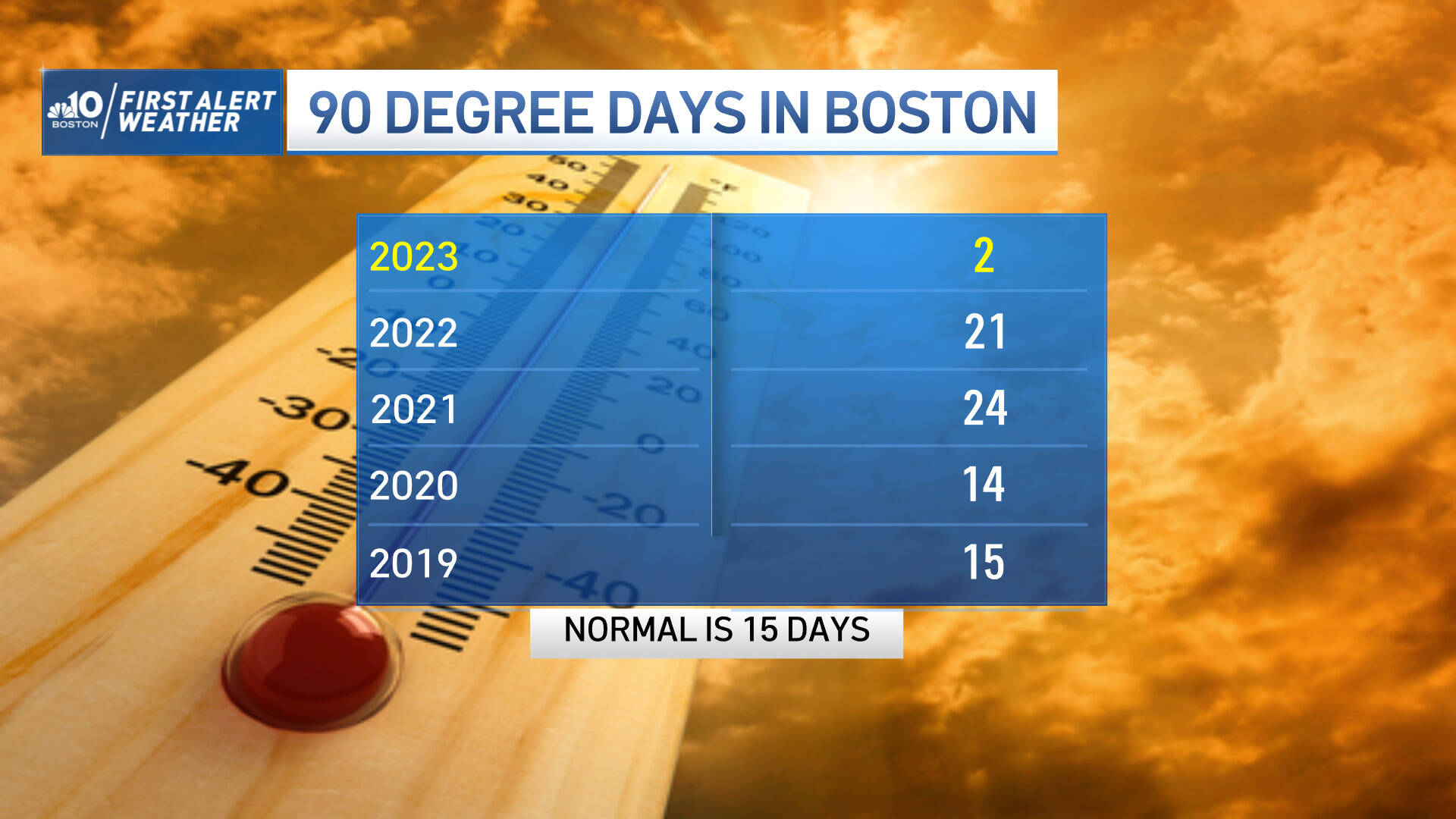 ---
Day-by-day forecast:
Wednesday
Wednesday will be storm-free. The entire atmosphere will be warm to hot, top to bottom, reducing any cold-warm clash in the sky that drives thunderstorm development. Temperatures will make a run at 90 degrees in the afternoon and with the humidity, heat index values will be in the lower 90s.
Thursday
Thursday will be even hotter: highs will climb into the low to mid-90s with heat index values around 100. Although we still start the day without storminess, scattered afternoon thunderstorms will likely erupt and continue until the evening. Some storms could reach severe thresholds, with damaging wind gusts and localized flooding.
Some of the strongest storms are likely to exhibit some rotation as well, which means a tornado warning will be possible, though the risk is very low.
Thursday is absolutely a day to be weather aware; monitor for any warnings that are issued, and have a plan to seek shelter indoors should you need to.
A heat advisory is in place for both Thursday and Friday, which means heat-related illnesses can occur more easily under these conditions. Make sure to stay hydrated, seek shade and air conditioning, and check up on family, friends and neighbors. Remember: young kids and pets should never be left in vehicles.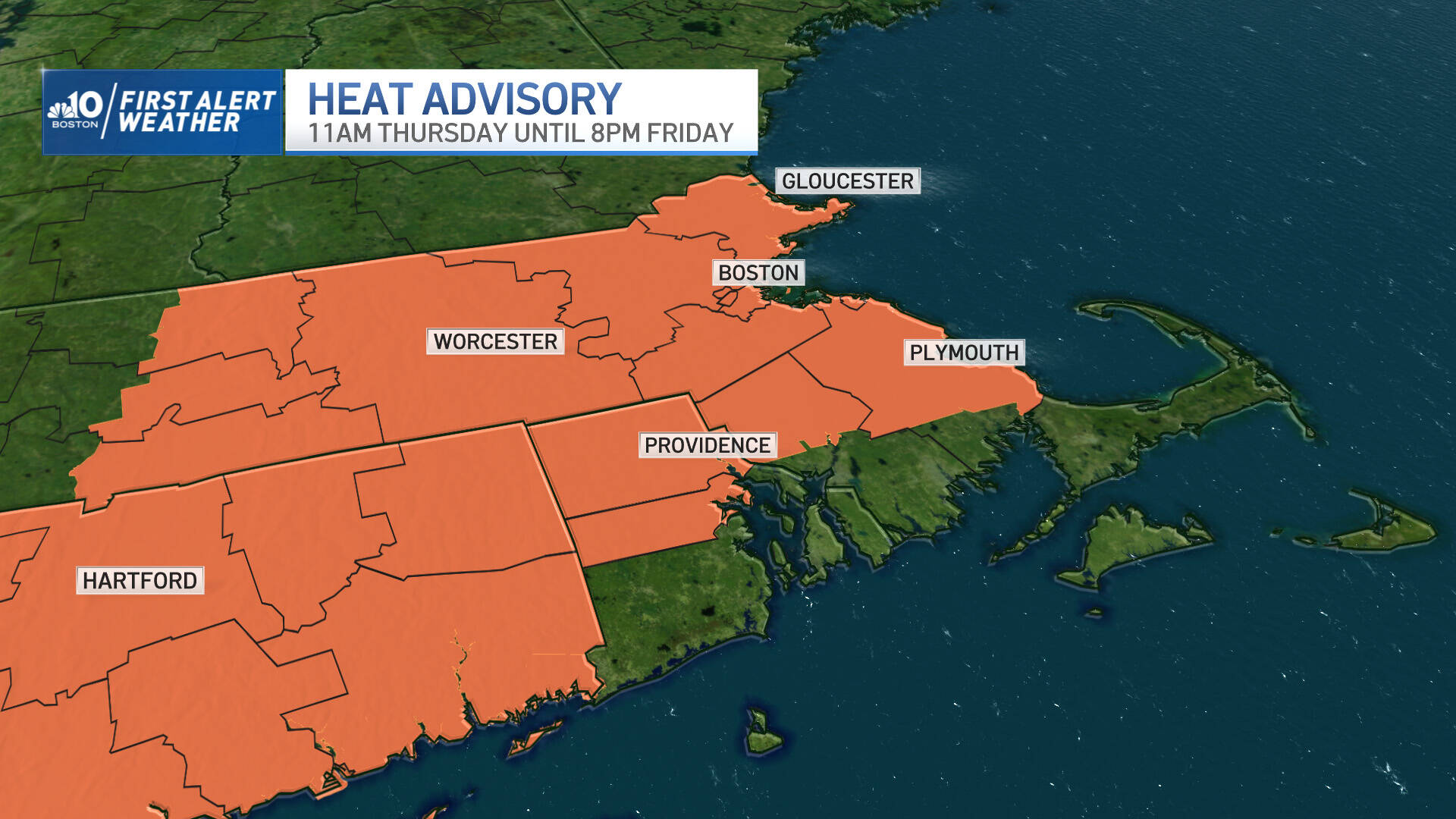 Friday
The heat continues on Friday, but the trend has been to keep us mostly dry. Heat index values will be around 100 again.
A heat advisory continues. In Boston, cooling centers will be open (see locations here), and splash pads at parks and playgrounds will be on (see locations here).
Saturday
On Saturday, a cold front arrives at the surface from the northwest, triggering more storms after high temperatures reach 90 degrees again for parts of southern New England. Brand new air arrives behind the cold front on Sunday, which means lower humidity, lots of sunshine and noticeably cooler temperatures, around 80.