Listen: Noble Dust's progressive folk-pop song inspired by WWII-era letters
This is an exclusive song premiere, part of WBUR's effort to highlight New England musicians.
---
---
It's common for songwriters to find inspiration in their personal lives, but it's pretty rare for that inspiration to come in the form of letters sent across the world roughly 75 years earlier. And that's exactly what musician Emily Cunningham did.
Cunningham sings and plays guitar in Boston-based band Noble Dust and also wrote the lyrics for the sextet's upcoming album, "A Picture for a Frame," after stumbling across a box of her grandfather's letters in the attic of her family's home.
"Red Letters" is a new single from the album, and like the rest of the project, it takes inspiration from those letters and other memoirs from both sides of World War II.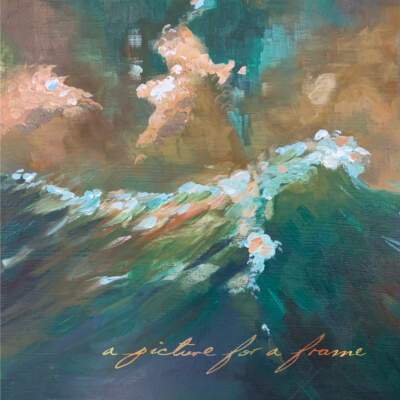 "This song in particular draws from an oral history of Japanese soldiers and civilians called 'Japan at War' by Haruko Taya Cook and Theodore F. Cook," says Cunningham. "It was striking how similar the sentiments of their stories were to those in my grandfather's letters — 20-somethings, children really, on opposite sides of a war, fighting for home."
Cunningham's grandfather was stationed in the South Pacific and sent the letters back to her grandmother in America. Cunningham's family still lives in that Roxbury home that her grandparents bought together when her grandfather returned from the war. "I'd never met my grandfather, so it was cool to learn about the family history that way," she says.
From there, Cunningham researched other writings from primary sources during that period in history then blended stories together for this concept album, which was orchestrated by the rest of her bandmates.
For nearly a decade, Noble Dust has been releasing music that goes in unexpected directions. The band achieves its progressive folk-pop sound from a variety of instruments the members play. Joining Cunningham are Lindsey Cook on trumpet and vocals, cellist Kai Crull, Dave Smith on vocals and mellotron, percussionist Ryan MacDougall and Evan Spetrini on bass, trombone and vocals. The band's instrumental chops are on full display in "Come Spring," a cut from the band's 2018 debut album "And The Tide Rises," and one of my personal favorites from their discography. It plays like an instrumental start of a folk adventure with guitar plucking, soulful horns, dreamy keys and no vocals for the first four minutes before a joyful chorus cries, "Sing me a song!"
In previous singles from "A Picture for a Frame," Cunningham takes on the voices of characters from the period. She asks the listener to "save the last dance for me" in "Last Dance at the Grove." She marries the dark themes of war with the warmth of two lovers separated by distance in "Abbey," in which she sings, "All of their names and their crooked hearts/ Outlast their love and outlive their bodies/ When all of the apples fall to the gravel/ I'll be the one you take to the chapel."
"Red Letters" opens with Cunningham's voice: "Welcome home cried the land/ To the cavalryman/ Across the valley of cedar and pine/ Until from white scattered houses/ The lamplight grew dim/ Sleep my butchers, my bakers, drunkards and lovers."
When talking about the forthcoming album, Cunningham returns to a term she calls "the maintainers," who she says the album honors. "I thought about the Kurt Vonnegut quote 'Another flaw in the human character is that everybody wants to build and nobody wants to do maintenance' quite a bit while writing," she says. "Maintainers throughout history make a commitment to bettering their little corner of the earth — that commitment could be to their work or craft, or to raising a family, or to their town and their neighbors. They show up consistently for that commitment even when it's not easy."
In "A Picture for a Frame," Noble Dust maintains their blend of sweeping instrumentals and profound lyrics while telling the human stories behind the deadliest conflict in human history.
---
Noble Dust's "A Picture for a Frame" is out Aug. 25. The album release party is at Club Passim in Cambridge on Aug. 26.
Note: The audio for WBUR's music premieres comes down after the track is released. You could still listen to the track via the streaming service embed above.
This article was originally published on July 26, 2023.