Listen: Darlingside's 'Right Friend' is a pensive ode to friendship
This is an exclusive song premiere, part of WBUR's effort to highlight New England musicians.
---
---
The first few moments of Darlingside's newest single, "Right Friend," feel like a spiritual affirmation. "You've always been the right kind/ Of friend when I'm at/ My end," several of the group's voices chant in an off-kilter and breathy cadence. The woody strums of mandolins and acoustic guitars pedal a tense minor chord. As the music floats motionlessly, it begins to feel less like an affirmation and more like a psychic transmission, a folksy offering to a spirit in a mossy forest. You know they're singing a song for someone they cherish dearly, but you can sense that person might no longer be with them.
Such ruminations of memory and loss are common themes on the Massachusetts folk quartet's newest album, "Everything Is Alive" (out July 28). Unlike its richly harmonious predecessor, 2020's "Fish Pond Fish," the group's forthcoming album explores a sparse and intimate palette of sounds while each of its members, though often in harmony together, exchange lead-singing duties. This trade-off yields a deeper album, one brimming with big questions raised by a group of singular voices and satisfyingly simple accompaniments.
"Right Friend" is one of the album's more pensive songs. "Lyrically… this tune also deals with memory and questions of what is real and what isn't. In this case, they pertain to the death of a friend," says band member Auyon Mukharji, who plays violin, mandolin and sings, in a statement. "The unusual cadence and repetition within the chorus make it feel almost like an incantation, willing the return of someone who can no longer come back."
The four rich voices of Darlingside — made up of Don Mitchell, Harris Paseltiner, David Senft and Mukharji — can be opposing in timbre and approach. Scan the tracks on the album and you'll find one huskier voice singing lead, then one more nasally and pointed like a soft Bob Dylan, then you'll hear a combination of two voices in a raspy harmony. "Right Friend" illustrates the lighter and airy complexion of their vocal blend, showing a similar delicate delivery as Sufjan Stevens or Fleet Foxes' Robin Pecknold.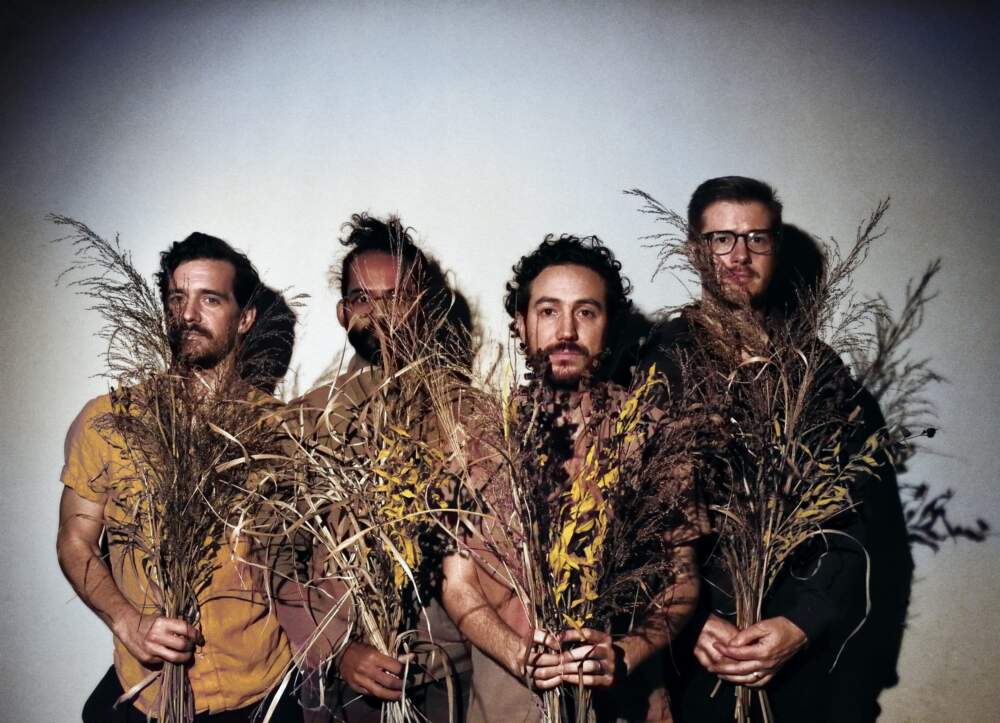 The song's mixed-meter timing allows for interesting blocks of syllabic poetry throughout. "New England now is racing past/ Still I need you," they sing, with the unadorned sounds of claps, snaps and tapping in place of more traditional percussion instruments. "But you're only here in frozen patches and/ Shadows in the leaves," they continue, as a buzzy synthesizer cycles through a churchy chord progression. Though it boasts a spotless audio capture, "Right Friend" feels entirely homespun, as if the group grabbed what primitive gear they could before running out the door to record a ritual in the heart of the woods as the sun begins to set.
The song's accompanying lyric video offers a different perspective. Moving through a sequence of candid videos of the band, the song's central affirmation plays overtop shots of the members engaged in sweet and earnest friendly activities, like lounging in a hammock and playing digital air hockey. We're witness to an assortment of flashing smiles and the quiet minutiae of friendship.
And suddenly, the song feels transcendent of both memory and loss, its ode to friendship unstuck from the mire.
---
Darlingside's single "Right Friend" is set to release June 23. Their upcoming album "Everything Is Alive" is out July 28.