The Unshakable Companionship Of Darlingside, Boston's Indie Folk Darlings
This article is more than 2 years old.
Boston folk quartet Darlingside is a fastidiously democratic unit, but it's not exactly a surprising realization. At every live show, the group's four members — Dave Senft, Don Mitchell, Auyon Mukharji and Harris Paseltiner — form a half-circle around a singular microphone and sing each song together. Within the fluidity of their collective voice, there's a feeling that each member has something unique to provide. Each voice is an offering to music that is greater than the sum of its parts; their presentation in front of the singular microphone is an allegory of a ritual, like a libation or a pious benefaction.
"The sensibilities and sensitivities of each member are marked on each song," cellist, guitarist and vocalist Paseltiner tells me over a video chat from his home in Waltham, Massachusetts. Sitting next to him is Mukharji, who plays mandolin, violin and sings in the group. He chimes in: "There's a lot of investment from all of us. There's also a lot of trust, and I think that's the more important thing."
They're responding to my observation about how intentional each passage of music feels on their fourth full-length album "Fish Pond Fish," set for release on Oct. 9 via Thirty Tigers. It's a warm and welcoming step forward for the band into the realm of pop, though distinctively rustic and folk-driven. Four-part harmonies lay the foundation for a swirling bouquet of light synthesizers and hearty strums, some sparse percussion and an ample kick drum pulse keeping time. It's bursting with a crystalline presence.
"I think this particular record deals more with life and death, like a cycle of growth," Paseltiner describes. "It's like, right here in front of me, there is constant birth and death." He precedes this thought with something I'll hear a few times in our conversation: "For me personally — and I'll use that disclaimer often because between the four of us, there's four very different ideas."
The quartet's dedication to their craft stems back over a decade to their time as students in an acapella group at Williams College in Williamstown, Massachusetts. The idea to form a band was planted, but growth wasn't shaped until they moved into a shared home in Hadley after graduation. There, as a five-piece indie rock band, Darlingside cultivated music akin to the hipster baroqueness of Grizzly Bear and The Shins, compositionally dense and often challenging, but implicitly charming. They released an EP in 2010 and a full-length album called "Pilot Machines" in 2012 as a band committed to indie rock, but their demanding tour schedule led to the departure of their drummer shortly thereafter, leaving the four current members to navigate a reformation early in their career.
"At that time, we were just trying to see what could happen," Paseltiner recalls. Their music changed out of necessity; without the drums, their playing became more rhythmic and acoustics became more prevalent. They began playing listening rooms as the metamorphosis slowly dawned on them. "I had this moment where I thought, 'Perhaps the songs are more about the vocal textures and the things that we're singing and saying than I had first imagined,'" he explains.
Darlingside's first full-length album as a quartet in 2015, the ethereal "Birds Say," was not only critically lauded, but largely accepted into a new circle of bluegrass and folk music fans, an audience the group was learning to accept as their own despite hesitations of such labels. "It's not just imposter syndrome; we are imposters. We don't know how to play bluegrass," Mukharji says with a grin. "But we have instruments and a mic set up that allows us to pretend that we do." A substantial amount of their blooming notoriety was due in part by an endorsement from Graham Nash as the 2015 Folk Alliance International keynote speaker. He publicly praised the group's cover of Joni Mitchell's "Woodstock" with singer-songwriter Heather Maloney, and they were awarded artist of the year at the conference. Their first big break emerged with fervor.
Subsequently, Darlingside reinforced their commitment to each other and their music. As established in their early days, each member remained an equal owner. "We think of how to responsibly build this world, this diorama, and how to put each piece in place to support this self-standing thing that we're trying to serve," Paseltiner tells me. Mukharji explains the importance of their shared philosophy with a weighted turn of phrase: "Capitalism creates perverse incentives," their academic backbone revealing itself not only in the literary likeness of their lyrics, but in the very framework of their ideals.
Following the success of "Birds Say," the band released "Extralife" in 2018, a collection of music that diversified their textural palette and artistic vision. The synthesized soundscapes sprawl with a soft touch, each member's voice exquisitely enmeshed and arranged. Its somber perspective is highlighted by a marked maturity in stature. Influences from Sufjan Stevens and contemporary Fleet Foxes loomed in its bones as a dystopian view of the world unfolded. "Impending apocalypse shouldn't sound this beautiful," NPR noted in a review.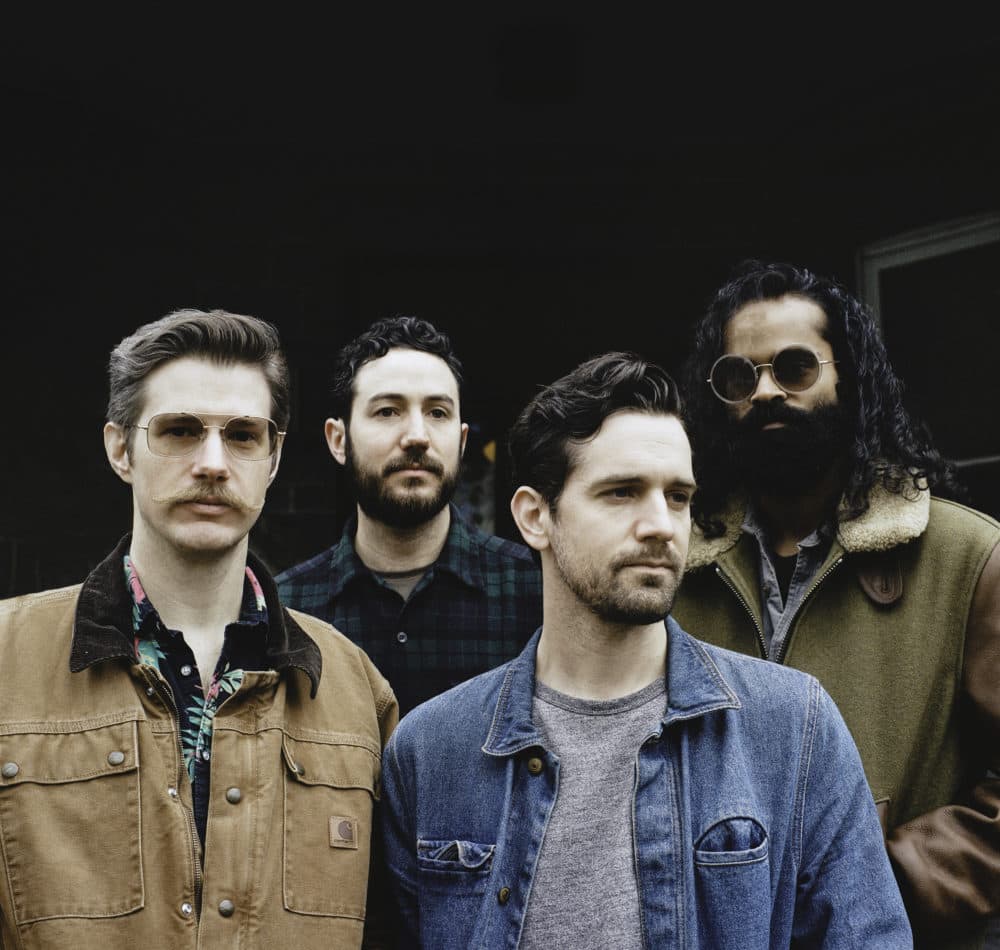 I inquire about their decision to make Massachusetts their home base (all four members are transplants). "One could certainly make a strong argument that our ability and desire to morph more into folk was largely based on the musical culture we were a part of in Northampton, Boston and Cambridge," Mukharji says. They praise listening rooms around town, like the Lizard Lounge and TOAD, for harboring a strong community. They've witnessed the region's profound preservation of folk music culture firsthand. "The most important part about Massachusetts is the fact that it's something all four of us have shared and experienced together," he follows, as Paseltiner emphatically points to him and agrees with an excited, "Yes!"
In full, Darlingside is beyond the confines of just a band for the duo and their fellow bandmates — it's become a way of life. Companionship is what drives them. They joke that if it wasn't a band, they'd start some other venture. "I think we'd run a really killer B&B," Mukharji says with a laugh, as Paseltiner claps and chuckles. The unity they offer is comforting and refreshing, and found in every essence of their art. But the most striking and believable example is imbued in the humble sound of their collective voice saturating a single microphone.
---
Darlingside's "Fish Pond Fish" is out Oct. 9.