Penguin chick is healthy and 'thriving' after assisted hatch at New England Aquarium
A penguin chick who struggled to come out of its shell at the New England Aquarium earlier this summer, requiring staff to perform an assisted hatch, has graduated from drinking a specialized formula to eating full fish and could join a colony of penguins this fall.
The unnamed female southern rockhopper penguin hatched on June 23 with the help of the aquarium's animal care team, who spent hours peeling back the egg's outer shell and membrane when the chick could not break through, aquarium officials announced Wednesday.
Penguin parents Pebble II and Fuego II were caring for the egg while the chick attempted to hatch, but aquarium staff intervened when the shell showed few signs of damage.
"Eggs can take 24 to 48 hours to hatch, but we weren't seeing much progress from the chick on its own and were concerned it was too weak," said Dr. Melissa Joblon, director of animal health at the aquarium.
Once veterinarians completed the procedure, the chick was admitted into the aquarium's intensive care unit, where she continued the hatching process into the next day. Staff attempted to return the chick to her parents, but when the reunion was unsuccessful, ten penguin trainers took over parental duties.
The team provided round-the-clock care to the chick, serving her a "milkshake-like" blend of fish, krill, vitamins and supplements five times a day. Within one month, she was eating full fish three times a day, and clocked in at three pounds — 17 times her hatch weight.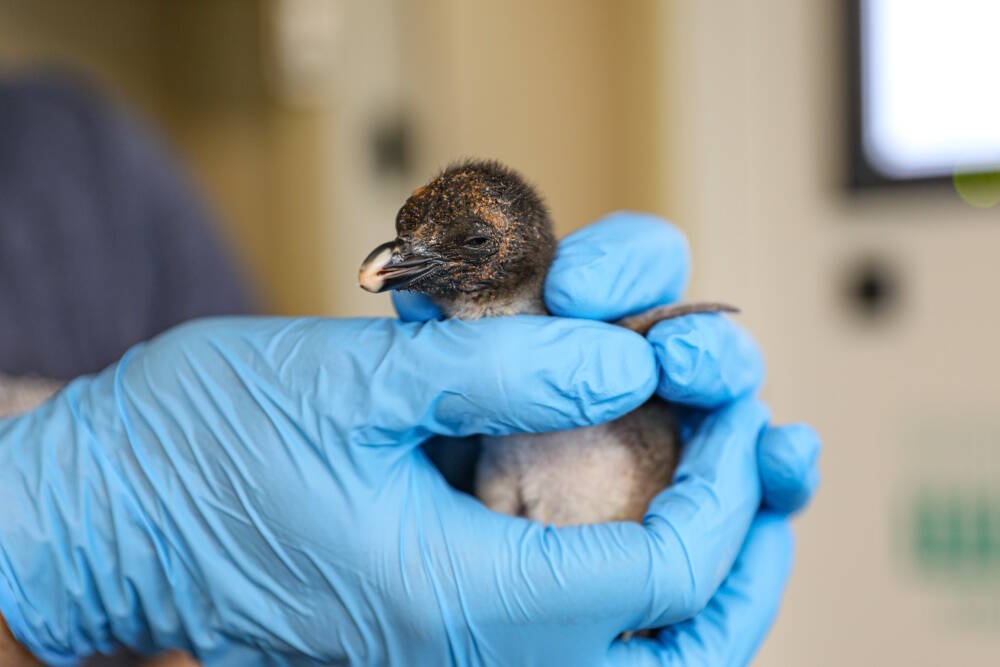 "Caring for a penguin chick is like caring for a human baby: It truly takes a village," penguins manager Eric Fox said. "Our dedicated staff jumped at the opportunity to spend their late hours helping provide the chick all of the care that it needed."
Trainers have introduced the chick to some of the aquarium's 13 rockhopper penguins, and once her waterproof feathers have grown in and she undergoes a medical evaluation, the aquarium anticipates she will be able to join their colony. By fall, guests could be able to view the chick on exhibit, and the aquarium also plans to choose and reveal her name.
"Although there are many milestones to go, we are seeing great signs that we have a healthy, thriving chick," Fox said.
Southern rockhopper penguins are considered a vulnerable or threatened species, according to the aquarium, and their numbers have declined about 35 percent over the past three to four decades. The aquarium said "climate change and the associated warming of the ocean surrounding their habitats" has been a major factor in their decline and that wild colonies face threats from depletion of food sources, overfishing, and pollution from incidents such as oil spills.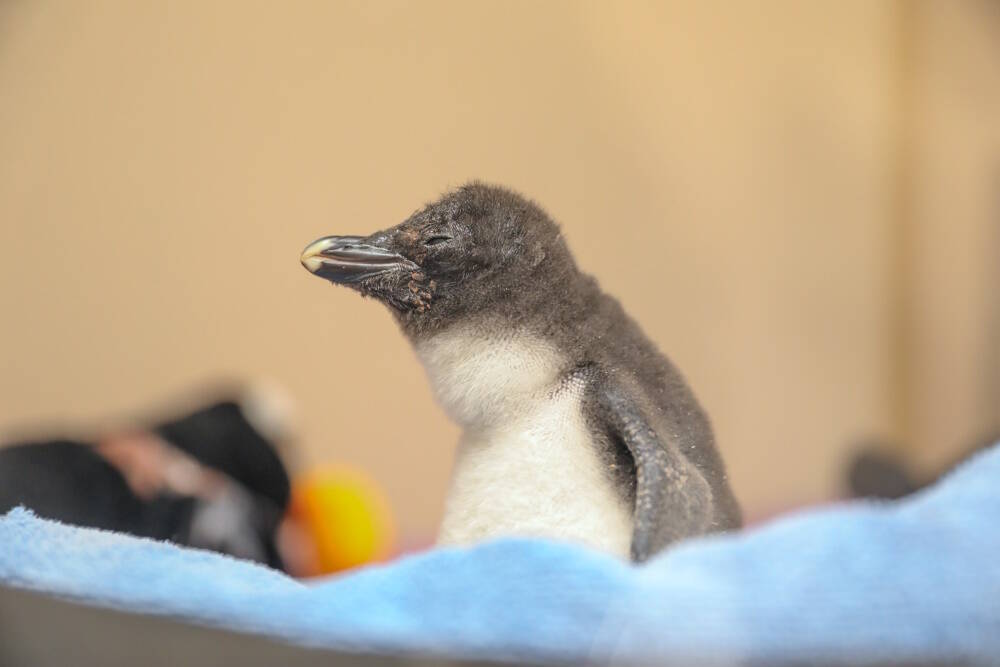 The aquarium this week also released eight rehabilitated sea turtles off Cape Cod, all with pasta-themed names, including Ziti, Tortellini and Fettuccine. Last December, the turtles became hypothermic in the Cape Cod Bay and washed ashore, before the Wellfleet Bay Wildlife Sanctuary team came to the rescue. The turtles spent the following eight months at the aquarium's sea turtle hospital in Quincy, undergoing treatment for pneumonia, dehydration and trauma.
In 2022, the aquarium rescued 518 sea turtles that experienced cold-stunning. The natural phenomenon has caused an increasing number of sea turtles to wash ashore in Massachusetts in recent years, from approximately 50 beached turtles in 2000 to more than 700 in 2021. Some researchers predict that by 2031, thousands of sea turtles will become stranded annually due to cold-stunning.