More Mass. EV rebates now available, including for used cars
If you've been waiting for the full suite of Massachusetts electric vehicle incentives to kick in before buying a new (or used) car, the wait is over. As of Aug. 8, residents are eligible for all of the new and enhanced rebates laid out in the 2022 climate law.
Some notable changes include a new rebate program for used EVs, extra incentives for lower-income residents, and, for the first time, point-of-sale rebates to lower the sticker price of buying a car. Those who qualify for all of the incentives could save $5,000 on the purchase.
But as with the federal EV incentive program, there are a lot of details and nuances. Here's what you need to know:
Who qualifies and how?
You need to be a Massachusetts resident to receive any of the rebates
Some rebates are only available for people below a certain annual income level (see below)
These rebates only apply to electric vehicles (battery or fuel-cell), not plug-in hybrids
The state's MOR-EV website has more details about how to apply.
What rebates are available for new EVs?
You can get up to $3,500 for buying (or leasing) a new EV
Only cars that cost $55,000 or less are eligible (See the full list of vehicles)
What rebates are available for used EVs?
You can get up to $3,500 if you buy a used EV
Only cars that cost $40,000 or less and with a model year that's at least two-years-old are eligible
A used EV is only eligible for the rebate if the previous owner hasn't received a rebate for it in the last three years.
The sale must take place at a licensed dealership; private sales will not qualify
To be eligible to get the rebate, you must either participate in an approved state or federal program like MassHealth or the Supplemental Nutrition Assistance Program, or have an income below the following thresholds:
- $150,000 for married couples filing jointly or a surviving spouse
- $112,500 for heads of households
- $75,000 for single people and all other filers
When do I get my rebate?
In the past, residents had to apply for a rebate after buying an EV. Those rebates should be available and applied at the point-of-sale for new and used vehicles by Sept. 1.
If for some reason you are unable to get a point-of-sale rebate, you must apply online at the MOR-EV website within 90 days of receiving your vehicle.
What about plug-in hybrid vehicles?
The state is no longer offering rebates for plug-in hybrid vehicles. However, if you purchased a hybrid before July 1, 2023, you may still qualify for a $1,500 rebate.
To receive the rebate, the car must cost $50,000 or less and have an all-electric range of at least 25 miles.
Applications for this rebate will only be accepted until September 28, 2023.
What about electric trucks?
You can get a rebate for certain electric trucks, though the amount you can get depends on the vehicle
Pick-up trucks and Class 2b trucks are eligible if they cost $80,000 or less and meet certain weight requirements. (See the MOR-EV website for details)
Can I get a rebate if I buy an EV from outside of Massachusetts?
Yes. However, you must register the car in Massachusetts and apply for the rebate within 90 days to quality.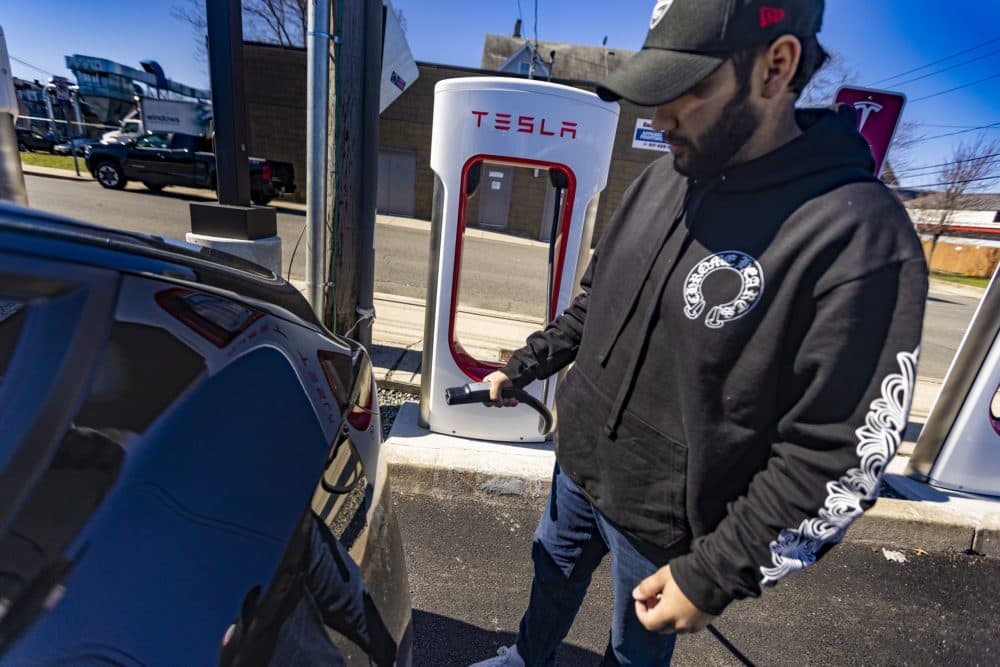 What if I recently bought a EV?
If you bought a qualifying used EV between Nov. 10, 2022 and Aug. 8, 2023, you can still apply for the $3,500 rebate. But you must do so by Nov. 6, 2023.
The $3,500 rebate for new EVs has been available since late last year. You have 90 days after the purchase to apply for the rebate.
Can I get an extra rebate for turning in a gas-powered car with my EV purchase?
Yes, but not quite yet.
When lawmakers wrote the 2022 climate law, they included a provision that would allow residents to get an extra $1,000 if they turned in a gas-powered vehicle when they bought an EV.
This aspect of the new incentive program isn't quite ready, state officials say. Anyone who trades in a qualifying car after Aug. 8 is eligible to receive the rebate; however, applications for this rebate will not open until Jan. 1, 2024.
State officials also caution that there are limited funds for this rebate, and money will be distributed on a first come, first serve basis.
To qualify, the old car must:
Have an internal combustion engine
Be at least 12 years old
Have market value above $0
Have an up-to-date state inspection sticker
Have been owned by the EV purchaser or an immediate family member
Can I get the state and federal incentives?
Yes! Getting a federal tax credit for buying an EV does not preclude you from getting the state rebate, and vice versa. However, be aware that the federal government has set strict rules about vehicle eligibility, so some EVs that qualify for state rebates may not qualify for federal tax credits.
For more on the federal incentives, read our explainer.
How do I find a new or used EV?
Great question. The MOR-EV website has a list of participating dealerships to help you narrow your search.
The state is also launching a new outreach effort to help lower-income residents and people who don't speak English fluently learn about the new incentives and how they can apply.
"This year, drivers in Massachusetts have been really excited about EVs, and that's great for our climate," said Elizabeth Mahony, commissioner of the Department of Energy Resources, which runs the MOR-EV program. "But we want to make sure that everyone is excited for EVs and thinks that they have the opportunity to purchase them."
One last tip: If you scroll all the way to the bottom of the MOR-EV website and click "language," you can translate all of the information on the website into Spanish, Portuguese, Haitian Creole, Vietnamese and Chinese.