Facing an 'epidemic of loneliness,' some Mass. organizations try to help people make friends
Resume
On a typical morning, Jason Silverman lounges at home in his bed for hours, with the TV on and the volume turned up. Sometimes, this daily regimen can get lonely.
So he looks forward to the days his friend, Melissa Mills, picks him up and takes him to a Framingham gym, where they exercise together.
Silverman, 38, has Down syndrome. Talking is difficult for him, but he communicates by smiling, sighing and leading Mills by the arm. She's become familiar with his routine: usually they hit the treadmill first, then bike a bit before a lunch break and finally, a swim in the pool.
"We laugh and don't worry about anything when we're together," said Mills, 43. "There's no stress; there's no pressure. We're just here to hang out."
This connection began in a somewhat unusual way. Mills, who works in human resources for the state police, volunteers with a small but growing initiative called the Friendship Project. The program is designed to reduce social isolation — particularly for people with disabilities or mental health conditions — by helping them build relationships with others.
"People are so isolated and so lonely, and that has such a negative impact on their quality of life," said Jeff Keilson, senior vice president of strategic planning at Advocates, the Framingham-based human services agency that runs the Friendship Project. "If there's ways that we could support people by connecting them with others, then we absolutely should do that."
This work is rooted in more than a moral imperative to help people.
A growing body of research shows loneliness has profound implications for physical and mental health. People who are socially disconnected have a 29% higher risk of heart disease, a 32% greater risk of stroke and a 50% increased risk of dementia for older adults. Loneliness can increase the risk of premature death as much as smoking 15 cigarettes a day, according to a recent advisory from the U.S. Surgeon General Vivek Murthy's office.
The country is contending with an "epidemic of loneliness," according to that report — and the medicine to treat the problem is social connection.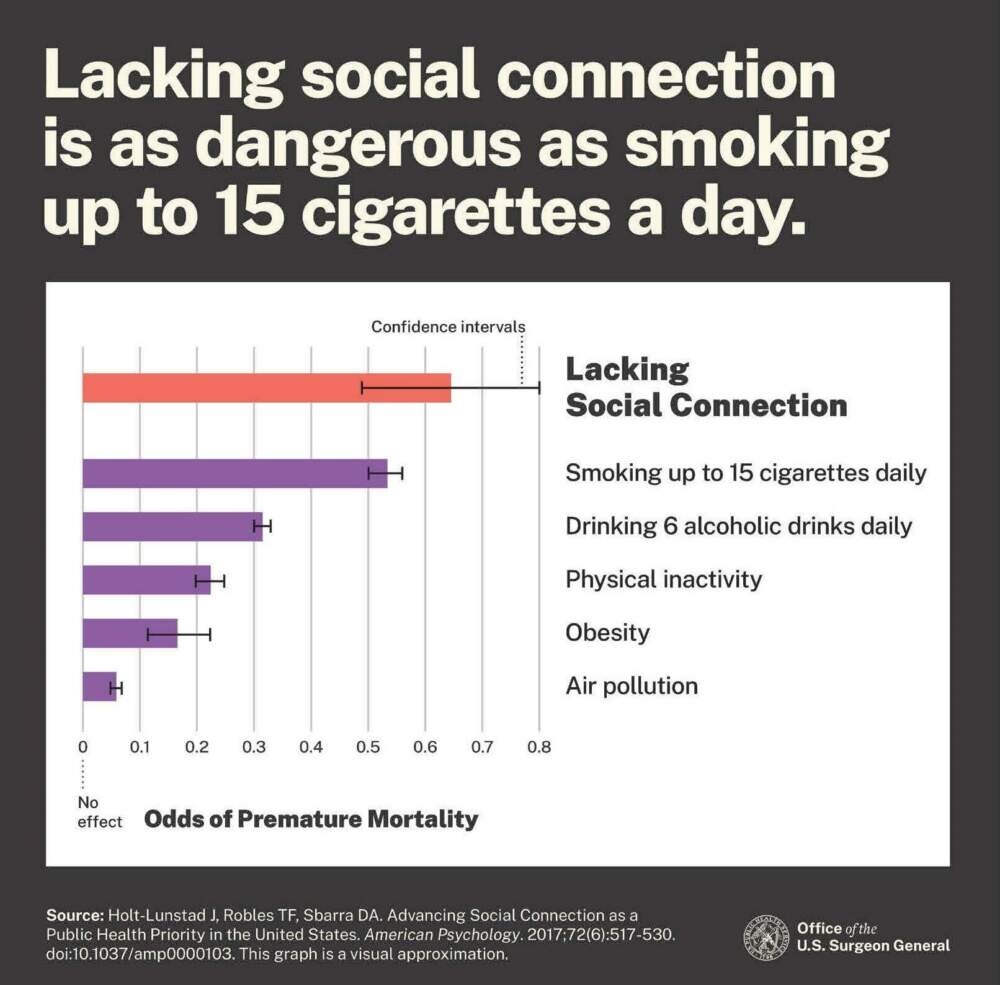 The Friendship Project launched during the COVID pandemic and was founded on the premise that increasing social connection could improve people's lives and even reduce hospital visits. It's too early for data to show whether the latter is happening.
Keilson said people sometimes end up at the hospital because they're lonely. "By addressing isolation, we could actually have an impact on people's use of emergency rooms," he said.
People with disabilities are among the populations more likely to experience loneliness, but the problem is pervasive. About half of American adults reported feeling lonely in recent years — and that was before the pandemic triggered shutdowns and safety measures that further isolated people, according to the surgeon general's report.
Americans also have fewer close friends than they used to, said Daniel Cox, senior fellow at the American Enterprise Institute, who studies friendship. And they talk to their friends less often.
Cox said he's heartened to see more health care leaders focus on the importance of friendship.
"If the goal is to help people live longer, healthier lives, this is a pretty obvious intervention," he said.
It takes time and effort to nurture friendships, he noted. "[Instead of] putting the entire responsibility on the person and say: 'you've got to do everything yourself' — it's actually nice to have institutions to step in and help out, because they can leverage a lot of resources."
The Friendship Project has enrolled dozens of participants so far — ranging in age from their 20s to their 70s — with plans to grow. Project leaders are working with some health insurers, including Tufts Health Plan and UnitedHealthcare, to expand the initiative beyond people with disabilities and mental health conditions.
The volunteers are background-checked and sometimes fingerprinted before they meet their new friends. Volunteer coordinator Maryellen Killeen said she encourages the pairs to start with a simple outing.
"I suggest a walk, hanging out at home, playing a game, going to the library," she said. "A lot of them meet at coffee shops."
Other friends take shopping trips, or do laundry together.
For Mills and Silverman, gym visits have become a monthly ritual.
The pair met earlier this year and got along right away. Silverman's mother and primary caregiver, Stephanie Lynch, said he seems happier and more confident since he started spending time with Mills.
"It's just human — people need companionship. They need to feel part of something," she said.
Connections can develop even on the phone. That's the thinking behind the Phone Buddies program at Commonwealth Care Alliance, or CCA, a Boston-based health insurer for seniors and people with significant medical needs. In 2020, the insurer began recruiting its own administrative employees as volunteer friends. Now, CCA is also working with Advocates, the human services agency in charge of the Friendship Project, to help more of its members make connections.
Chris Palmieri, CCA's chief executive, said these social interactions are designed to help members stay healthier and avoid unnecessary hospital visits.
And while the phone chats are not doctors' appointments, medical issues sometimes come up. If this happens, the volunteer friend is able to relay messages to the member's care team. "If we're having a connection with somebody," Palmieri said, "we [can] pick up some cues on the phone calls. We can refer them into care that would have fallen through the cracks."
Michelle Somerville, a quality specialist at CCA, volunteers about 15 minutes every Tuesday to call Ida Rodriguez, a CCA member in Lawrence.
Despite their distance — they live 100 miles apart and have never met in person — the two have become fond of each other. They talk about their families, their health and their favorite items on the Taco Bell menu.
Somerville said she enjoys hearing about the books Rodriguez reads, from Dan Brown to Dostoevsky.
"I want someone to read to me, but I don't want to read myself," Somerville said with a smile. "So it was a match made in heaven."
Rodriguez said her social life has slowed down as she's gotten older, and the weekly check-ins remind her she has a friend. On a recent call, she told Somerville how much the relationship means to her.
"Everybody needs somebody to talk to," she said, "you know?"
This segment aired on August 22, 2023.