An art installation at a Chelsea bus stop aims to make commuters' days a little brighter
A bus shelter in Chelsea has gotten a makeover that improves both aesthetics and accessibility for riders getting on and off city buses.
As part of a city-run pilot program, designers turned the bus stop on the corner of Broadway and 3rd Street into an art installation. The project, which was unveiled on Tuesday, features a new bus ramp that resembles a jigsaw puzzle — a series of pieces that fit together to extend the sidewalk into the street. This design allows riders to board buses without having to step off the curb.
Jordam Mota, assistant city engineer at Chelsea's Department of Public Works, said the city views the ramp as an opportunity to add space and improve accessibility as required by the Americans with Disabilities Act.
Mota said the ramp also benefits bus operators and improves the flow of traffic because it eliminates the need for buses to turn toward the curb when passengers board. He said he's had conversations with the MBTA about the ramp's benefits, noting "there's some initial interest to start implementing bus platforms in other communities and cities that might need them."
Beyond the practical use of the ramp, Mota said the city wanted to revamp the bus shelter to make it look more welcoming. With the help of some local architectural and design companies, the bus stop now has an installation, "Flower Walk: A Public Transit Street Experience."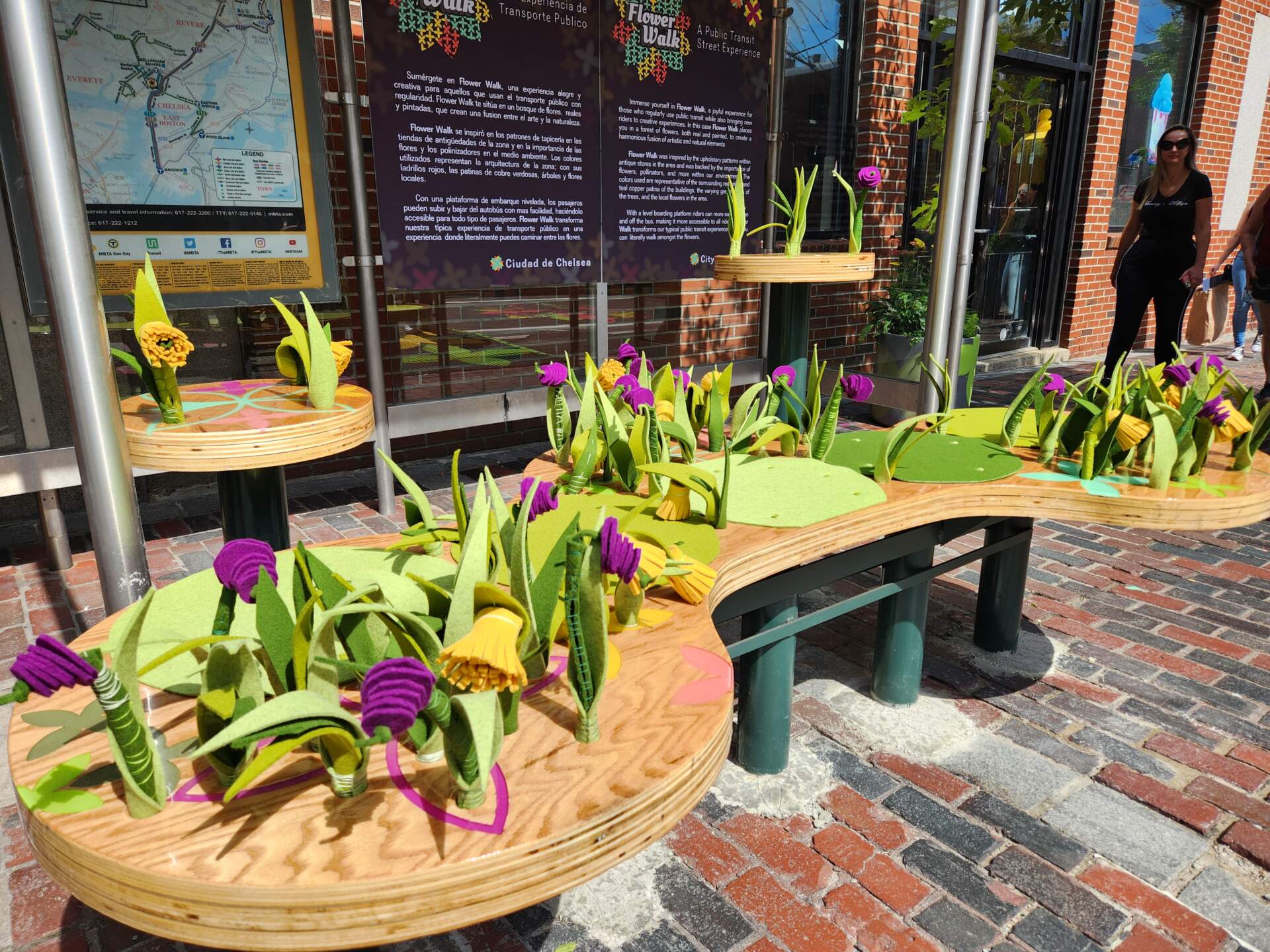 Adrian Gill, creative director of the "Flower Walk," works for the firm Ad Hoc Industries. He said the vision for the project was to "create a forest" in a place that is normally dominated by concrete, glass and steel.
A bench adorned with purple and yellow felt flowers is a focal piece of the installation. It is surrounded by planters filled with trees and flowers that passersby can pick.
About a dozen members of the nonprofit La Colaborativa's Youth Jobs program helped paint flowers on the planters. Among them was 17-year-old Chelsea resident Abraham Pereira, who said he felt proud to play a part in the installation.
"I feel like just making the community look better is also like another way of protecting it," Pereira said. "It kind of, you know, improves people's lives just by seeing, you know, pretty things on the way to work."
The installation will be in place through the fall.