Pay $300 for an hour in Melville's study or Dickinson's bedroom? For some writers, it's worth it
Western Massachusetts has several historic houses where famous poets and writers once lived and wrote. But it's costly to keep these literary sites open to the public. So some museums are renting out writers' rooms or libraries — for a hefty price.
One of the primary income streams for historic house museums are tours. That's true at Arrowhead in Pittsfield, where Herman Melville wrote "Moby-Dick; or, The Whale."
Historian John Dickson recently led a group of about 10 people through the former home, run by the Berkshire County Historical Society. The fee for the tour is $20 per adult.
Dickson pointed out that what Melville liked about the house was the view from a window in his study, with Mount Greylock in the distance.
"He's pushing his writing table up against the window," Dickson said. "And he writes to his editor, 'I have a sort of sea-feeling here in the country. When I look out my study window, especially now that the ground is covered with snow, it reminds me of looking out a ship's portal.'"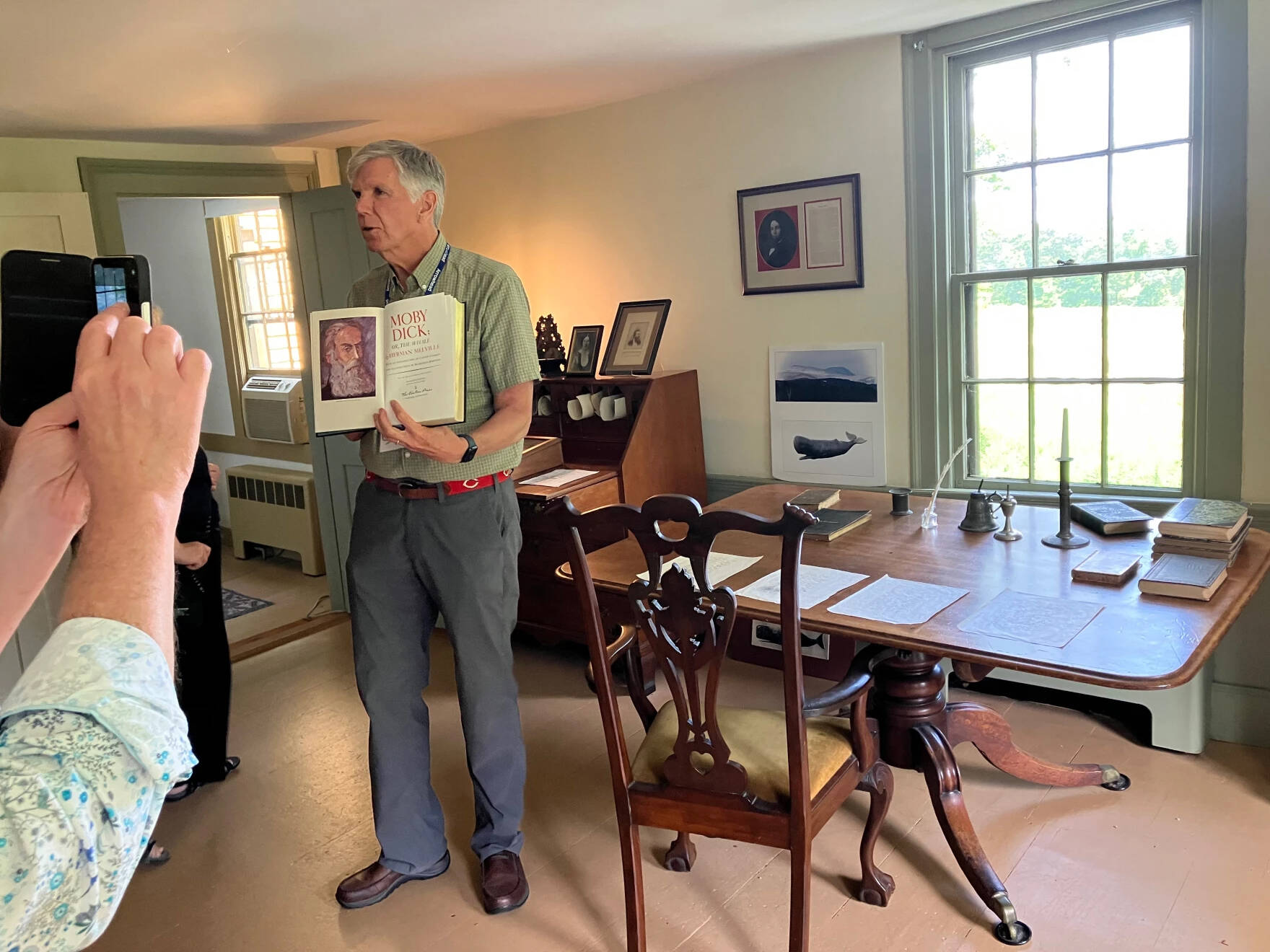 Melville wrote in "Moby-Dick" that the white whale was "like a snow hill in the air."
The museum gives about 5,000 tours like this a year, but Executive Director Lesley Herzberg said that's not enough to sustain the 1784 house.
"In order for us to keep the doors open, and keep giving tours, and keep this residence the way Melville would have experienced it, it takes money," she said.
One way the museum is trying to raise funds is by monetizing, perhaps, its greatest asset— Melville's study.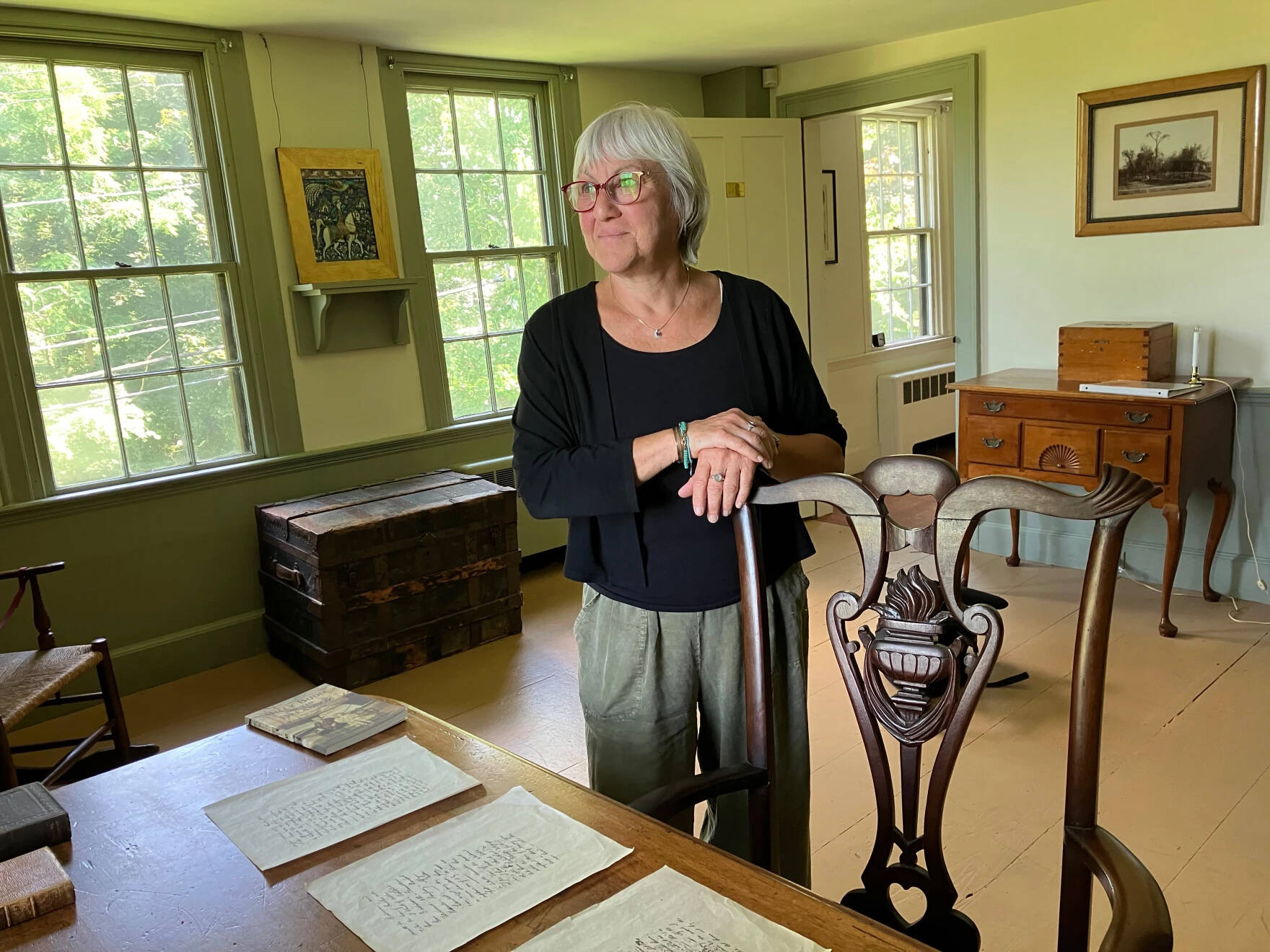 "The first time I walked into this room I actually burst into tears," said Berkshire writer Jana Laiz, the education coordinator at Arrowhead.
She is also the museum's writer-in-residence emeritus and has written a lot in the study, including "Billy Budd in the Breadbox," a book about Melville and his granddaughter.
"I felt this electrifying energy," Laiz said. "I feel it every time I come in here. He wrote in here for 13 years nonstop, day-in, day-out. And his energy, to me, it's still here."
Laiz taught a writing course in the museum and gave her students the chance to write briefly in Melville's study. One student, Linda Cantoni, a retired prosecutor, is willing to pay a steep price to do it again: $300 an hour.
That rental fee is part of Arrowhead's new program called Musing With Melville. If someone wants two hours, the museum charges $500, marketing it as an experience that "is sure to jumpstart your creative endeavor."
Cantoni wants to write about her late husband, an orchestra conductor, whose day job was law enforcement in a courthouse in New York, located only eight blocks from ground zero on 9/11.
"When the first plane hit, he went down to the plaza and was helping people," she said.
Later, he was diagnosed with cancer, but Cantoni said his love of music transcended everything. Even when he was on chemo, he kept conducting.
She wants her writing to be full of life and said she is "hoping for more beautiful writing" after being in Melville's study.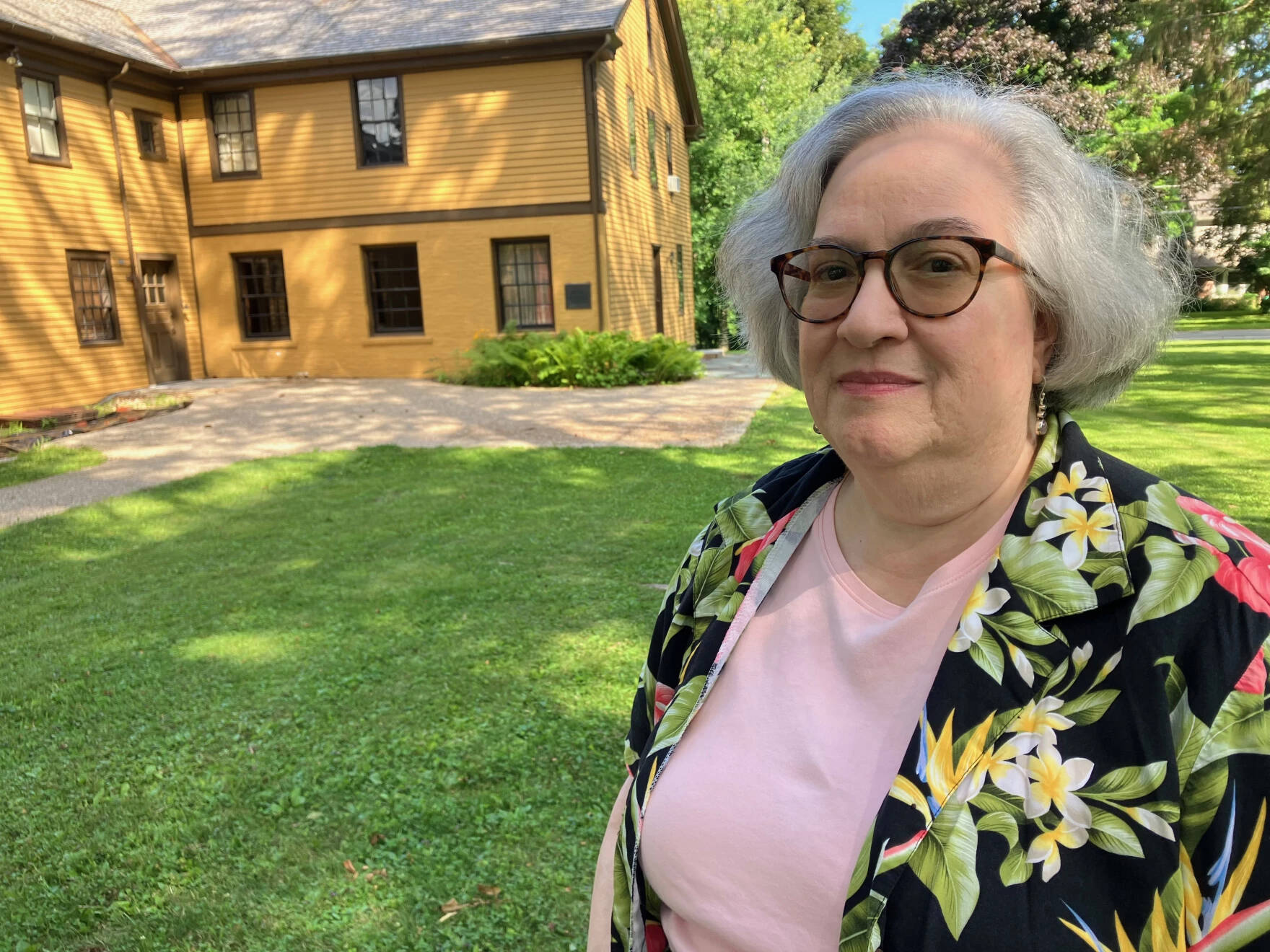 "Even when he was writing about matter-of-fact whale facts in long passages in 'Moby Dick,' it was still beautiful writing and that's what I hope — from a practical standpoint — what I'd like to get out of this," Cantoni said.
Arrowhead is not the first historic house museum to do this.
Ernest Hemingway's house in Key West Florida charges $1,500 for two people to spend a few hours in the house, gardens and writing studio, after a tour. Mark Twain's house in Hartford charges $50 to spend three hours in Twain's library with other writers.
The Emily Dickinson Museum in Amherst rents out the poet's bedroom where she wrote. Brooke Steinhauser, the museum's program director started the Studio Sessions, which also costs $300 for one hour.
In the room, she pointed out a replica of Dickinson's small desk, a focal point for people who pay to spend time here.
"They want to imagine her view. They want to look out her windows," Steinhauser said.
In addition to renting the room for writing, other things have happened here.
A multimedia artist projected her art on a white dress that's on display in the room.
A man gifted his girlfriend a session, showed up at the end and proposed marriage. She said yes.
And a British 23-year-old wrote poetry and shot video in the room. Ruby Granger is a YouTube social media influencer.
"But I do rather hate the word 'influencer.' I feel like it's such a loaded term. So I tend to say 'content creator.' I feel like that sound nicer," Granger said in an interview.
Granger, who will attend Oxford University in the fall to study Shakespeare, wants to get people excited about literature and classic writers — who some find inaccessible.
She took what she calls "a literary pilgrimage" to Dickinson's home last year. The museum partnered with her. She produced content for their social media and got to spend an hour in the poet's room without paying the fee.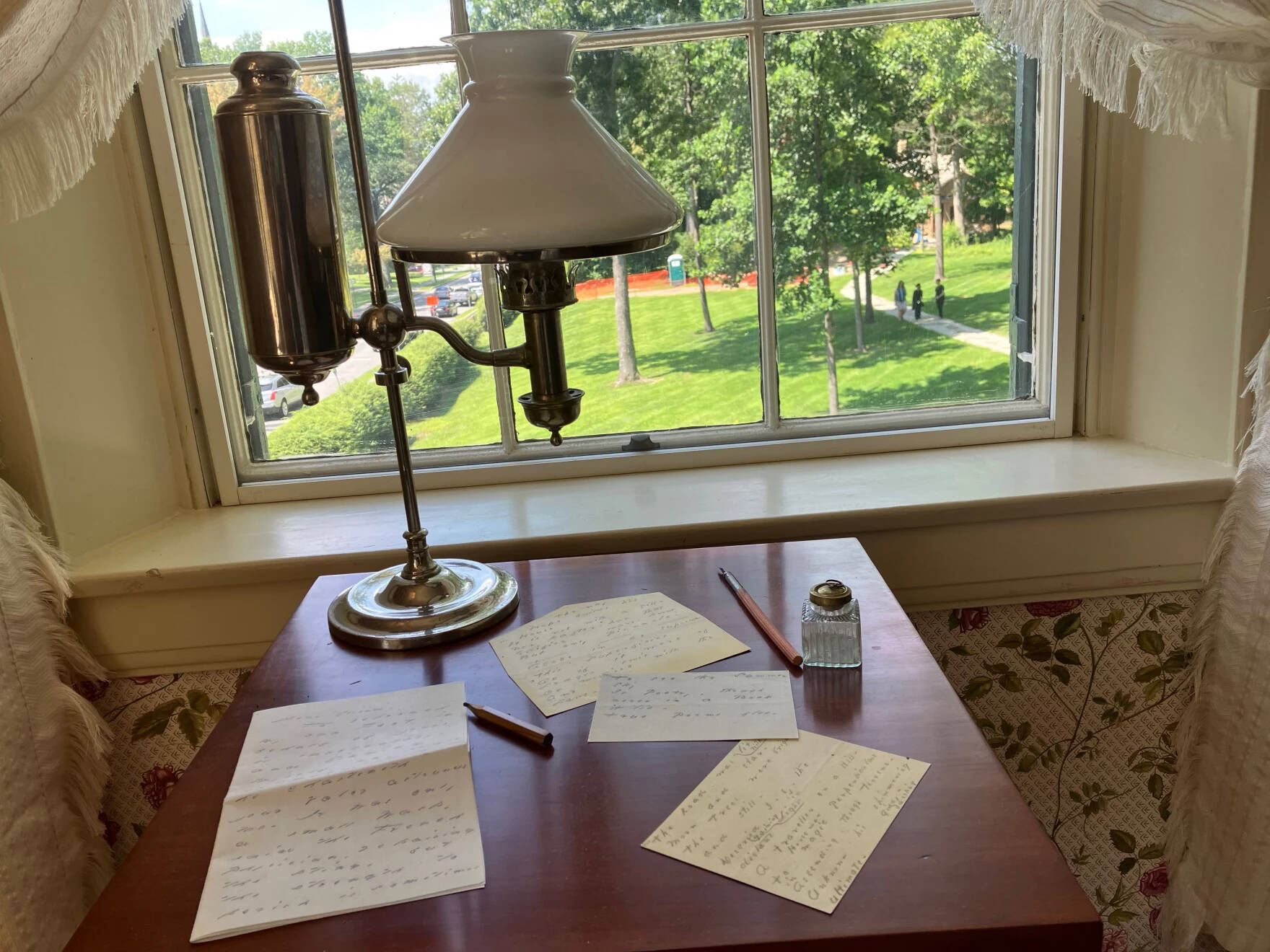 "Honestly I could tangibly feel this presence when I first went in," Granger said in a YouTube video she later produced. "I thought maybe I'll have some thing of a reaction, but I really didn't think it would be that strong or intense. I suppose part of it is this awareness of what happened in that room — kind of how she created this incredible poetry, sat at this tiny desk in that bedroom."
The former poet laureate of Texas, Laurie Ann Guerrero, also spent time in that bedroom this year. She knew about the museum years ago when she was a student at Smith College in the Ada Comstock Scholar Program, which includes women who are older than traditional college students.
"I was not able to go to the Emily Dickinson Museum when I was a student at Smith because I couldn't afford it." Guerrero said. "I had three children and I could not afford to do those kinds of things."
But now she's an English professor and writer-in-residence at Texas A&M–San Antonio. The school paid $500 for her to be in the room for two hours and work on her fifth book.
"To be there now, at this point in my life, was very profound in that I come from the South Side of San Antonio," she said. "I have been very lucky to have the access that I have had where a lot of people in my community have not had the same access."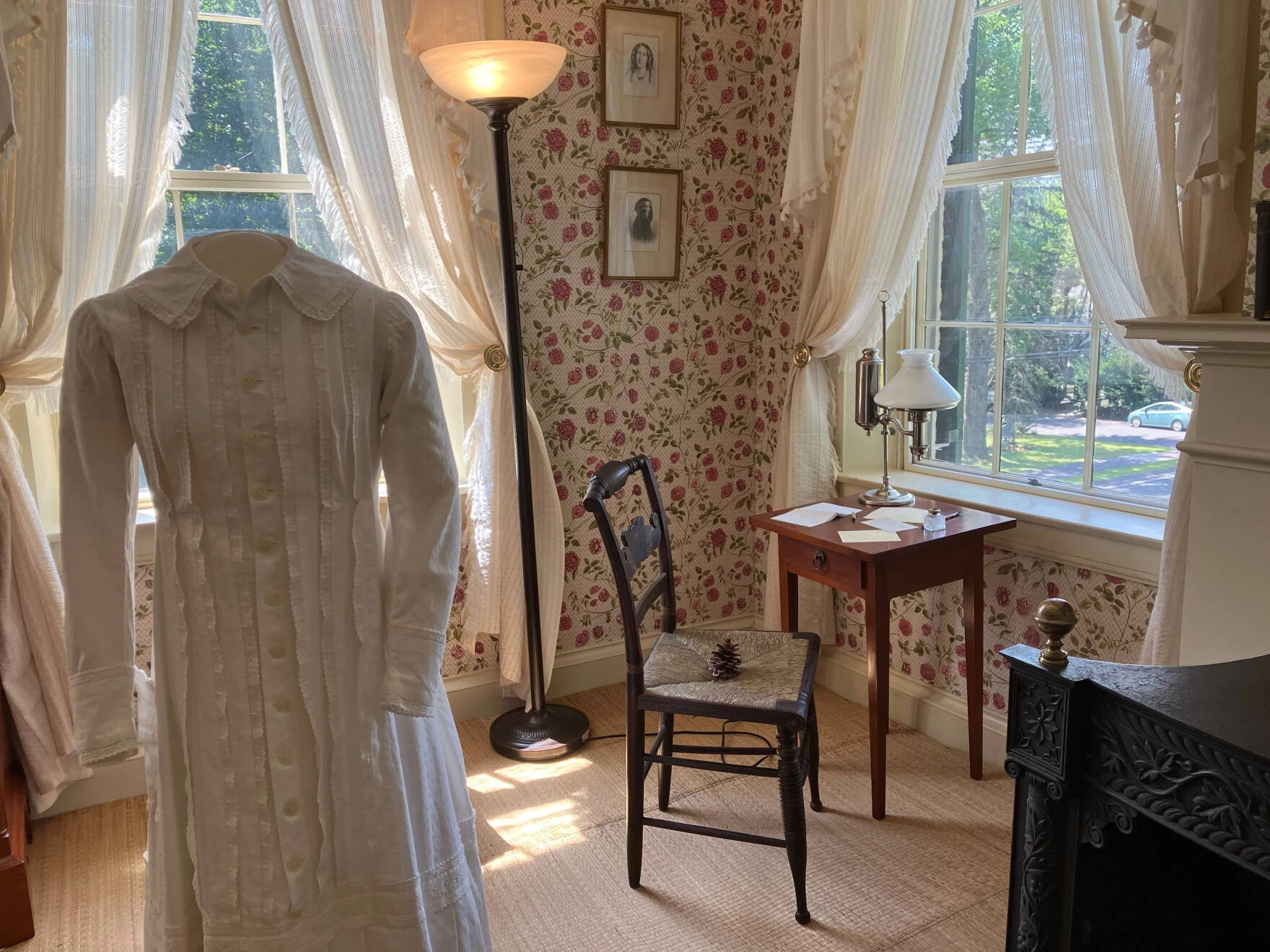 In the room, Guerrero said she felt a kindred connection to Dickinson.
"I felt her in there. Just because we're not blood-related and we're from very, very different kinds of families, she too, is my ancestor because of her work, because of her history, because of her own subversive writing. All of it," Guerrero said.
In Dickinson's room, Guerrero quietly played Sinead O'Connor music while editing her next book of poems and essays.
Back in Pittsfield, when the tour of Melville's home wrapped up, visitors discussed the author's life as they left. But Jiming Liang and Sean Egan from South Orange, New Jersey, did not seem likely to rent out Melville's study for $300 an hour.
"That's a lot for a writer," Liang said.
"Seems like a lot of pressure," Egan said. "It's like, 'OK — you've paid your $300, the genius should start — now.'"
For some, renting the room does put pressure on them.
And for others, having time to sit in a place where the spigot of creativity once flowed — is worth it.
---
This story is a production of the New England News Collaborative. It was originally published by New England Public Media.