Community college is now free for Mass. residents 25 and older. Millions qualify
Gov. Maura Healey wants to get the word out: Attending community college is now free for millions living in Massachusetts.
State residents 25 and older — and without a prior postsecondary degree — can work toward an associates' degree or certificate, and the state will cover costs from tuition and fees to books and supplies.
Despite a broad potential scope, the "MassReconnect" program is expected to start out small, helping around 8,000 students in its first year.
But Healey presented it as part of her administration's broader reinvestment in public higher education. That renewed focus comes after years of flat or declining state support — adjusting for inflation — for the sector, according to the nonprofit think-tank Massachusetts Budget and Policy Center.
"Education is our calling card: It's a huge competitive advantage for Massachusetts," Healey said during a launch event on the Wellesley campus of MassBay Community College Thursday. "It elevates our workforce, it attracts employers to our state, and it puts us at the forefront of what is now very much a global economy."
Indeed, according to the 2021 American Community Survey, nearly 47% of Massachusetts residents 25 years or older have at least a bachelor's degree — the highest rate among the states and second only to Washington, D.C.
But that leaves over 2.2 million residents in that age group without a degree of any kind — making them eligible for this program. "They have bills to pay, and kids to feed — life gets in the way, and there are so many barriers," Healey said. "We're about eliminating barriers."
The governor — who earlier this week announced plans to pay down student debt for health care workers and a path to in-state tuition for students regardless of their immigration status — said she hopes MassReconnect will ease eligible residents' paths into more fulfilling and higher-paying jobs in the workforce.
At Thursday's event, those students were represented by Danita Mends of Roxbury.
Mends, 38, said she felt herself "hitting ceilings" in her career without a degree; she had withdrawn from an earlier attempt at college due to financial challenges.
So she enrolled at MassBay in a program for interior design — then had to press pause again after the recent birth of her child. "I have a son watching me now," Mends said. "I always worried about how I was going to preach to him the importance of education if I didn't have a degree."
With tears in her eyes, Mends said MassReconnect felt like "a godsend" — and one that came with perfect timing: "I had to take a break ... and if I didn't, I wouldn't have got this opportunity. To have this financial burden lifted is going to be amazing."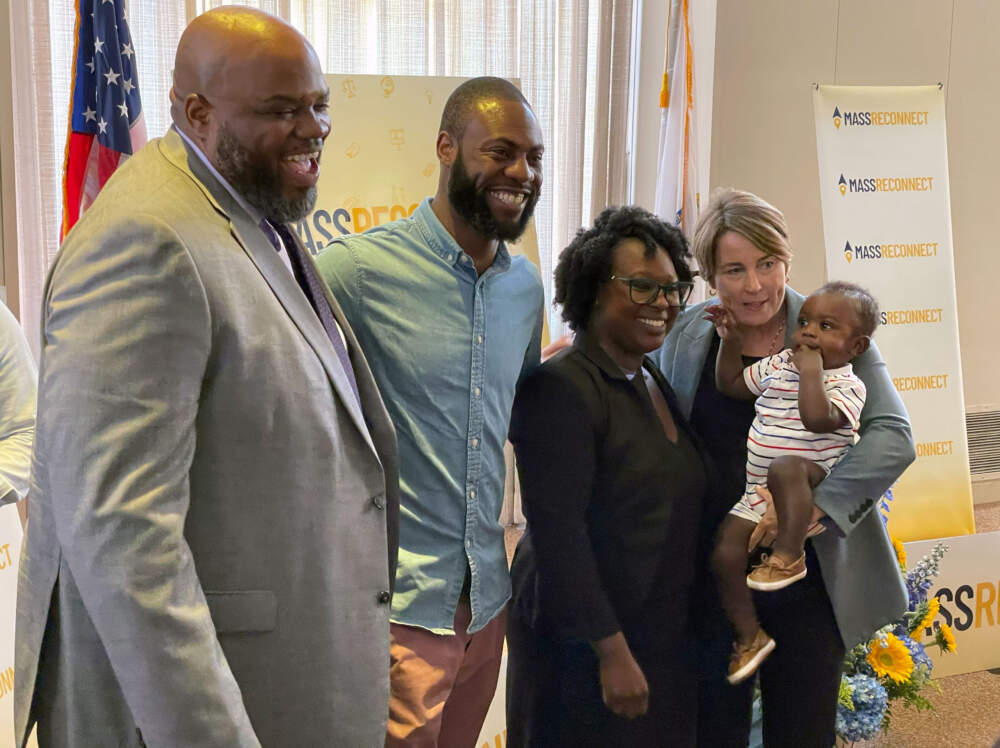 In hopes of driving awareness of the program, the administration printed dozens of MassReconnect wallets that can be stuck to the back of users' phones — "my effort at branding," Healey joked.
And Noe Ortega, commissioner of the state's Department of Higher Education, announced his team's accompanying commitment to launch an "Office of Success," "to make sure that students are successful when they enroll at our community colleges, that … they persist to completion."
Across the state's 15 community colleges, the average four-year completion rate for students entering in 2017 was just over 28%.
Asked about the CHERISH Act — a bill that would gradually establish debt-free public higher education for all residents — Healey declined to discuss particular legislation, saying "there's always work to do and more conversations to be had."