Climate change means a longer growing season in New England, but brings other challenges
Resume
Farmers have a few things they can control, but never the weather — and certainly not increasingly erratic weather brought on by climate change.
In New England, with extreme temperatures and excessive rain, it's been a tough growing year.
But the increasing heat of summers and warming of winters could potentially allow for new plant varieties and a longer growing season in the Northeast.
It's leading to some very cautious optimism among some growers.
In Hadley, Massachusetts, farmer Jonathan Carr stands among a few dozen saplings in his sort of "tree lab," not far from his 39-acre apple orchard up on a mountain side.
Carr doesn't grow apples for eating. He grows them to make hard cider, selling about a thousand cases a year, though less recently.
The heavy rains and humidity of the last few years hit his orchard hard with fire blight, a bacterial disease. Carr, who doesn't spray chemicals in his orchard, recently had to pull out hundreds of trees.
"There's stuff coming at us," Carr said about climate change. "How do we respond?"
Carr's response has been to spend the last few years cultivating and observing apple tree varieties typically grown in warmer climates, looking for qualities like flavorful fruit and their ability to ward off pests. Standing by an Old Fashioned Limbertwig, Carr said he's really excited about this apple tree variety.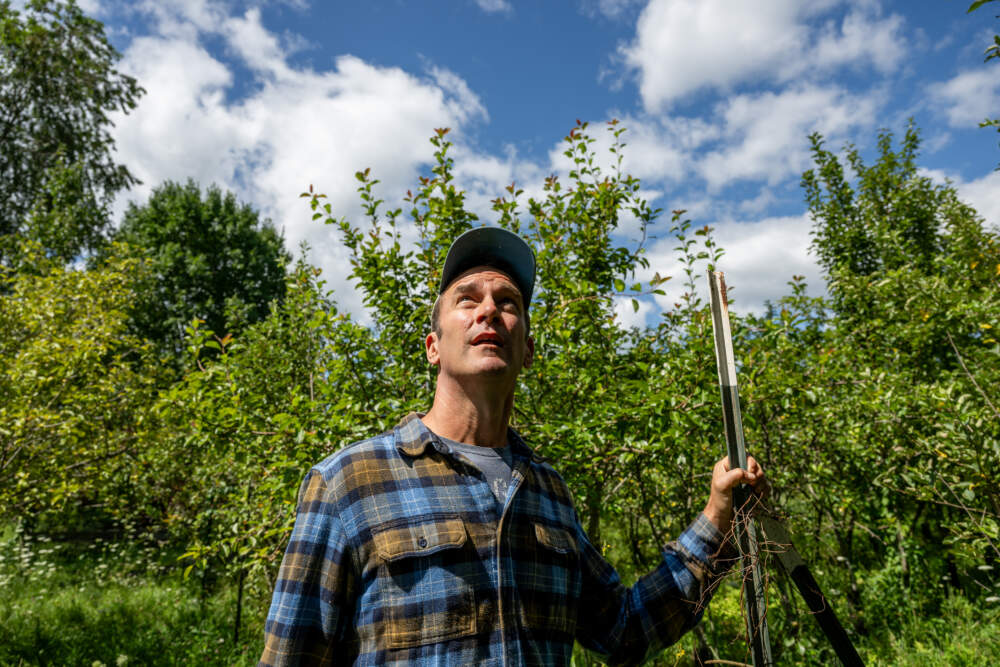 "Its branch structure is very open," Carr explained. "Its leaf canopy is compact. It allows for good air movement within the tree, which will lower humidity and keep disease lower because of that."
And the fruit itself acts as a pest-killer.
"The cell pressure in these late season, dense, fleshed apples will actually crush insect larvae and not allow them to develop," Carr said. "So that's like a natural pest resistance."
Basically, Carr said, nobody in New England is growing them because they're from down south.
"[The variety] ripens pretty late. It's a November apple. So that's unusual for New England," Carr said. "But we're getting to the point where we can ripen apples later and later here."
Sonia Schloemann, a small fruit specialist at CISA (Community Involved in Sustaining Agriculture), said a longer growing season is one of the things farmers are thinking about.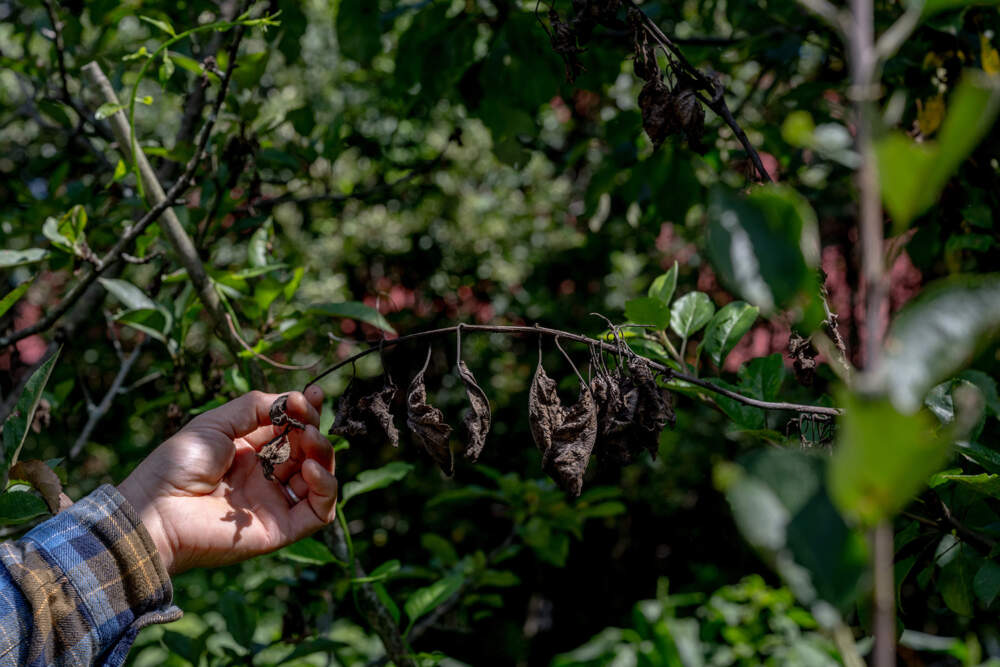 "What are the new opportunities that might be opening up as we understand more about the ways in which climate is shifting?" Schloemann said.
On average, Schloemann said, the Northeast has about 10 days more of warmer weather than a few decades ago. She said the region is seeing, and will continue to see, more varieties of fruits that 40 years ago weren't grown here.
"[That's] more southern varieties of peaches that used to grow well in Maryland or Pennsylvania, or varieties of blueberries that that are considered more southern," Schloemann said. "They might bring with them some characteristics that we really want to take advantage of either flavor or yield or disease-resistance or something that makes them desirable."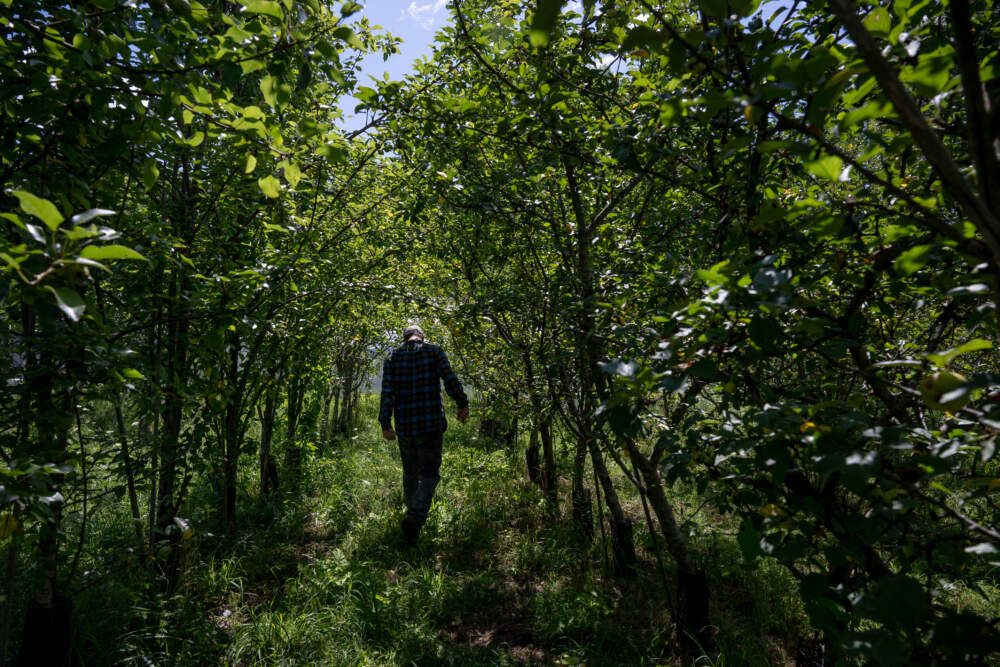 Touring around a Belchertown orchard owned by the University of Massachusetts Amherst, tree-fruit specialist Jon Clements has his mind not on the possibilities but the pests.
"Right now, with some of the difficulties we're facing with the changing climate, we have new diseases moving in. We have new insect pests, I have to spend a lot of time just dealing with that and making sure that we can successfully grow what we currently have," Clements said.
As the warmer temperatures have pushed the USDA plant hardiness zones north, diseases are traveling too.
"The pests that we're seeing were common down in North Carolina 25, 30 years ago," Clements said. "We're now seeing [them] here more commonly,"
When he started his orchard in Hadley in 2006, cider maker Jonathan Carr said he took a gamble — planting about 900 English apple trees that are now failing.
"Yeah, it was a risk, and I think we lost that one," Carr said. "But there's really no choice but to keep going forward."
To keep the cider business going, Carr is buying apples from other growers, while — over the next few years — he tries to plant more resilient trees.
---
This story is a production of the New England News Collaborative. It was originally published by New England Public Media.
Disclosure: CISA, mentioned in this story, is an underwriter of NEPM. The newsroom operates independently of the station's fundraising department.
This segment aired on September 1, 2023.