Roslindale: A Boston neighborhood guide
A residential locality on the southwest end of Boston, Roslindale is a diverse neighborhood with access to some of the city's most stunning green spaces.
Roslindale feels a bit like the little sibling to nearby Jamaica Plain: smaller and less fashionable, but still lively and relatively urban. The commercial center of Roslindale Village, formerly called the Roslindale Square, enjoyed a heyday in the first half of the 20th century thanks to a concentration of shops, department stores, restaurants and a movie theater. The area fell into disrepair in the 1970s. This made it ripe to reap the benefits of then-City Councilor Thomas Menino's new Main Streets program, which drew on a burgeoning national movement to revitalize city centers decimated by suburban sprawl and the proliferation of shopping malls. Today, Roslindale Village is home to restaurants, coffee shops, a bookstore, food markets and more.
One of the great perks of Roslindale is its proximity to the Arnold Arboretum, a beautifully landscaped botanical collection and public park. Roslindale residents are also within easy reach of the historic, and very scenic, Forest Hills Cemetery. At the same time, Boston's downtown is just a few short stops on the commuter rail and accessible by bus and the subway's Orange Line.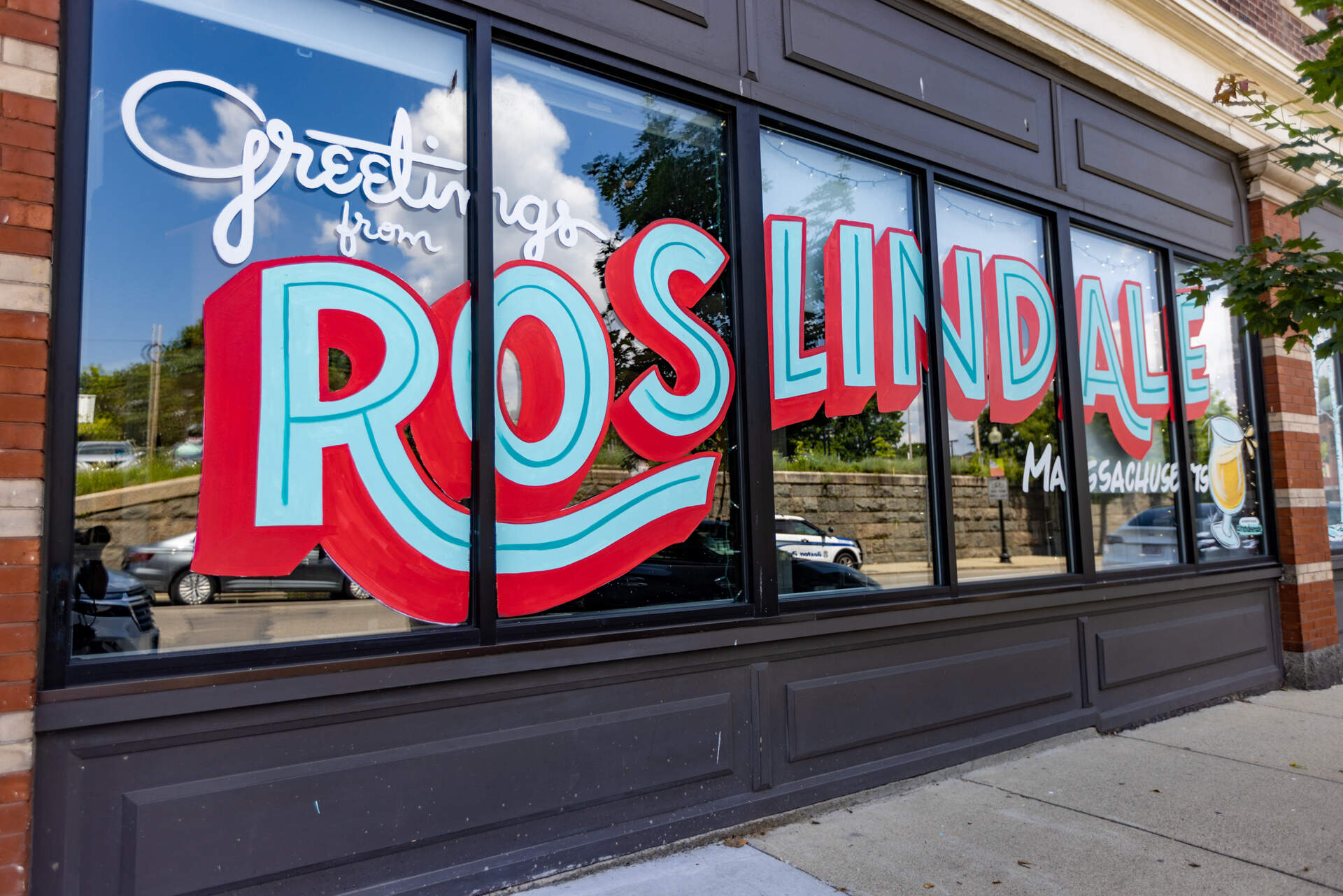 ---
Roslindale by the numbers
---
What locals say about Roslindale
Julia Gonzalez moved to Roslindale a year ago with her husband, a Rozzie native, and their young daughter. Before that, they lived in Ecuador and Colombia. Gonzalez, who's in her mid-30s, appreciated the diversity of her adopted neighborhood.
"There's a little bit [of a] Hispanic, Latino area, but also Greek and then people from Iran," she said. "So it's a good mix for us, just as a biracial family."
In her short time as a Roslindale resident, Gonzalez's impression of the neighborhood was positive. "I feel like people there are very proud of their neighborhood, so they are really friendly. The neighbors, they know each other," she explained. "That's very important for being part of a community."
On a brutally hot day in July, the air conditioned Rozzie Bound Co-op bookshop was a refuge. The store's proprietor, Judy McClure, cheerfully greeted customers as they entered the little shop.
McClure, who's in her early 60s, moved to Roslindale with her wife seven years ago after her children were grown. "We wanted to be in a Boston community rather than the suburbs," she said. "I was ready for something different." Before opening Rozzie Bound, McClure taught science to elementary school students in West Roxbury.
"Roslindale feels a little more inclusive and diverse than some of the other neighborhoods in Boston," McClure said. "It's not fancy, there's still a little bit of grit to it, which I think is great. It's not as affordable as it was, but it's better than some other neighborhoods. People are just working and going about their jobs and their lives, and they've got their kids and their dogs and their partners. It's got a nice feel, it's comfortable."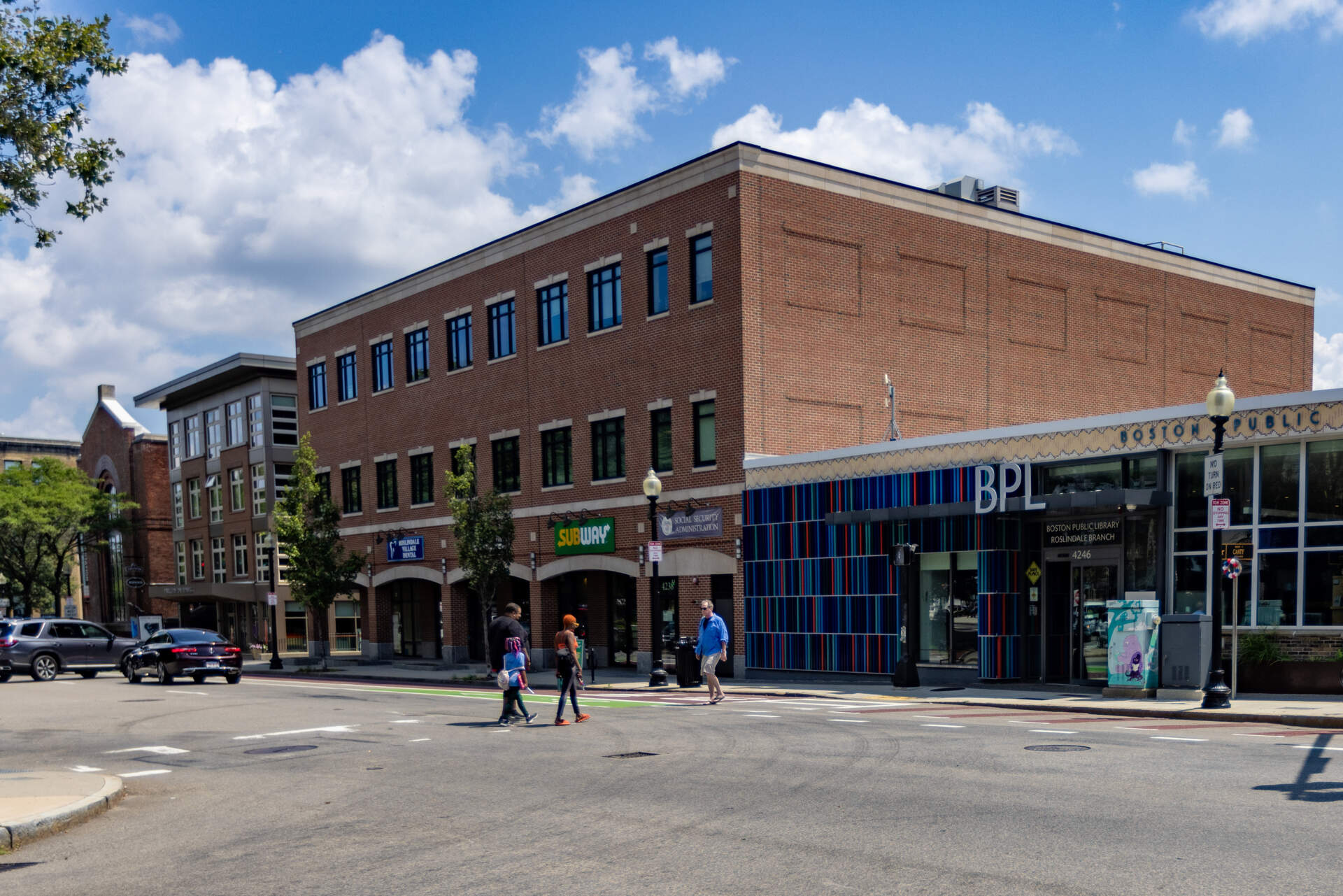 Seth Ravitz and Thea Offermann were walking their golden retriever, Shane, in West Roxbury's Millennium Park. The couple live in Roslindale but started making the trek to West Roxbury after their favorite green space, the Forest Hills Cemetery, stopped allowing dogs.
"Not only no dogs; no bikes, and no jogging," Ravitz said. "I mean, come on. That's ridiculous."
Apart from that, the pair are loyal to Rozzie. Ravitz estimated he had lived in the neighborhood for 34 years; Offermann, for 40.
"I moved to Roslindale because that's what we could afford," Offermann said.
The neighborhood was pretty different back then. "When I first moved in, there wasn't anything in the square," she recalled. "The commuter rail wasn't running. The supermarket was just about ready to go under and did — it was awful. Most of the retail was vacant."
According to Ravitz, the revitalization of Roslindale began with Menino's Boston Main Streets program. "That really helped bring so much change to [Roslindale]," Ravitz said. "And then people just over time just began to discover it, because of its bakeries, restaurants."
Offermann observed the demographics of the neighborhood shift, too. "The neighborhood has gotten increasingly more diverse," she said. "Not just in terms of ethnicity, but also in terms of … socioeconomic diversity."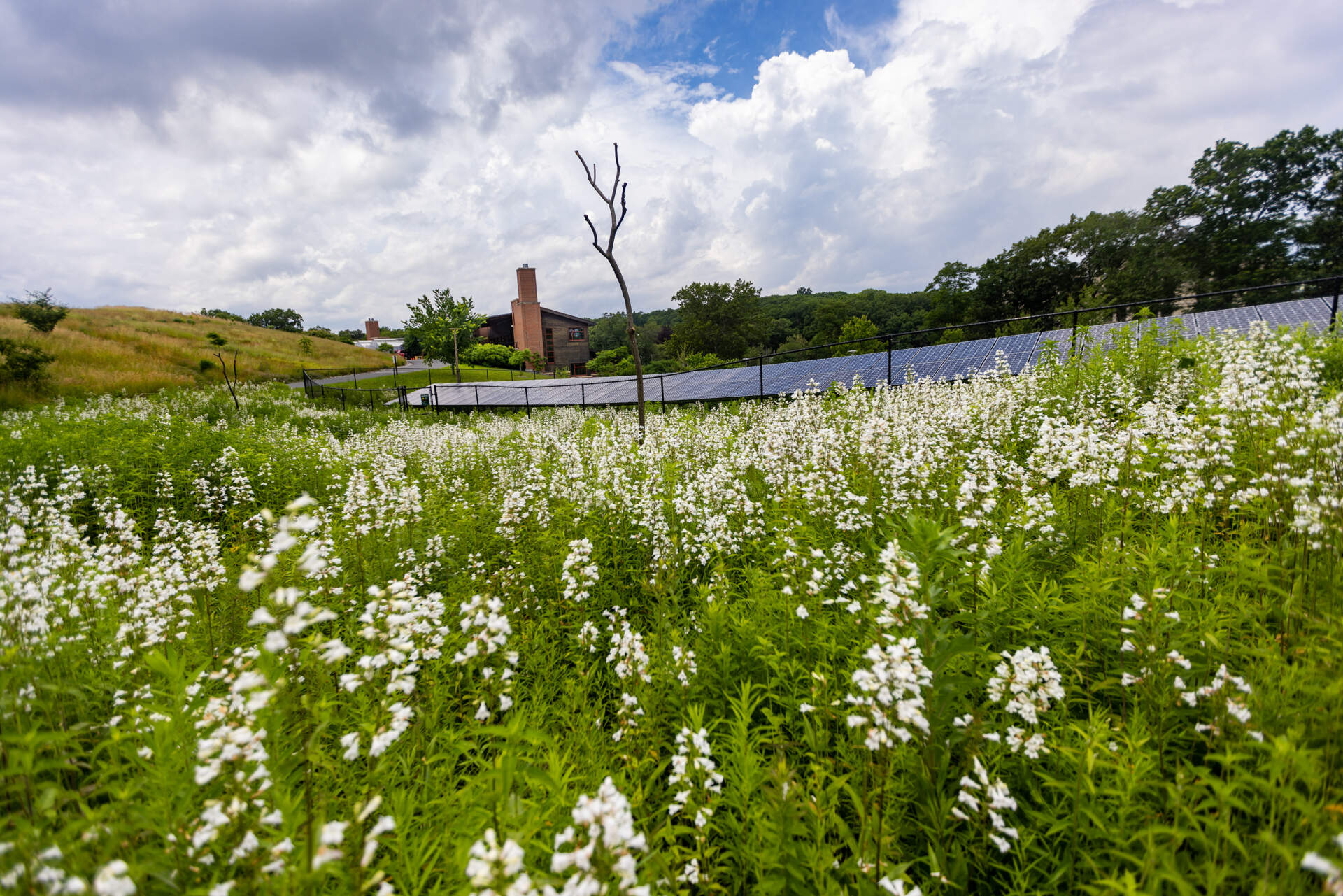 ---
Neighborhood haunts
Here are a few places locals say they go for their everyday shopping and socializing.
Green T Coffee Shop: This neighborhood cafe serves fair-trade coffee and offers an extensive sandwich and smoothie menu — though residents appreciate it as much for its warm, cozy vibes.
Roslindale Fish Market: This local fishmonger sells the freshest catches of the day as well as a variety of mostly Greek food products. Locals appreciate the friendliness of this family-owned business.
Tony's Market: Serving the neighborhood for more than 50 years now, this butcher shop is one of the oldest businesses in Roslindale.
The Substation: A former electricity substation that once powered a citywide network of trolleys, the massive refurbished building now functions as an event and co-working space and beer hall. Community programming includes dance parties, poetry readings, musical performances, yoga classes and more.
Roslindale Farmers Market: The weekly seasonal farmers market at Adams Park is quite the community event, drawing crowds every Saturday from June to November. In addition to food and produce vendors, the market has programming for children, wellness activities and live music each week.
Fornax Bread Company: Get a slice of the neighborhood by treating yourself to some artisanal bread. The Corinth Street shop is a favorite recommended by numerous locals.
753 South: Serving "new American" comfort food, this restaurant and bar boasts a big back patio and a full cocktail menu.
Tell us: Did we miss your favorite spot or hidden gem in the neighborhood? Let us know here, and it may appear in a future version of this list.
---
WBUR's Amelia Mason reported and wrote this guide, with additional reporting from WBUR's Amy Gorel and Lisa Creamer.