2 Boston city councilors face tough election after scandals in and out of office
Resume
On a recent Saturday morning, two dozen volunteers gathered at the Stony Brook MBTA station in Jamaica Plain to knock on doors for Boston City Councilor Kendra Lara.
They chanted her name and clapped as Lara called them together. She wanted to prepare them for the tough questions they might get from voters in the run-up to the city's preliminary election Tuesday.
"It is easy to support someone when they are in good standing," she told them. "It's much, much harder to really show grace and to show up at a moment like this."
Lara and fellow progressive Councilor Ricardo Arroyo are each battling to keep their seats after ethical lapses and months of negative headlines. Lara is facing criminal charges following a car crash where police said she was driving an unregistered car without a license and struck a house earlier this summer. Arroyo has been ensnared in a series of scandals, from decades-old allegations of sexual assault to accusations of election meddling.

Both councilors must advance in Tuesday's preliminary election to compete in November.
"It is easy to support someone when they are in good standing ... It's much, much harder to really show grace and to show up at a moment like this."

Kendra Lara
On the campaign trail that Saturday, Lara told her volunteers to address the car crash first thing in conversations with voters.
She contested certain aspects of the police narrative, such as the charge the car wasn't insured and that she was driving double the speed limit on a residential street. But Lara expressed remorse over driving with her 7-year-old son Zaire not properly secured in a booster seat.
"There was a mistake that was made, and we want to make sure that our constituents know that I am not trying to minimize the situation," she said.
Lara was eager to talk about her policy record — like her involvement in increasing the city's inclusionary development policy, so developers set aside more affordable units in new buildings, and her support for decarbonizing city buildings. But she didn't shrink from conversations about the car accident as she approached voters.
A resident named Woody answered the door of his apartment on Green Street. He immediately asked her about the crash.
"I swerved to avoid hitting a car coming toward me, and I lost control of the car," she said. "So the accident was, you know, an accident."
Woody thanked her for stopping by. He didn't commit to voting for her. But Lara said she felt good about the interaction.
"I feel like I answered his questions," she said, towing Zaire in a stroller towards the next house. "I think he's going to pass on that question to the people who live in his house, to his neighbors, and hopefully it has some sort of impact."
In an interview, Lara said her son needing stitches for a gash over his eyebrow was the worst part of the crash.
"For me, that is obviously — that is the biggest misstep in all of this," she said. "As a mother, nothing comes before my son."
Lara's frank discussion of the accident seemed to be reassuring to some supporters.
"I wanted the story, and I know enough not to take the first set of stories at face value," said Rachel Poliner of the group Progressive West Roxbury/Roslindale. She said she called Lara after the accident and got answers to all her questions.
Last week, Lara produced an independent report she commissioned showing she'd been driving only 27 miles per hour before the crash. The accident reconstruction company, The Crash Lab, reportedly analyzed data from the car's black box. WBUR has not reviewed the report, and has requested a copy of the document from Lara and her attorney, who said it should be available Monday or Tuesday.
The question is whether Lara can sway people who may already have written her off.
She faces two serious challengers in the preliminary election. William King, an IT director for a local nonprofit, has the support of two of Lara's more conservative city council colleagues. And labor attorney Ben Weber is endorsed by The Boston Globe.
Both have seriously out-raised her in fundraising in the months since the crash. State campaign finance reports show Weber brought in nearly $35,000 and King raised about $29,000 in the past two months. Lara raised just over $3,800.
Still, UMass Boston political science professor Erin O'Brien said Lara has some built-in advantages.
"You've done it before, you know who's important in the community, you have a get-out-the-vote team, you know what meetings to show up to, and you've done good quality constituency service," she said. "That builds voter loyalty."
O'Brien said both Lara and Arroyo have the experience and name recognition to mobilize voters in a low-turnout preliminary election.
"I do not think it's an impossibility at all that one or both of these embattled politicians could emerge [the] victor," she said.
Arroyo certainly believes he has a good chance. The councilor was out knocking on doors in the Wellington Hill neighborhood of Mattapan alongside longtime local State Rep. Russell Holmes on Wednesday.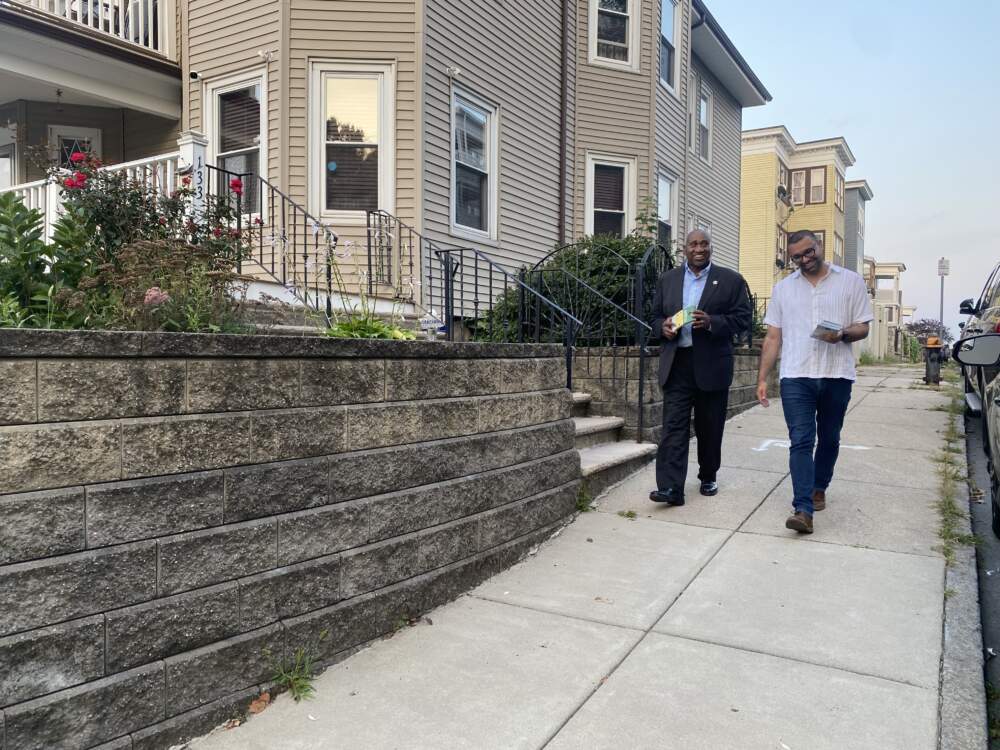 Arroyo is climbing his way back from a series of scandals over the past year. He had to pay a fine for violating the state conflict of interest law and has denied wrongdoing in a case of alleged election meddling that took down former U.S. Attorney Rachael Rollins, who was trying to help Arroyo in his unsuccessful race for Suffolk County District Attorney.
But at the 52 doors Arroyo knocked on that night, those stories didn't come up. Instead, people wanted to talk about why their trash wasn't being picked up, or the state of Boston Public School buildings.
Arroyo stopped for about 15 minutes to talk to a voter named Cherie who was sitting on her balcony. She asked about a long-promised speed bump project and he connected her to the city's construction schedule. Before he left, Arroyo asked for her vote.
Cherie paused for a moment to consider. "I got you," she said.
"My opponents think that what voters care about the most is what they read in the newspaper," Arroyo said later. The more they talk about that, "the less they connect with voters about what actually moves them to vote."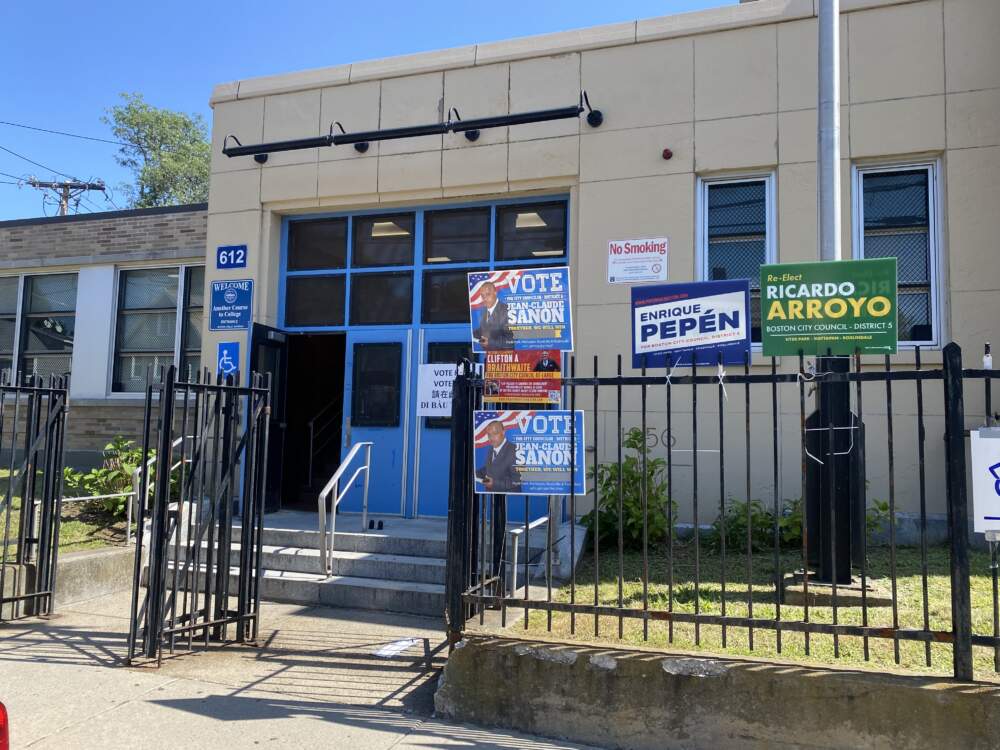 Arroyo has three opponents for his Hyde Park seat.
One is Jean-Claude Sanon, a Haitian-American community activist and radio host who has run for the council before. Former Boston police officer José Ruiz also is running for the seat, and is backed by several city councilors and former Mayor Marty Walsh.
A third candidate, Enrique Pepén, was recently Boston's executive director of neighborhood services. He has the endorsement of Mayor Michelle Wu.
There are also multiple Super PACs dedicated to unseating Arroyo. These independent expenditure political action committees can raise and spend unlimited amounts of money, as long as they don't directly coordinate with campaigns.
New Balance Inc. chairman Jim Davis, a major Republican donor, recently gave $150,000 to the "Forward Boston" PAC to support opponents of both Arroyo and Lara.
Arroyo said he knows he's vulnerable.
"Sometimes that means I got to be open to taking hits, but I got a pretty strong jaw," he said. "I think people know when you're fighting for them, and they do respond well to that."
Only two candidates from each district will advance past the preliminary election.
Lara and Arroyo say they are doing what they can to make a case to their constituents. On Tuesday, voters will decide if it was enough.