Remembering 'A Celtic Sojourn's' Brian O'Donovan, a mentor and a friend
What I remember best are the house parties. When I was a teenager in the early 2000s, it seemed like there was an after party practically every week at Brian and Lindsay O'Donovan's big Victorian in Newton: following the finale concert at the Boston Celtic Music Fest, or for a local musician's CD release concert at Club Passim, or maybe just because someone's band was in town. A big spread of hors d'oeuvres on the dining room table, a crowd in the warm kitchen and, inevitably, a late-night jam session in the living room. For some reason, in my memory, it's winter and there's a big pile of boots by the door, which is open as often as not as guests hustle in from outside or pop out to snatch a few moments of solitude in the cold night air.
Like a lot of people, I first knew Brian O'Donovan through his radio show, "A Celtic Sojourn," where he spun (and occasionally waxed poetic about) traditional Celtic music every Saturday on GBH for 37 years. (This was following an illustrious career in the world of professional sports; at one point, the West Cork-born O'Donovan was vice president of facilities management for the New England Patriots.) Brian died on Friday from complications from brain cancer. He was only 66. He sounded at peace with his diagnosis when he discussed it on the air last year, but I can only assume it was terrifying to stare down death like that every day. To have lost him so soon is colossally, infuriatingly unfair.
I don't know exactly how my family found ourselves in Brian's orbit, but it's not surprising. Anyone who hung around the Celtic music scene in Boston tended to end up there, drawn by the gravity pool of the large planet that was the O'Donovan clan: Brian, his wife, Lindsay, and their four kids. As a young teen, I was obsessed with fiddle music and dragged my parents to local concerts every chance I got – no doubt Brian's show helped inculcate this youthful preoccupation. I wasn't allowed to drive past a certain hour so my dad would take me to the O'Donovan's house for the after parties, at which point he would happily install himself among the adults in the kitchen while the rest of us played music into the wee hours.
Brian could've been intimidating; he was, after all, a giant in broadcasting. But that was the trick he pulled off on "A Celtic Sojourn." Brian made his radio audience feel like they were listening to an old friend, a music nerd who, though knowledgeable and self-possessed, ultimately just wanted you to love the things he loved. That was how he came across in real life, too. It helped that he wasn't very physically imposing. I recall that he favored fitted button-up vests, which made him appear a little bit Hobbit-like. And so at some point I just accepted that the voice on the radio was a real person, a friend.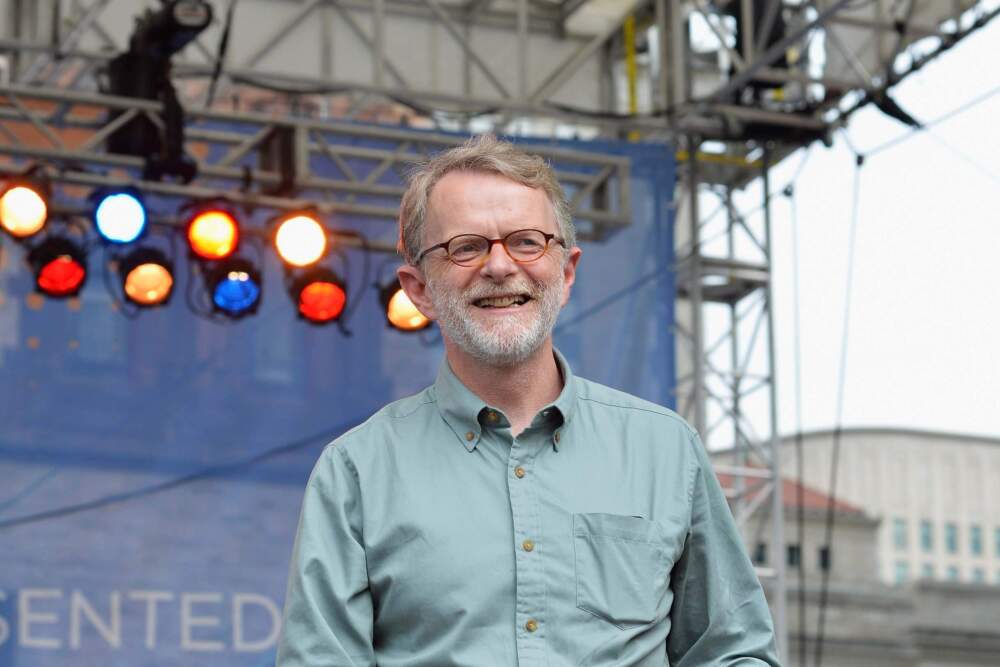 After I learned that Brian's family was gathering to be with him in his final days, I searched my inbox for his email address. He was always a great supporter of my interest in journalism and our correspondence is, essentially, a timeline of my career. It begins with an exchange setting up a meeting over coffee, which resulted in Brian giving me a tour of the GBH studios. There's a period where I'm pitching a performance I helped produce with some friends – Brian ended up interviewing us on his show. Then, suddenly, he's pitching me, trying to drum up publicity for his annual holiday stage show, "A Christmas Celtic Sojourn." I'm chagrined to read some of my own emails to Brian; I can sense my impatience when he forgot to answer. (Nevermind that sometimes, I forgot to answer him.) But he never seemed offended, or at least he didn't show it. That was Brian, gracious to the last.
The most recent emails he sent me were sweet notes complimenting things I wrote: "GREAT article." "Brill article..." I know I wasn't the only person to consider him a kind of mentor. In all likelihood there are hundreds of people with similar emails in their inboxes from Brian, letting them know how much he enjoyed their set at the Burren or congratulating them on a new gig. No doubt he knew that a few kind words can make all the difference to someone young and starting out.
Brian's emails usually contained some mention of where and when we ran into each other last. "Loved seeing you at Della Mae!" "Great to see you and [your dad] last night." I must have had a hundred chats with Brian over the years, and I can't remember a single one. What I recall are impressions: the warmth of the Burren's back room, where Brian ran a concert series; the happy buzz of the audience as the lights came up after "A Christmas Celtic Sojourn;" the feeling of time suspended at those house parties in Newton. This is the mark of a great convener. One of Brian's gifts was to bring people together and make them feel like there was no other place on earth – or at least, nowhere else worth being – to the point that he himself receded. It was never About Brian. It was always about us.
It's strange how someone's presence becomes more potent in their absence. I imagine Brian just stepped out for a moment, to stand on the front porch and listen to the faint strains of fiddle and conversation wafting from the house; to appreciate, from the outside, the joy that he helped conjure. The last email he sent me was to offer some nice words about a radio segment I produced, and I'm relieved to see that I responded with gratitude – effusiveness, even. "See you at the next thing!" I wrote, and there's a part of me that still thinks I might.