Bridging Black America's past and present, Danny Rivera revives songs of the enslaved
At 22 years old, vocalist Danny Rivera is already at home in several genres, from R&B to soul and pop songs, like the one he wrote in 2019 for Massachusetts congresswoman Ayanna Pressley. He's also performed at the Museum of Fine Arts, MGM Music Hall and TD Garden, singing the national anthem before Celtics games.
But most Sundays you'll find Rivera singing where his journey as an artist began: in church. That's also where he wanted to meet to talk about his calling to re-imagine historic songs by enslaved Black people in America.
On a weekday morning, Rivera's buttery baritone floated above the crimson carpet and empty wooden pews at Holy Tabernacle Church in Dorchester. He was singing "If I Can Help Somebody," one of Martin Luther King Jr.'s favorite gospel tunes.
"Part of my commitment to Black culture is understanding the Black church, which is the staple in the Black community," he said. "It's where everything goes down: the good, the bad, the ugly, the beautiful."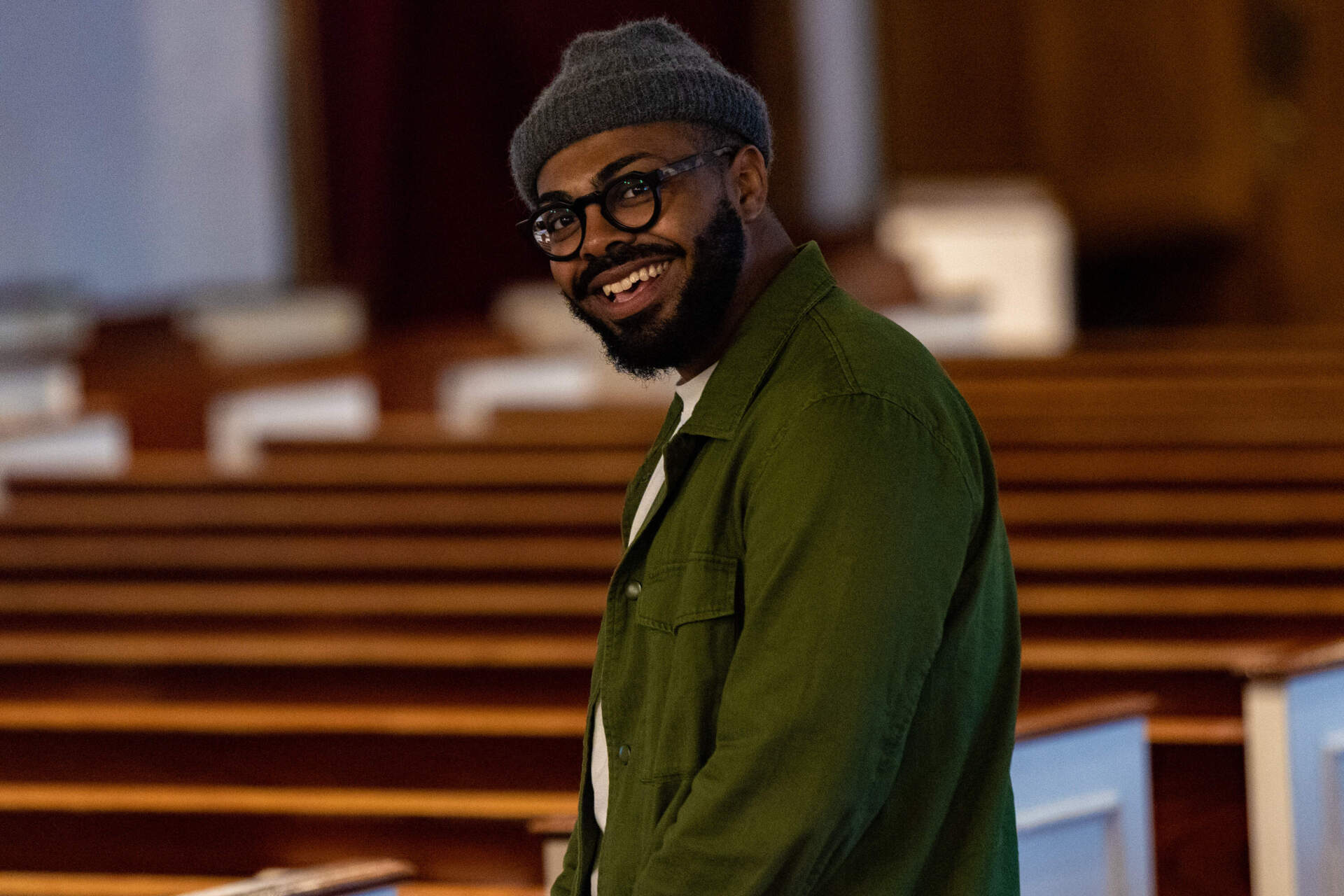 Rivera calls himself a "church baby." He started singing at services as a little kid. By age 11, Rivera directed his church's youth choir. Today, he is inspired by his faith, his pastor and his parents, who were community organizers.
"My mother is Black— African American — and my father is from Puerto Rico. For most mixed kids, you're always torn between your culture, you never really feel like you have an identity," he said. "And I've always found a strong place in identity in church."
Rivera's talent took him outside church, including to the White House, where he performed with a choir for the Obamas. In high school at Boston Arts Academy, he studied classical music. But Rivera said the lack of Black representation in that genre challenged his identity. He struggled to find his place and his voice. Then Rivera heard spirituals. "I was blown away," he recalled.
Spirituals are religious folk songs first sung by enslaved African people during worship, in fields and as "signal songs" along the Underground Railroad. They were lyrical lamentations about the darkness of slavery that also offered hope for freedom and salvation. Rivera said choirs, including the Fisk Jubilee Singers, have popularized spirituals. But he wanted to revive the historic works through a solo lens that would speak to the Black experience today.
"For as much as being beautiful, these are very bloody songs," he explained. "They have much history that has been unpacked, and much that has not, intertwined in the lyrics and the melodies. I knew the spirituals — even as old as they were — could be prophetic, forward-thinking and innovative by allowing us to see into the future."
Rivera found collaborators Matt Savage and Gavin Rushing to help rearrange spirituals while he was studying at Longy School of Music. For his senior recital in 2022, the musicians premiered the project at the African Meeting House in Boston. Rivera called it "Songs of Free Men," to provoke questions.
"Well, these were not free men, so whose songs are these?" he explained. "When did they become free? How were they freed through these songs?"
The project's title is an homage to Paul Robeson, the legendary, multi-genre activist-artist who produced a pioneering album of the same name in 1943.
One of the first spirituals the musicians set out to re-interpret was, "Were You There (When They Crucified My Lord)." The choice was in response to the flood of emotions they grappled with after George Floyd's murder in 2020. In the song, a refrain repeats the question posed in its title.
"When we were working on this, one thing that we kept on saying was that my Lord is 'blank,'" Rivera explained, "and I was maybe 12 or 11 when I was watching the riots happen with Michael Brown — so 'my Lord' was Michael Brown. I stopped wearing hoodies in middle school because of Trayvon Martin — and Trayvon is 'my Lord.'"
These feelings transcended time, "which is why we're so committed to bringing the spirituals back," Rivera said. "They not only share what has happened in the past, but paint a very similar picture to the world that we live in today."
Working with Rivera on the spirituals hit home for organist Gavin Rushing. He's a student at Berklee College of Music, performs at Holy Tabernacle Church on Sundays and grew up in Georgia.
"As I play this music, I embody what the songs mean," Rushing said, "but I also embody my grandfather who, rest his soul, passed away in 2016. He was born in a time where his father and him were still sharecroppers. They worked on somebody else's land."
Rushing said Rivera, who's also his best friend, challenges him to go beyond the spirituals. "Also Black history, Black culture, which obviously I'm tied to because I'm Black," he said. "But there's still some digging of things that are not just embodied in your soul that you have to understand — history, timelines, the connection between spirit and music."
When asked about Rivera, Emmett Price III called him a committed activist with an "old soul," and a 21st-century renaissance man. "He leaves a trail for others to follow," he said, "which is a great quality for a leader."
"It's not enough for you to come in and just sing music that makes you feel good. If you really want to be a contributor to the sound, you have got to know the history and what makes us who we are."

Danny Rivera
Price is dean of Africana Studies at Berklee College of Music, a musician himself and an ethnomusicologist. He was also guest scholar and speaker at the "Songs of Free Men" performance. For Price, who's an expert on sacred and secular expressions from the African diaspora, locating the concert at Boston's first Black church propelled the spirituals to an even higher level.
"We were tapping into the souls of the freed people who were expressing not only their desire for freedom, but also the importance of liberation," Price said. "Danny was able to elevate that in a way where the souls of these Black folk — to use W.E.B. Du Bois' terminology — 'lived again.' And in living again, we have now an intergenerational context that allows the music to transport us back, but also forward."
The spirituals keep Rivera grounded because all of the other music he makes — soul, jazz and even pop — can be traced back to these early cries for freedom. The young artist said he can feel the restlessness of his ancestors, and that it's his duty to make sure their music is heard.
"I feel the need to set the tone for my generation," Rivera said. "It's not enough for you to come in and just sing music that makes you feel good. If you really want to be a contributor to the sound, you have got to know the history and what makes us who we are."