Vineyard Wind finished its first offshore wind turbine. Here's a peek
Editor's Note: This is an excerpt from WBUR's daily morning newsletter, WBUR Today. If you like what you read and want it in your inbox, sign up here. 
---
No, we still don't have a U.S. House speaker. But here's what we do have today (with, hopefully, more pizza):
One down, 61 to go: Massachusetts hit a major clean energy milestone yesterday: The completion of the first turbine for the first commercial-scale offshore wind farm in the state — and country. WBUR's Miriam Wasser reports that crews working on the 62-turbine Vineyard Wind 1 project have put the third and final blade on the first tower, which is located about 15 miles south of Martha's Vineyard.
What it looks like: The Nantucket Current snapped a few photos of the turbine from Madaket Beach last week. (WBUR's Robin Lubbock also recently got photos of the strikingly large parts in New Bedford before they were shipped out to sea.) But you can scroll below for an up-close view of the fully assembled turbine.
What's next: According to the project developer Avangrid, the single turbine alone has the capacity to power up to 6,000 homes and businesses. But it won't start sending electricity back to the mainland until four more turbines are installed. That's the next big milestone, which should come later this year.
Go deeper: To get the full picture of where the offshore wind industry stands in the Northeast, read Miriam's latest explainer.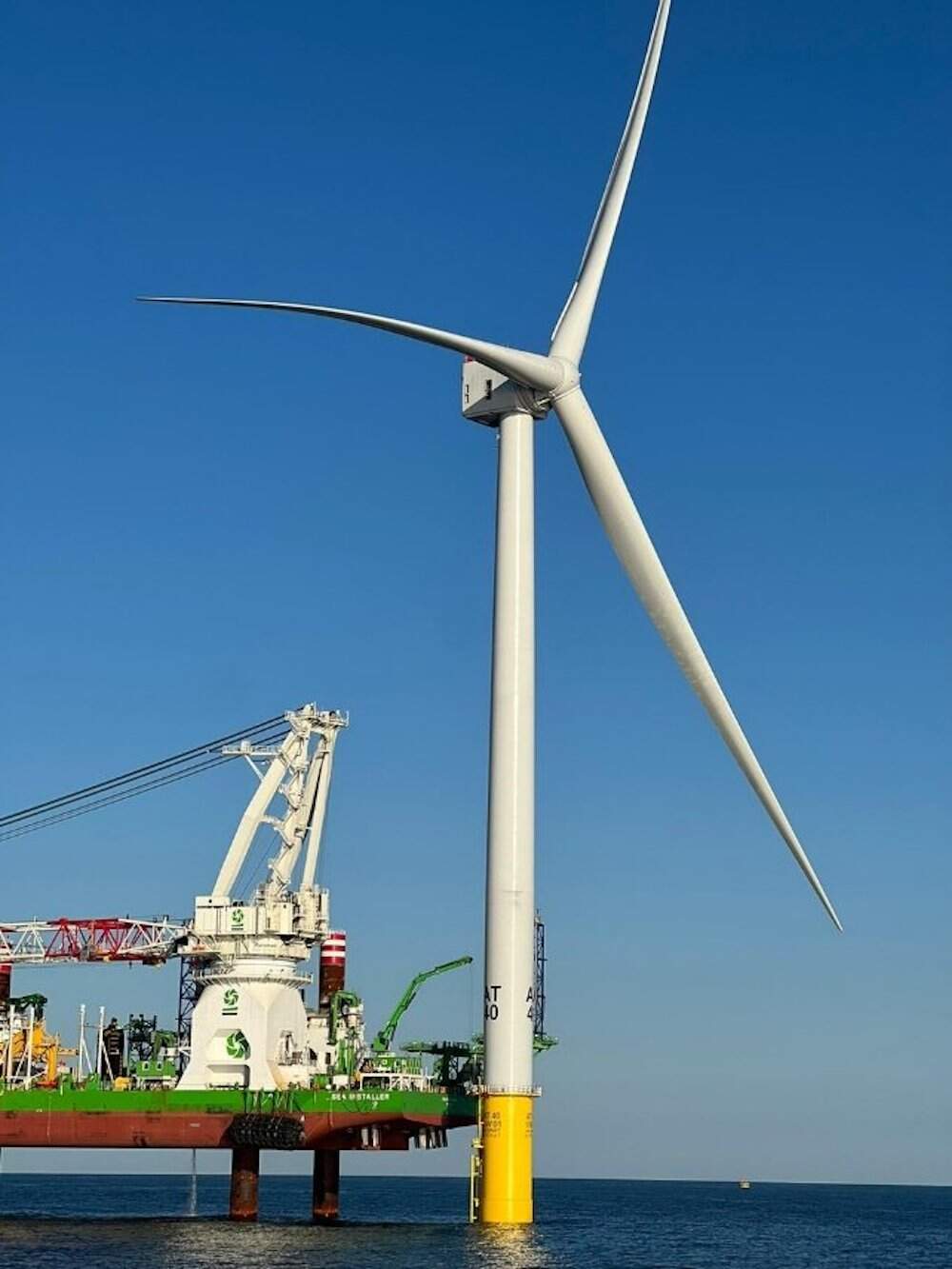 FYI: As expected, the Massachusetts House yesterday voted overwhelmingly to pass a sweeping new bill to tighten the state's already-strict gun laws. A dozen Democrats, along with every Republican, voted against the bill. But it still passed easily, by a 120-38 margin.
Now what? The bill's future now lies with the state Senate, which is separately working on its own gun reform bill. While the two chambers haven't exactly seen eye-to-eye on the issue, leaders say they're hoping to pass something by next summer.
PSA: Gov. Maura Healey's administration has opened a second round of student loan repayment grants for certain health care workers in Massachusetts, as part of the state's efforts to attract (and retain) workers in the critical field.
Somerville residents, the community path along the Green Line Extension is officially finished. Somerville officials recently opened the final segment of the path extension (the rest of which has been open since June); it had remained closed due to construction on a new athletic field by Somerville High School.
Beware: The news also means the city will remove the two-way bike lane detour on Medford Street as soon as today — and reopen the street to two-way car traffic between Walnut and Pearl streets. So, the city is urging path users to take extra caution.
Good news, skiers: New Hampshire's Black Mountain isn't closing this winter after all. The owners of the revered independent ski area announced yesterday they're reversing the decision to close for the season due to financial difficulties, thanks to help from Indy Pass.
They're calling it "a transitional year" as they continue looking to find a buyer to keep Black Mountain open indefinitely.
P.S.— Want to make this fall's jack-o'-lantern truly gourd-geous? Radio Boston recently had on a master pumpkin carver (#careergoals) for an in-studio demonstration of best practices — from picking the right type of pumpkin to using the proper tools. He even shared some advanced lighting ideas. Read the full list of tips here.