5 things to do this weekend, including Doggone Halloween and a Día de los Muertos parade
October is finally coming to an end. If you're anything like me, the month has been filled trying to get your friends to do spooky things they wouldn't do any other time of the year. But there are still a few macabre delights to enjoy, including not one but two parades this weekend, a pay-what-you-want Halloween themed orchestral concert, and a bone-chilling, amp-busting retelling of an infamous axe murder in Fall River. If you're looking for something else, like a Boston artist's first solo exhibition, keep on reading.
Through Nov. 5
There are dozens of spooky stories and theater classics out in the world like "The Addams Family," "Beetlejuice" and so on. But, not all of them are based in reality. Furthermore, not all of them have roots right here in Massachusetts. Lizzie Borden was tried and acquitted for the axe murders of her father and stepmother in Fall River in August 1892. But people have been wondering if the courts made the right call for decades. Hear four women front a six-piece band as they retell Borden's story in this rock musical, which we highlighted in our fall theater guide. And as a bonus treat, Revolution Axe Throwing will be on site at The Umbrella Arts Center all weekend to help you get into the mind of an axe murderer.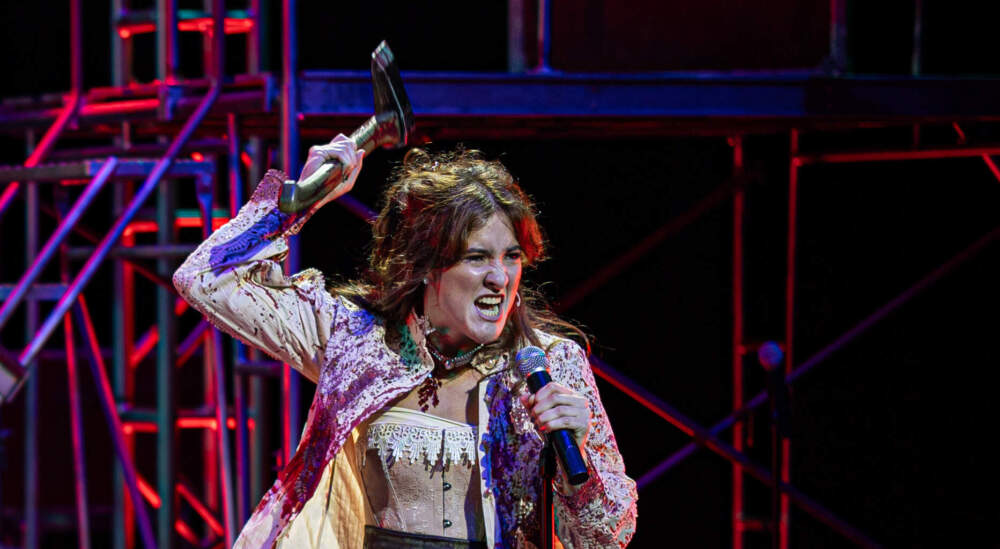 ---
New England Film Orchestra's 'This is Halloween' concert
Friday, Oct. 27, 2023
A pay-what-you-want Halloween orchestral concert might sound like a trick but it's definitely a real treat. The New England Film Orchestra has been putting on shows since 2019. You can catch them this Friday at the First Church in Cambridge playing spine-chilling Halloween bangers from "Harry Potter," "Beetlejuice," "The Nightmare Before Christmas" and other classic creepy cinema. They'll be taking advantage of the location with some organ music and a light show (sans flashing lights) as well. Costumes are encouraged if you want to partake in the annual costume contest and the suggested donation is $25.
---
Saturday, Oct. 28
Humans aren't the only ones that should be allowed to dress up for Halloween. And they won't be at the Doggone Halloween Parade at Downtown Crossing. The free event is made to get us and our furry friends into the Halloween spirit. And let's face it, dogs look better in costumes than we ever will. There will be a panel of judges declaring winners in categories like scariest costume and cutest costume. Find your puppy's next favorite food among the vendors selling treats or get a caricature of you and your best pal. If the dogs don't spook you and you end up wanting to bring one home, the Animal Rescue League of Boston will be on site with information on adopting.  [For more places to bring your dog, check out our guide to dog-friendly Boston patios.]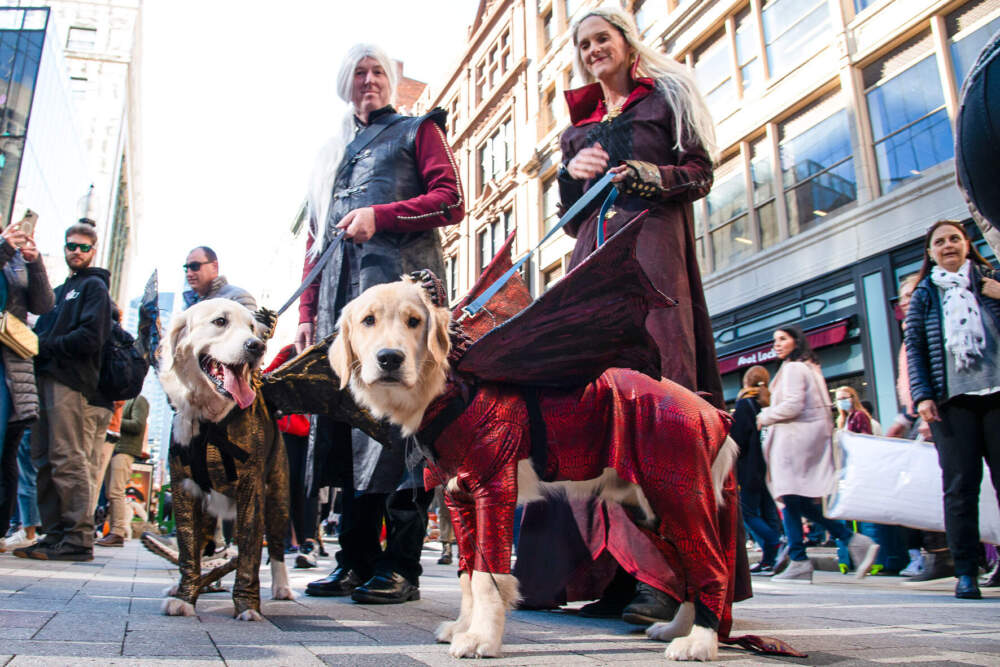 ---
Saturday, Oct. 28
Golden is a Black gender nonconforming artist who recently performed and showcased work at the Museum of Fine Arts. Now they're back with their first ever solo exhibition at the Beacon Street Art Gallery. "I'm Never Alone" is a multi-medium installation featuring sculpture work, fashion, Golden's award-winning self-portraiture series "On Learning How to Live" and their debut poetry collection "A Dead Name that Learned How to Live." Their work focuses on exploring blood and chosen family, Black homemaking and the perseverance of queer life. The free event at the Beacon Street Art Gallery in Brookline runs from 6 p.m. to 8 p.m.
---
Sunday, Oct. 29, 2023
Día de los Muertos will be held Nov. 1 and 2 this year. To celebrate, the Veronica Robles Cultural Center and Institute of Contemporary Art are teaming up for a Catrinas Parade, an event traditionally held in the days leading up to the holiday. Día de los Muertos is a vibrant celebration of life that's rooted in the ancient Aztec custom of honoring ancestors. Think of it as a family reunion where everyone is invited, including loved ones that have passed away via photos at an altar. You're sure to run into people in skeleton face paint — an homage to La Catrina, an Aztec goddess of death that's said to protect departed loved ones. The free event starts at 11 a.m. and goes until 7 p.m.