15 theater productions to see this fall
Despite the financial pressures that continue to pinch theater companies post-pandemic, this fall's theatrical lineup is an ambitious and intriguing mix of titles and topics. Some of the most anticipated shows are co-productions – collaborations that promise to bring out the best in both companies – and these partnerships are building relationships across companies both large and small, within the city limits and across the region. In addition to the powerful partnerships, theater companies in the region are offering stories that tap every emotional chord. The wealth of options included here are just the highlights. Keep your eyes peeled for new voices, new works, new companies and new spaces.
'Fat Ham'
Front Porch Arts Collective, The Huntington & Alliance Theatre
Through Oct. 29
The small but mighty Front Porch Arts Collective has mastered the art of partnerships, and — along with Alliance Theatre and The Huntington — brings "Fat Ham," James Ijames' Pulitzer prize-winning adaptation of "Hamlet," reset at a contemporary Southern barbeque (through Oct.29, at the Calderwood Pavilion's Wimberly Theatre). Local standouts Marshall W. Mabry (SpeakEasy's "Once on This Island"), Victoria Omoregie (SpeakEasy's "Fairview") and Thomika Marie Bridwell (The Huntington and Front Porch Arts Collective's "K-I-S-S-I-N-G") are among the company who will get star turns in this reimagined retelling of a dysfunctional family that infuses comedy, questions violence and revenge while amplifying the need for compassion and kindness.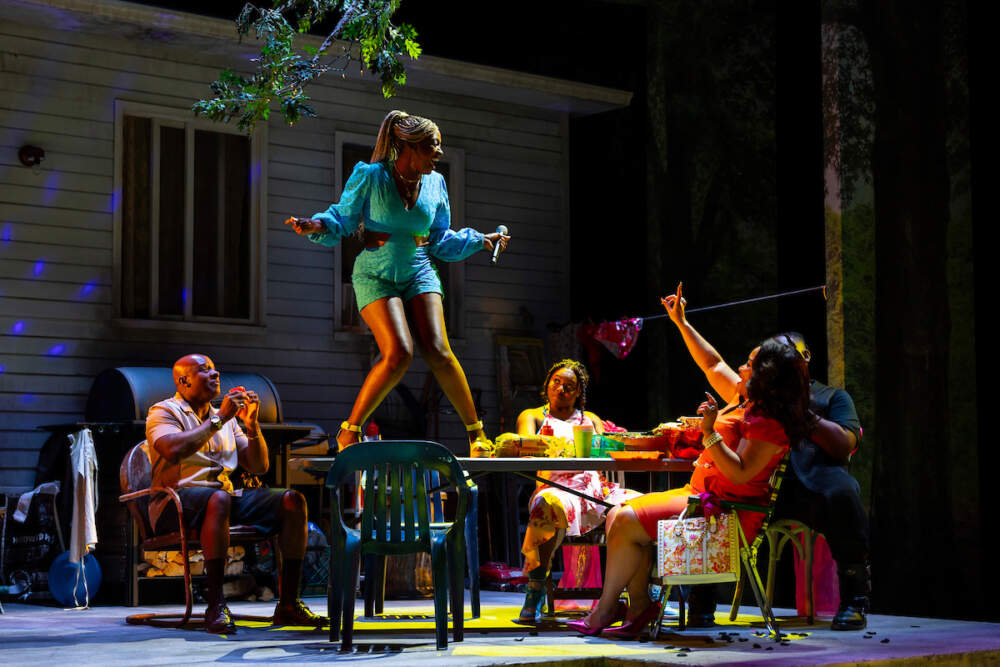 ---
Through Oct. 8
Central Square Theater returns with "Angels in America: A Gay Fantasia on National Themes," a co-production with the New York-based theater company Bedlam. After a truly breathtaking "Part I: Millennium Approaches" staged last spring, the company presents "Part II: Perestroika," and then both plays in repertory through Oct. 8. Director Eric Tucker employs his distinctly dynamic approach to staging, keeping the action crackling and the audience enthralled in a story playwright Tony Kushner set in the 1980s, but feels remarkably fresh and familiar.
---
'Betrayal'
Harbor Stage Company & Wellfleet Harbor Actors Theatre
Through Oct. 14
Down on the Cape, Harbor Stage Company and Wellfleet Harbor Actors Theatre — who usually work at opposite ends of the Outer Cape town — are joining forces for Harold Pinter's tightly wound tale of infidelity, "Betrayal." Directed by Harbor Stage's Robert Kropf, the production stars real-life married actors Jonathan Fielding and Brenda Withers, along with William Zielinski on the Julie Harris Stage at WHAT in Wellfleet, through Oct. 14.
---
Through Oct. 22
Out in Lenox, Karen Allen ("Raiders of the Lost Ark") and Reed Birney ("Succession") star in the quiet two-hander "Lunar Eclipse." Shakespeare & Company is mounting this world premiere, which takes place in the backyard of a long-married couple as they watch the phases of the celestial phenomenon and share memories and conversation about their own dramatic and mundane moments of shadow and light. Playwright Donald Margulies ("Dinner with Friends," "Collected Stories") lets the characters drive, and what's not to like with veterans like Allen and Birney behind the wheel. Shakespeare & Company is mounting the world premiere of "Lunar Eclipse" at the Elayne P. Bernstein Theatre through Oct. 22.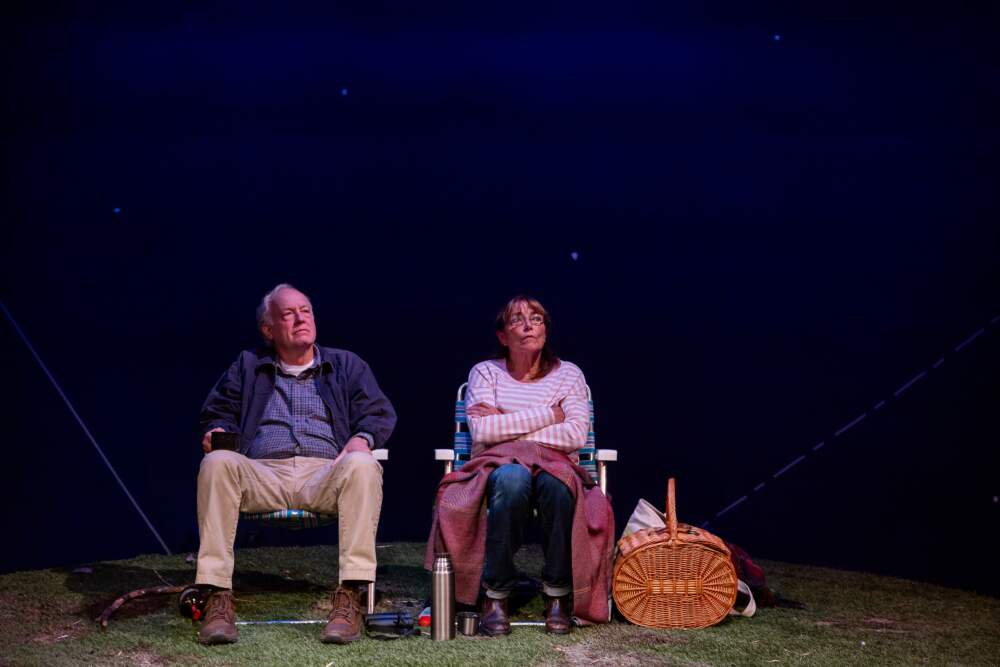 ---
'Lizzie'
The Umbrella Arts Center
Through Nov. 5
Award-winning director and choreographer Ilyse Robbins leads the Umbrella Stage production of "Lizzie" (through Nov. 5), a rock musical exploring the story of Lizzie Borden from a distinctly female perspective. Lizzie's sister, maid and neighbor add their insights and reveal the abusive atmosphere surrounding the Borden family that may have influenced the horrific murders of Lizzie's stepmother and father.
---
Sept. 28-Nov. 12 | Sept. 21-Nov. 10
Trinity Repertory Company takes a decidedly different look at the legendary "witches of Salem" with two plays running in repertory: "The Good John Proctor" (Sept. 28-Nov. 12) and "Becky Nurse of Salem" (Sept. 21-Nov. 10). "The Good John Proctor," by Talene Monahon, looks at the four girls at the center of the Salem witch trials, and the ways in which they are powerless when facing the whims of men; while "Becky Nurse," by Sarah Ruhl, follows the struggles of a present-day descendant of an executed Salem "witch," who tries to turn her luck around by consulting a local witch, with darkly funny results.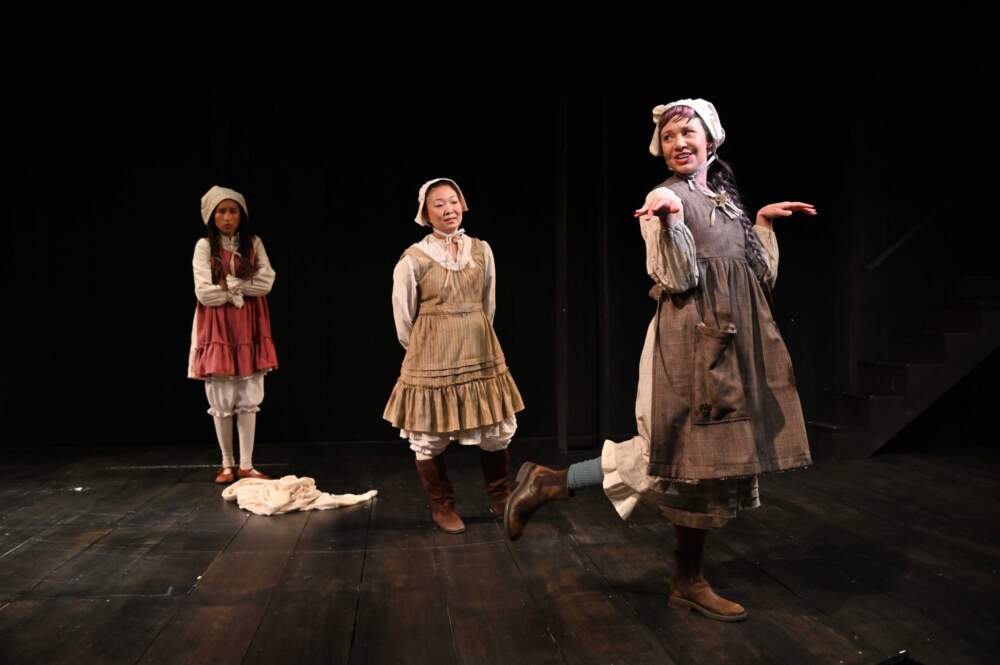 ---
Oct. 13-Nov. 12
In keeping with the season's slightly spooky vibe, Wheelock Family Theatre will present the comic musical "The Addams Family" (Oc. 13-Nov. 12), taking cartoonist Charles Addams' kooky family through their paces when their daughter Wednesday falls for a "normal" guy. Hijinks happen when Wednesday, her beau Lucas and his parents join her family for dinner. Nearly everyone in the family — including the dour butler Lerch — get to sing out in this musical about growing up, facing change and the power of love. Wheelock director Nick Vargas and musical director David Freeman Coleman have tapped several award-winners, including Aimee Doherty, Leigh Barrett and Anthony Pires Jr. and Wheelock co-founder Jane Staab for this family-friendly show.
---
Oct. 13-Nov. 5
Moonbox Productions opens its new home at Arrow Street Arts with a production of Stephen Sondheim's fearsome "Sweeney Todd: The Demon Barber of Fleet Street" (Oct. 13-Nov. 5). Besides having a sumptuous score, the story follows a barber who returns from years in prison after he was falsely accused of a crime. He vows revenge, and with the help of his landlady, Mrs. Lovett, spins increasingly out of control, even as her meat pie sales soar.
---
'Gaslight'
Merrimack Repertory Theatre & Cincinnati Shakespeare Company
Oct. 18-Nov. 5
Merrimack Repertory Theatre in Lowell teams up with Cincinnati Shakespeare Company for a new stage version of "Gaslight" (Oct. 18-Nov. 5). This psychological thriller by Patrick Hamilton inspired the 1944 film with Ingrid Bergman and explores the horrors of psychological abuse, where truth is bent to serve an abuser's whim and mysteries and double-crosses abound. This new version by Steven Dietz will be directed by MRT's artistic director, Courtney Sale, just in time for spooky Halloween season.
---
'Frozen'
Broadway in Boston
Oct. 25-Nov. 12
Elsa and her sister Anna embark on their adventures in the ice and snow in the stage adaptation of the hit Disney film "Frozen" at the Opera House (Oct. 25-Nov.12). All the songs from the beloved film plus several new numbers from the Oscar-winning songwriting team of Kristin Anderson-Lopez and Robert Lopez, bring the story of sisterly love in a high-powered stage production.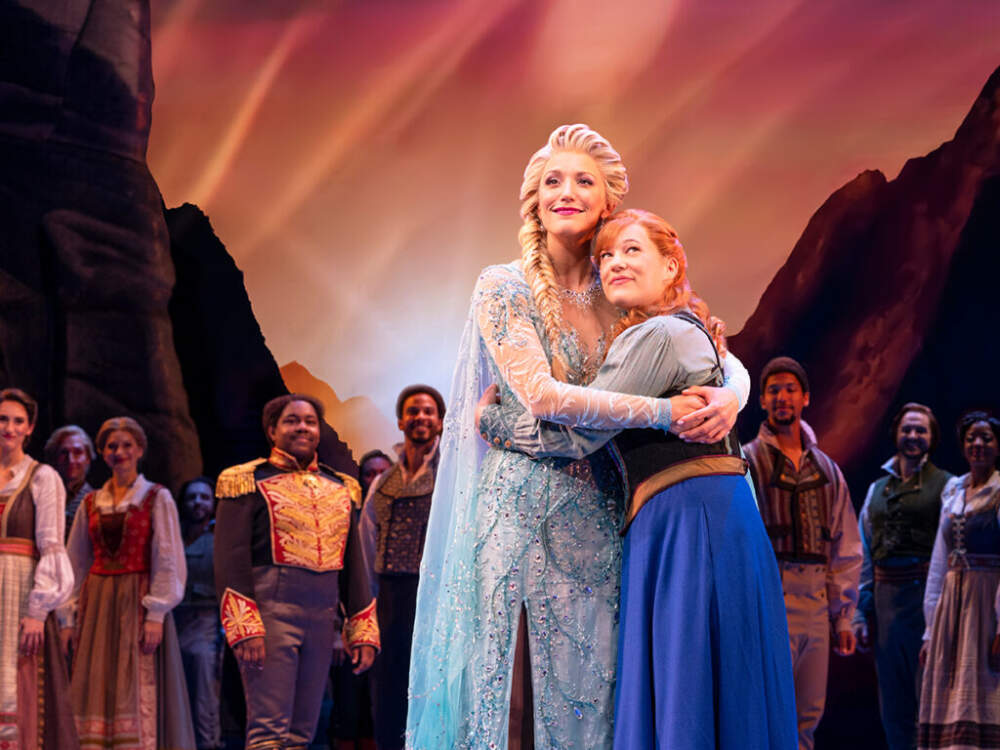 ---
'The Band's Visit'
The Huntington & SpeakEasy Stage Company
Nov. 10-Dec. 10
Artistic director Loretta Greco is embracing the Boston theater community in this, her first full year at the head of The Huntington with co-productions of both "Fat Ham" and, in partnership with SpeakEasy Stage Company, the Broadway hit "The Band's Visit" (Nov. 10-Dec. 10 at the Huntington Theatre). SpeakEasy's producing artistic director Paul Daigneault will direct and Daniel Pelzig, one-time Boston Ballet choreographer and current Boston Conservatory faculty (along with Daigneault), will create the movement. Daigneault and Pelzig both have lengthy lists of credits and promise to give this tale of an Egyptian band stranded in a small Israeli town (based on the film) the personal touches and connections to the music that make this show so heartwarming. Greco's open-arms approach bodes well for the theater community, as well as audiences, and sets just the right tone as everyone regains their balance and renews their commitment to sharing great stories on stage.
---
Nov. 10-Dec. 17
At the Lyric Stage Company of Boston, Fred Sullivan Jr. returns — after last season's hilarious production of "The Play That Goes Wrong" — to direct "Ken Ludwig's The Game's Afoot: Holmes for the Holidays" (Nov. 10-Dec. 17). This time, the comic mayhem ensues when a stage actor famous for playing Sherlock Holmes must apply those detective skills to solve the murder mystery that takes place in his home. Sullivan displayed his impressive talent for directing actors in pratfalls and comic timing with "The Play That Goes Wrong," so this will be a guaranteed hoot.
---
Nov. 21-Dec. 23
Inspired by his own parents' story, playwright Lloyd Suh ("The Chinese Lady") turns the Hart-Celler Act of 1965, which lifted the racially biased immigration quotas (strict limits were placed on all but Northern European immigrants), into "The Heart Sellers," (Nov. 21-Dec. 23; Huntington Theatre at the Calderwood Pavilion). Suh's drama focuses on two women, both recent immigrants, who are trying to find their way in a new country, master a new language, learn some disco dances and dream about Disneyland. It's an opportunity to look at immigration from the perspective of ordinary people forging a new life.
---
Dec. 8-Jan. 21
Across the Charles River in Cambridge, the American Repertory Theater mounts the world premiere musical production of "Real Women Have Curves" (Dec. 8-Jan. 21), adapted from the play and the film. With a score by Mexican singer-songwriter Joy Huerta and Benjamin Velez, and direction and choreography by Tony award-winner Sergio Trujillo ("Arrabal," "Ain't Too Proud," "Jersey Boys"), who really knows how to make a story move. Lisa Loomer ("The Waiting Room," screenplay for "Girl, Interrupted") provides the book. Josefina López's story celebrates Latinas — and all women's – acceptance of the beauty of their bodies through one young woman's efforts to break free of family expectations and pursue her dreams.