'Short-term pain for long-term wins': MBTA unveils shutdown schedule through 2024 to lift slow zones
Resume
The MBTA is planning a series of brief shutdowns on different portions of the system to allow for necessary repairs and eliminate the speed restrictions that have frustrated riders throughout Greater Boston. In all, officials say there will be up to 188 days of closures through the end of 2024.
T General Manager Phil Eng said the plan involves "short-term pain for long-term wins." He unveiled it during a subcommittee meeting of the board that oversees MBTA operations.
The plan will impact service on all four subway lines. The MBTA's goal is to eliminate speed restrictions by the end of 2024. Currently, about 23% of the system's tracks are under speed restrictions, per the T's dashboard.
The first scheduled shutdowns are on the Green Line: between North and Kenmore stations from Nov. 27 and Dec. 5; and between Riverside and Kenmore stations from Dec. 11 to Dec. 20.
Shutdowns planned after that are listed here, or shown on the chart below: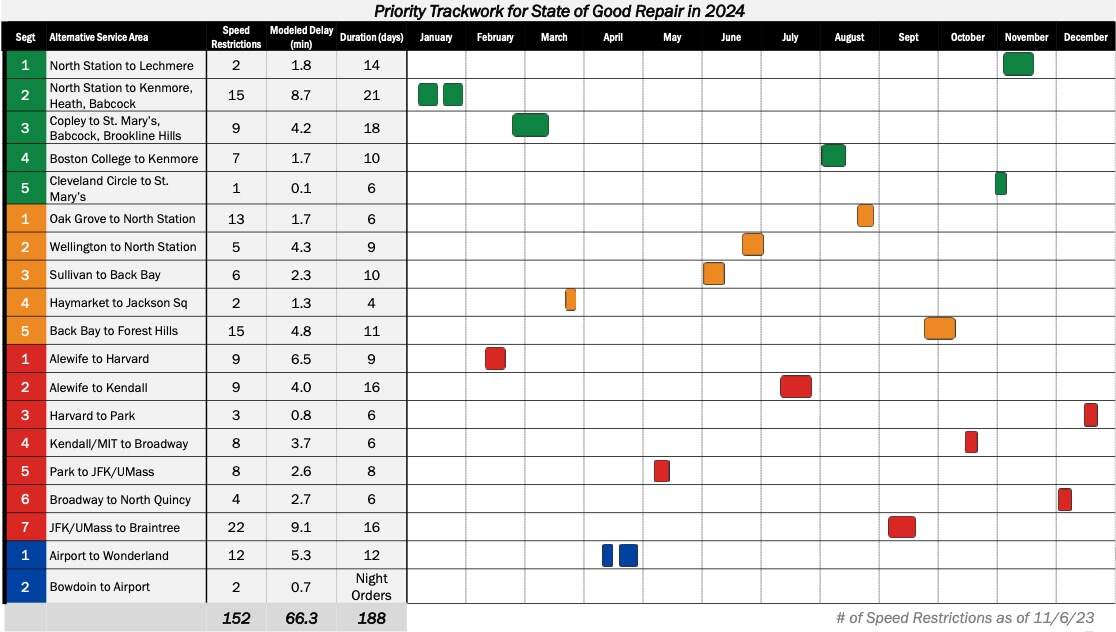 The T's chief engineer, Sam Zhou, presented the proposed service calendar through 2024 to the committee, saying the ultimate goal is to "minimize the impact to the traveling public."
"This calendar is based upon the avoidance of major holidays, major events and major work [by the the Massachusetts Department of Transportation] that will be taking place in the calendar year," he said.
Zhou said the dates are flexible and the T will plan public meetings and will advertise outages and alternative service as outage dates become finalized.
Based on "known defects" on the tracks, Eng said any given planned diversion could "be as short as four days" or up to a "maximum of 21 days."
Traditionally, the MBTA has done most of its repair work overnight and during weekends. Eng called the temporary closure plan "a new way of doing business at the T."
The general manager said these closures allow for crews to get more work done in a shorter period of time. In October, the T shut down portions of the Red Line for roughly two weeks to expedite track work.
Concerned with deteriorating track conditions, the MBTA enacted a slow down of all its trains in early March. A review of T operations found that internal disorganization, a lack of track maintenance, and poorly trained or inexperienced track inspectors were among the factors that contributed to the system's state of disrepair.
Since March, repairs have been ongoing, and some slow zones have been lifted. But additional problems have also been discovered.
The T revealed last month that the tracks of the Green Line Extension, which is less than a year old, had been poorly constructed and would require significant repairs. The T said tracks for the new line were too narrow and would need to be widened for trains to run more quickly.
This article was originally published on November 09, 2023.
This segment aired on November 9, 2023.