For Diwali, Boston-brewed Rupee is putting the 'India' back in India Pale Ale
Resume
Walk into a local brewery or restaurant and you'll likely find at least one hoppy India Pale Ale or hazy New England IPA on the menu. The styles' ubiquity wasn't lost on Van Sharma and his brother when they debuted their company Rupee two years ago. Being Indian, a lot of people assumed they must have had an IPA among their beers.
"And we didn't," Sharma said, "so for us, we knew eventually we would introduce an IPA that really fit into the ethos of Rupee."
Now that Rupee's IPA is ready, it will be on retail shelves and at restaurants in time for India's biggest holiday, Diwali, on Sunday, Nov. 12.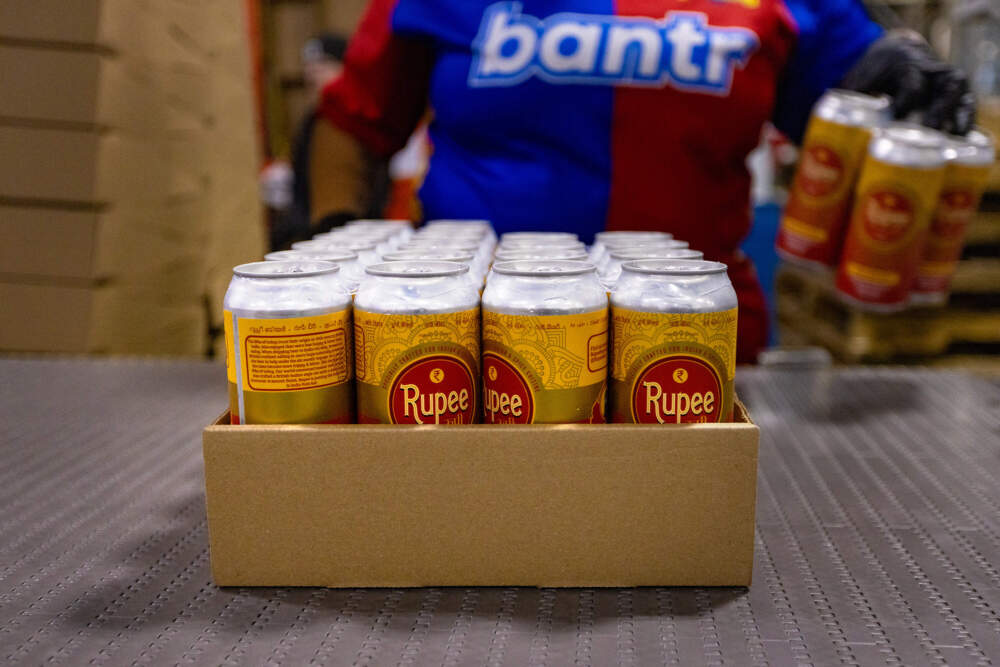 Rupee's spirit and mission is inspired by Sharma's culture and childhood. The 33-year-old's parents emigrated from London to Portland, Maine in 1990 and opened the state's first Indian restaurant in Brunswick.
As a kid, Sharma remembers how his ethnicity and brown-skin confused his peers. In third grade, while studying Native American tribes, they assumed he was American Indian. "They never understood what India was, especially in a place like Maine, which is so homogenous," Sharma said. "I feel like I grew up always having to show people."
It was also challenging for his parents to find distributors who delivered Indian beers to Maine. After college at Northeastern University, and time in London, Sharma returned home to help out during the pandemic. Supply chain issues made it even harder to get the beers they wanted to serve at the family's restaurant. "There were a lot of people in Maine asking for Indian beer – Kingfisher, Taj Mahal – iconic Indian brands," he said. So they decided to create their own.
Sharma and his brother Sumit set out to develop an easy-to-drink, lightly carbonated beer that would pair perfectly with Indian curries, tikka masalas and other spicy flavors. "When your tongue is on fire from spice, carbonation is one of the worst things you can bring to it," he said. "It amplifies the heat and the irritation."
But they also wanted their beer to tell a cross-cultural story. Sharma, who studied political science as an undergrad and got a masters in international relations said, "I think beer is such a great lens for bridging East and West."
But the Sharma brothers were entrepreneurs, not brewers. So, they started searching for a pro. "I spoke to tons of great brewing houses in Europe, in Canada, in Australia, across the United States," Sharma recalled. "And literally down the road from our parents' house, Alan Pugsley was hanging out."
Alan Pugsley has been a craft beer pioneer for 40 years. He co-founded Portland's Shipyard Brewing Company in the 1990s and has consulted on more than 100 brewery and beer projects around the world. "And being British, he also understood Indian food extremely well," Sharma said.
I caught up with Pugsley in Portland at the site of his latest consulting gig, Orange Bike Brewing, a new company specializing in gluten-free beer. He recalled when Rupee's  concept came his way. "I thought it was great," he said, "because I love Indian food."
To make Rupee's flagship product, Pugsley said he and Sharma's family taste-tested a bunch of Indian beers alongside dishes from their restaurant. Eventually, he designed a balanced basmati rice lager that went on to earn an award in 2021. Rupee's second release, a seasonal mango wheat ale, was sold at Fenway Park in August for India Day.
When the idea for a history-inspired India Pale Ale came along, Pugsley was intrigued. "The one thing we didn't want to do was create another New England IPA," he said, "which is completely unrelated to the actual Indian Pale Ale that was made in the first place."
Crafting Rupee's IPA offered an opportunity to travel back to the style's origins. When the British occupied India beginning in the 19th century, English brewers formulated sturdy IPAs for a reason.
"In order to preserve the beer on the voyage from England to India, they used to make the beer with a higher alcohol level," Pugsley explained, "and then also with a heavy dose of hops, because hops are also natural preservatives so the beer would survive the 90-day or so voyage."
Pugsley, who's something of a traditionalist, appreciates Rupee putting the "India" back in IPA. Now consumers can read all about that history on the beer can's label. "We want our consumers, especially in America, to know why an iconic beer like an IPA references India," Sharma said.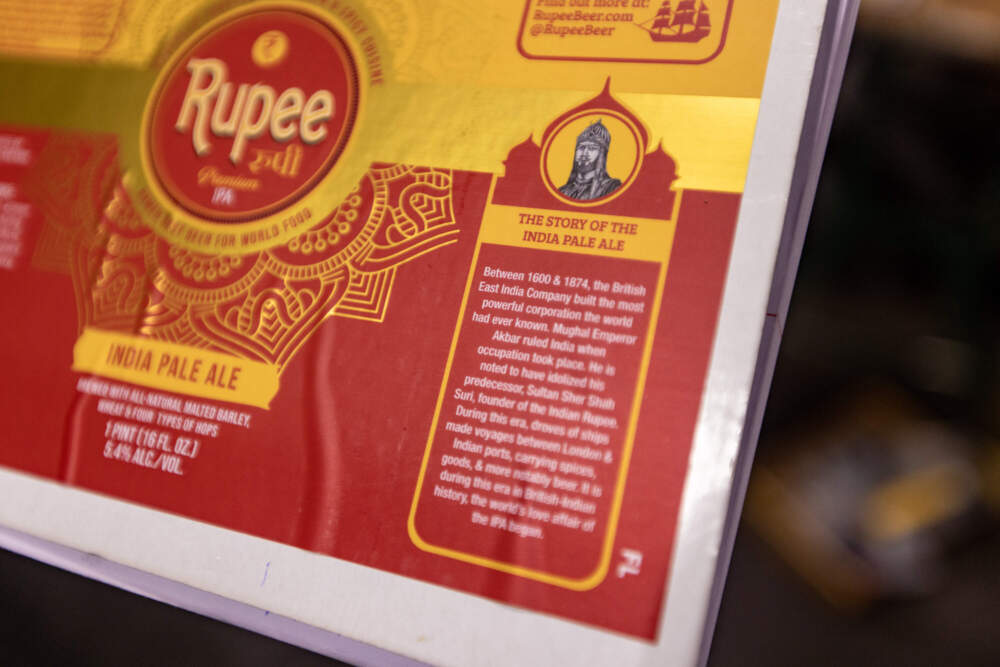 Rupee doesn't have its own facility, so the brand's beers are produced and packaged at the Dorchester Brewing Company. On a recent morning, Sharma walked past the canning line to a shelf stacked with fat rolls of red and gold Rupee beer labels. He peeled one off, and relayed the mini history of the IPA that also introduces the brand's namesake.
"Sultan Sher Shah Suri, he was the founder of the modern-day Indian rupee," Sharma said. "He also set up the first postal network in South Asia, and he created the Grand Trunk Road, which is the longest and largest road in Asia."
The label's copy also explains how between 1600 and 1874 the British East India Company sent "droves of ships" between London and India "carrying spices, goods, & more notably beer."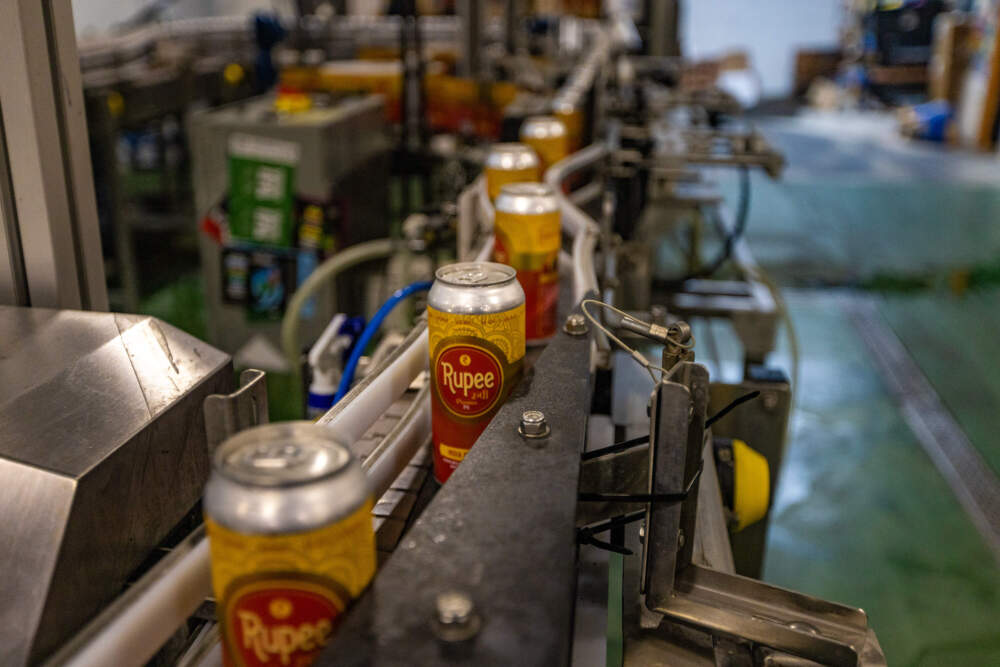 As for what's inside the can, Dorchester Brewing Company head brewer Andy Johnson called it a really cool beer, "and a throwback to a more English style IPA."
Johnson manages production contracts with a stable of other beer brands and remembered being surprised when the order to make Rupee's Indian-inspired lager first came across his desk. "Ninety percent of the customers [who] come through the door are white dudes who own breweries," he said, acknowledging the lack of diversity in the beer industry. Now Rupee is "killing it," he added, as one of the Dorchester Brewing Company's biggest partners.
After drawing a sip of Rupee's new IPA off a conditioning tank, Sharma said releasing it for Diwali made a lot of sense because the festival of lights celebrates intensions.
"India is a very vibrant country, our culture is super vibrant as well," he said. "From our weddings, to our songs, to Bollywood, which is a huge staple if you're Indian. So for us, Rupee really wants to make sure the Western audience knows more about India — and we're doing it through liquid."
Now this beer brand that started as a project for a family restaurant is available at major retailers in 15 states. It's also on menus at local Indian and Asian restaurants. Sharma said they're on track to double that reach in 2024. Rupee's next style — a Masala Chai Stout — will tell the story of India's spice trade. That recipe is still being tweaked with the goal of releasing it this winter.
This segment aired on November 10, 2023.