Pilot program will install batteries in 2,000 Mass. homes to reduce energy demand on the grid
Picture this: It's a cold January morning in 2050. People across New England are waking up and cranking their electric heat pumps. They're also turning on lights, brewing coffee and taking hot showers, all while the millions of electric vehicles in the region are finishing up their overnight charge.
By mid-century, as more people electrify their home heating systems and vehicles, the region's peak demand could be as high as 50 gigawatts on cold winter mornings. That's about double today's peak use, which currently occurs on hot summer days when New Englanders blast their air conditioning units.
Meeting that higher demand in the coming decades will require building a lot of new infrastructure. The region will need many more solar panels and wind turbines to supply the power, as well as electrical substations, transformers and power lines to get it peoples' homes — all costly, and sometimes difficult-to-permit, things.
But experts say that if we can shift when some appliances draw power from the grid, the region might be able to get away with building slightly less infrastructure.
Now, thanks to a new $50 million grant from the U.S. Department of Energy, a pilot program in Massachusetts will test whether installing small batteries and heat pumps in about 2,000 homes could be a cost-effective way to help do just that. It's the first time in the country such a project is being tested at this scale and the results, if successful, could have implications for other regions that are also looking to electrify.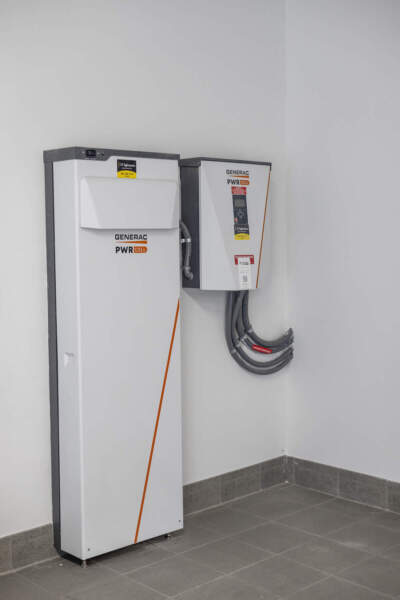 Here's how it'll work: When electricity demand on the grid spikes, special software will direct appliances in the homes to run off of the battery. Once demand begins to fall, homes can once again pull power from the grid and give the battery time to recharge.
Mass Save, the state's energy efficiency program, will install the electric heat pumps and smart thermostats in low-to-moderate-income homes across the state. And Generac, a Wisconsin-based energy technology company, will provide the software and 18 kilowatt-hour batteries, which are big enough to power the average-sized home for the three to five hours of peak winter demand.
"The hope is that this project can be used as an exemplar and something that can be replicated in other parts of the country, and in advance of the accelerating electrification transition," Anne Hoskins, senior vice president of policy and market development at Generac, wrote in an email.
While small, in-home batteries aren't new, Hoskins said they're often deployed in emergency situations or purchased by homeowners who are worried about losing power. The batteries in the pilot can serve as similar role while also testing their use in electrifying homes without overly stressing the grid.
"One of the things that I think is particularly exciting about this pilot is the pairing of building electrification measures [like heat pumps] with energy storage," said Brett Webster, a manager in the Carbon-Free Buildings program at RMI, a research group that advocates for clean energy.
Previous battery-only pilot programs have shown that small in-home batteries can provide value to the grid, he said. But to show how installing batteries alongside heat pumps in homes "can mitigate the impacts of that new load ... that's a really exciting concept."
Webster expects that states, utilities and energy experts around the country will be interested to see the results of this pilot. Rising peak demand poses a challenge in all regions of the country, he said, though it's an especially acute issue for colder climates like the Northeast, the midwest and the Mountain West, which will require a lot of electricity for home heating.
"Pilots like this are critical because they help inform what the [electrification] road map looks like, which, to be honest, no one has totally figured out," he said.
The pilot is also unique in that it's specifically targeting low- and moderate-income residents, many of whom couldn't afford this technology on their own. (Generac declined to say how much their PWRcell battery system costs, but several online reviews say it can cost upwards of $12,000.) Residents will also get free heat pumps and smart thermostats though Mass Save.
"It's a win for everyone," said Tilak Subrahmanian, vice president of energy efficiency at Eversource, which helps run Mass Save. "It's accelerating building decarbonization for low- and moderate-income customers while mitigating the impacts [of electrification] on the grid."
Hoskins said doing this pilot program in Massachusetts was attractive because of the Mass Save program, the state's support for installing in-home batteries and because the electric utilities here already have a working battery demand response program, known as ConnectedSolutions. Customers who enroll in that program can get money back by allowing their utility to essentially do exactly what this pilot is proposing — call upon their home battery to help reduce peak demand on the grid.
Using federal dollars and Generac's technology, the pilot program is designed to test the impact on the grid if and when home batteries become more common.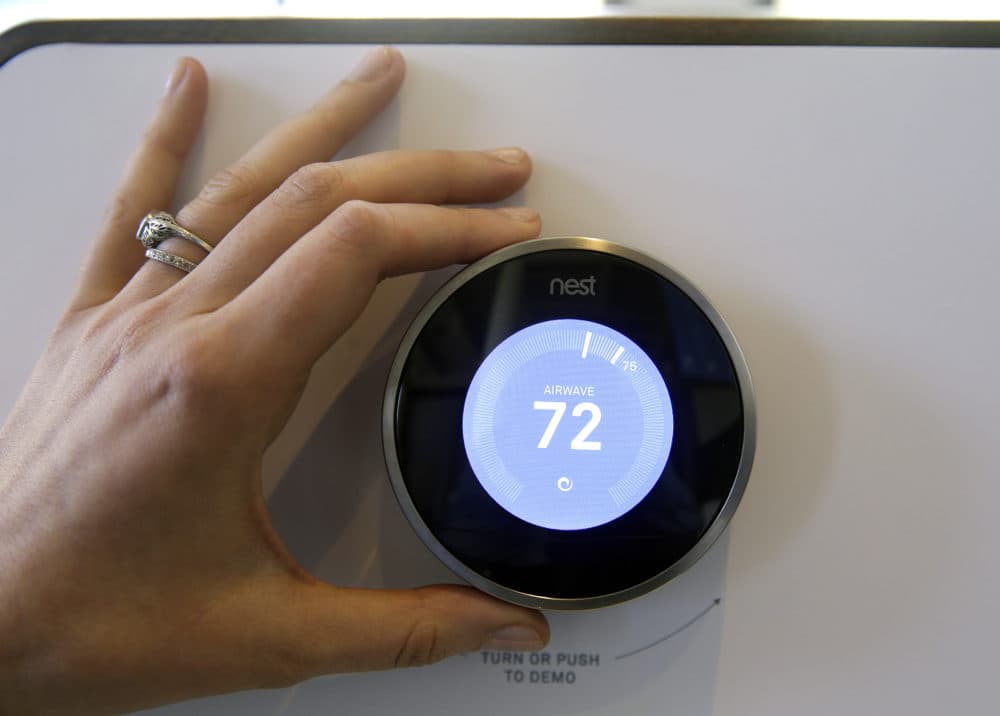 Subrahmanian said that he and the rest of the Eversource team will look at three key metrics: Technologically, can they install and hook up smart electric equipment in 2,000 homes across the state? Operationally, can they meaningfully reduce demand on the grid by strategically deploying batteries? And economically, is it cheaper to install and operate these batteries than building out the extra grid infrastructure that would otherwise be needed?
In terms of individual energy savings, the results remain to be seen. In New England, electricity tends to cost more than natural gas, meaning customers who make the switch from a gas furnace to an electric heat pump may see higher utility bills. Subrahmanian said the way the program is structured, people won't pay more for energy, but any savings may be minimal. At least for now.
Most people in Massachusetts pay a flat rate for electricity regardless of when they use it. But there are conversations at the state level about switching to something called "time-of-use rates." Under this system, people would pay more for energy they draw from the grid during peak demand hours, and pay cheaper prices when demand is low.
If utilities adopt time-of-use rates, a pilot program like the one Generac and Mass Save are experimenting with could lead to lower energy bills because the batteries would charge during low-cost times and deploy when prices are high.
Larry Chretien, executive director of the Green Energy Consumers Alliance, said he's excited about this pilot project and glad that it prioritizes electrification and resiliency in low-income homes.
"$50 million, it's not a little pot of money," he said. "This is a good pilot. We'll learn from it and I think it's going to give us lessons that we can build on well in advance of when we're really going to see the winter peak demand begin to rise."
The $50 million grant comes from the Department of Energy's Grid Resilience and Innovation Partnership Program, which is funded by the 2021 Bipartisan Infrastructure Law.
According to Generac, the first batteries will be installed in late 2024 or early 2025.