20 years later, Hillary Goodridge reflects on Mass. gay marriage win
Resume
Saturday marks 20 years since Massachusetts became the first state in the nation to allow same sex couples to marry, following a decision by the Supreme Judicial Court.
That groundbreaking moment eventually led to a chain reaction around the country.
Hillary Goodridge and her then-fiancé Julie Goodridge were lead plaintiffs in the case decided in 2003. She joined WBUR's Morning Edition host Rupa Shenoy to reflect.
Interview Highlights
Highlights from this interview have been lightly edited for clarity.
Shenoy: "Can you take us back to this day 20 years ago? What was it like, and what was the atmosphere?"
Goodridge: "Well, it feels very much in some ways as things do now, which is both amazing and exciting and terrifying. The [Supreme Judicial Court] announced every morning at 8 a.m. what cases would be released that day. So for months, all of us who were plaintiffs and other people had been checking the SJC website at 8 in the morning.
"That morning on November 18, there it was. It's a bit of a blur, what happens after that."
"Opposition to marriage equality in Massachusetts continued even after that 2003 decision, then Massachusetts Gov. Mitt Romney called for a state constitutional amendment to define a marriage as between a man and woman. How long was it before you felt widely accepted as a married couple here?"
"Oh, it was years, I think, even after marriage, because what happened after our case is that it also felt like the opposition accelerated in really somewhat insane ways. I mean, Mitt Romney called it a blow against the family. [Then-President] George Bush called for a constitutional amendment to, you know, 'protect marriage' in his State of the Union.
"And as today, we were used as political fodder — which continues now, especially with young trans kids, with people of color, with immigrants. Politicians will use us for whatever end — and forgetting, as Mitt Romney did back then, we are your constituents. We are the people you are here to serve."
"We were used as political fodder — which continues now, especially with young trans kids, with people of color, with immigrants."
"How have you been reacting to some of the pushback we've seen in recent years when it comes to LGBTQ rights, like the book bans and the laws around the country restricting transgender rights?"
"It feels insane to me. Sometimes I think it's the last gasp of dinosaurs, who are madly trying to hold on to something that was horrible to begin with. And other times I get so much hope from young people, from all the different movements who have come together to understand how connected our situations are and to fight back. I do not believe that marriage equality will be reversed at all. And I believe that movements for justice will continue to go forward."
"Being a part of this case, being in some sense a face of gay marriage in Massachusetts and the nation, how has that impacted you?"
"A lot of people will still say thank you. Even a group of young people who I had the pleasure of meeting with the other day — one of them burst into tears and said, 'I know what you did and thank you so much.' So that just makes my heart swell. That's incredible. And I'm very grateful, but always need to remind how many people were really behind us."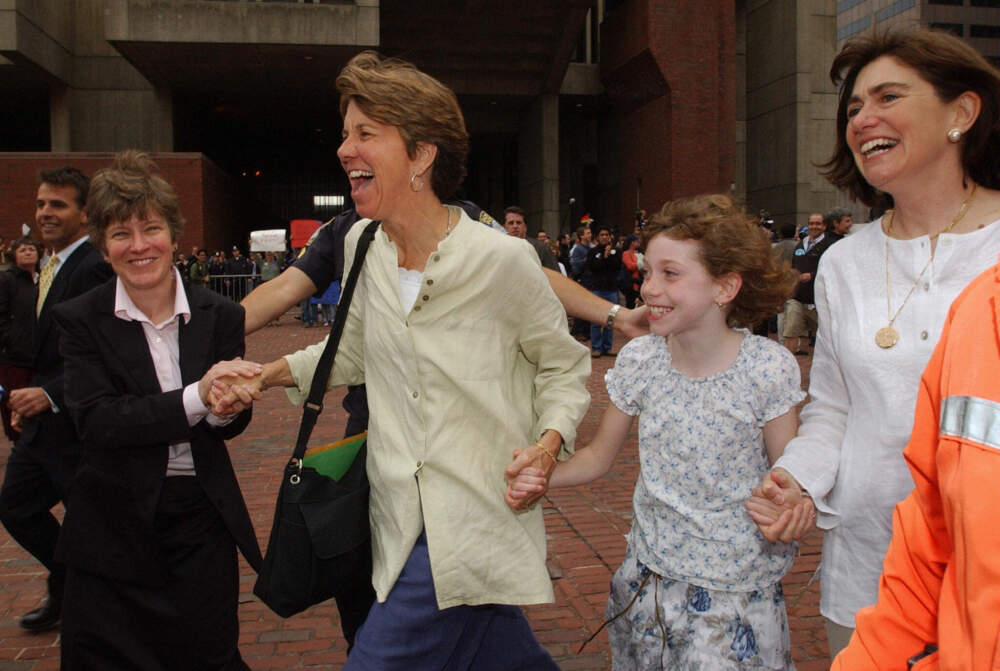 "Were there sacrifices to playing this role?"
"Oh, huge. Of course. They were all worth it, but I think that Julie and my relationship was one of the sacrifices ultimately. We didn't go into it thinking that, but it took a big toll on everyone in some way, and of course it was going to."
"You say it was worth it. You've talked though about the pressure it's had on your family and how it did ultimately lead to your divorce. Especially on an anniversary like this, how do you reflect on that? How do you make sense of the role it's played in your life?"
"I weigh out the incredible positive and some of the negative and understand that any movement for justice like this is going to have both and is going to involve some heartbreak. In all of it, I think Julie and my priorities were, first of all, to Annie and to our work.
"It was heartbreaking, of course. I mean, divorce is awful to go through. Divorce also points to another reason why marriage is important. Because if either Julie or I had been jerks, we could have really hurt each other.
"Part of what led to me being a part of this was also having friends who died in the '80s and '90s from AIDS. And in some cases, their partners were literally left out in the cold. They didn't have the kind of protections that Julie and I had to then ... take apart a relationship and to be fair. And to put the kids first."
This segment aired on November 17, 2023.