Week Ahead: New Kavanaugh Allegations, Ford To Testify, Rosenstein And Trump
49:08
Play
With Meghna Chakrabarti
New sexual misconduct allegations against Brett Kavanaugh. Christine Blasey Ford to testify before the Senate Judiciary Committee. Reports of Rod Rosenstein's proposal to tape President Trump. We'll cover it all.
Guests
Susan Page, Washington bureau chief for USA Today. (@SusanPage)
Kimberly Atkins, chief Washington reporter and columnist for the Boston Herald. (@KimberlyEAtkins)
Molly Ball, national political correspondent for Time. (@mollyesque)
From The Reading List
New Yorker: "Senate Democrats Investigate a New Allegation of Sexual Misconduct, from Brett Kavanaugh's College Years" — "As Senate Republicans press for a swift vote to confirm Brett Kavanaugh, President Trump's nominee to the Supreme Court, Senate Democrats are investigating a new allegation of sexual misconduct against Kavanaugh. The claim dates to the 1983-84 academic school year, when Kavanaugh was a freshman at Yale University. The offices of at least four Democratic senators have received information about the allegation, and at least two have begun investigating it. Senior Republican staffers also learned of the allegation last week and, in conversations with The New Yorker, expressed concern about its potential impact on Kavanaugh's nomination. Soon after, Senate Republicans issued renewed calls to accelerate the timing of a committee vote. The Democratic Senate offices reviewing the allegations believe that they merit further investigation. 'This is another serious, credible, and disturbing allegation against Brett Kavanaugh. It should be fully investigated,' Senator Mazie Hirono, of Hawaii, said. An aide in one of the other Senate offices added, 'These allegations seem credible, and we're taking them very seriously. If established, they're clearly disqualifying.' "
Vox: "The Times's big new Rod Rosenstein story has major implications for Mueller's probe" — "Did Deputy Attorney General Rod Rosenstein seriously suggest to top Justice Department officials last year that someone should secretly tape President Donald Trump?
Or did he make an obviously sarcastic comment that he never intended anyone take seriously?
A new report from the New York Times's Adam Goldman and Michael Schmidt says it was the former — and adds that Rosenstein also talked about invoking the 25th Amendment to remove Trump from office. (Neither ended up happening.) The reporters' sources are anonymous people 'briefed either on the events themselves or on memos' written by former deputy FBI director Andrew McCabe and others.
But a separate report from the Washington Post's Devlin Barrett and Matt Zapotosky quotes an anonymous source who was in the room and disputes the account given to the Times. Per this source, Rosenstein was rebutting a suggestion by McCabe that the Justice Department open an investigation into Trump, and said something along the lines of, 'What do you want to do, Andy, wire the president?' "
Boston Herald: "Analysis: Brett Kavanaugh accused of misconduct by another former classmate" — "A new accusation of sexual misconduct against Judge Brett Kavanaugh emerged last night, just hours after a Senate hearing was set for Thursday for the Supreme Court nominee and Christine Blasey Ford to vet her misconduct claim.
"Deborah Ramirez, a classmate of Kavanaugh's at Yale University, told The New Yorker magazine that he 'exposed himself at a drunken dormitory party, thrust his penis in her face, and caused her to touch it without her consent as she pushed him away.'
"The incident happened when they both were freshmen at Yale, according to Ramirez. According to the report, Ramirez was initially hesitant to speak publicly about the incident because of what she described as 'gaps' in her memory. But after taking some time to consider her recollections and consulting an attorney, she came forward."
Time: "Brett Kavanaugh's Supreme Court Confirmation Is Now the Ultimate Test of Political Power in 2018" — "From the beginning, the women were determined to be disruptive. There sat Brett Kavanaugh, looking every bit the world's most decent man, with his even demeanor and sparkling résumé, ready to go through the motions and receive the benediction of the Senators before him.
"Since the day of his nomination to the U.S. Supreme Court, Kavanaugh had portrayed himself as a champion of women. Introducing himself to the nation, he emphasized the women he cherished, saying his mother, a judge, was his ultimate role model, talking about his daughters and the 'majority' of female law clerks he'd hired. Members of the girls' basketball teams he's coached sat in the front rows behind him at his Senate confirmation hearing. Earlier, he had recited the names of his daughter's teammates: 'Anna, Quinn, Kelsey, Ceane, Chloe, Alex, Ava, Sophia and Margaret,' he said. 'I love helping the girls grow into confident players.' "
USA Today: "Analysis: Brett Kavanaugh's confirmation sets up a high-stakes trade-off for the GOP" — "Senate Republicans already faced a high-stakes trade-off with the debate over confirming Brett Kavanaugh to the Supreme Court, and the potential political costs got higher Sunday night with allegations by a second woman of sexual misconduct when he was a teenager.
"Putting the 53-year-old Kavanaugh on the high court would solidify a reliable conservative majority on the high court, perhaps for a generation, but Republicans also risk galvanizing the anger and opposition of women voters for years to follow.
"Not to mention in six weeks, when the midterm elections are held."
Senator Diane Feinstein is calling for a delay in the Kavanaugh hearings. Professor Christine Blasey Ford had agreed to testify on Thursday about her sexual assault allegations. And then, yesterday, a New Yorker story puts forth a second allegation of sexual misconduct. Meanwhile, President Donald Trump is at the UN and is expected to talk about what he calls the UN's failure to live up to its own potential. Plus, the fallout from the New York Times expose of Deputy Attorney General Rod Rosenstein.

This hour, On Point: Another intense week ahead, top journalists tell us what they're watching and what to expect.

— Meghna Chakrabarti.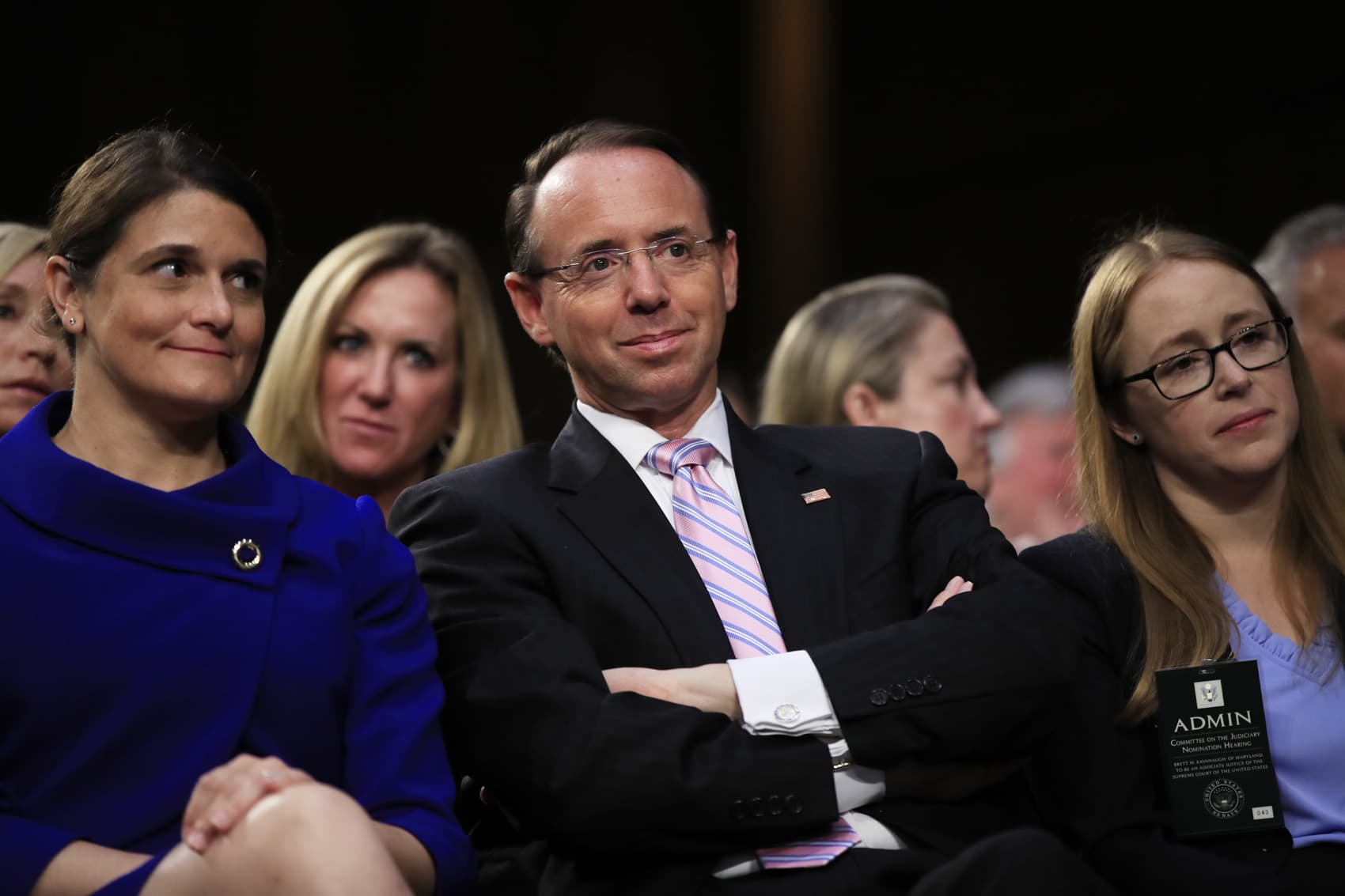 Copyright NPR 2018.