NFL Settlement Remains Unsettled
04:11
Play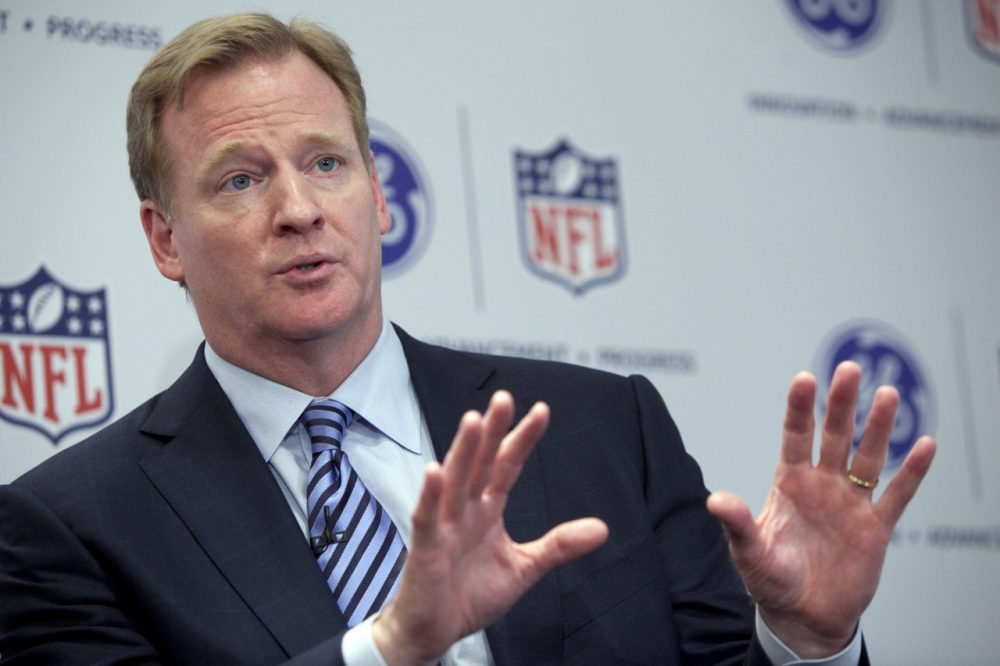 This article is more than 8 years old.
$765 million is a lot of money. When is it not enough? When a federal judge says it might not be. This week federal judge Anita Brody refused to grant preliminary approval of the proposed settlement of the lawsuit brought against the NFL by over 4,500 former players over concussions claims.
ESPN investigative reporter Mark Fainaru-Wada is the co-author of League of Denial. He joined Bill Littlefield to discuss the rejected proposal.
BL: Mark, what was the basis for Judge Brody's rejection of the preliminary approval of the agreement between the NFL and the former players and their families?
[sidebar title="More Settlement Coverage" width="300" align="right"]In August, SI.com legal expert Michael McCann analyzed the proposed settlement.[/sidebar]MFW: She noted a few different things, Bill, but the primary issue she had was some real concern there was not enough money. The suit initially was for 4,500 former players and their families who were suing the league, but the settlement calls for all retired players, which opens up the class to about 20,000 people.
And the judge's concern is when you start to do the math and look at the amounts of money potentially for players who are having neurocognitive disorders or issues, she's just wondering whether there's enough money. And, frankly, that's been a question that some of the lawyers and players have been asking from the very moment the settlement was announced in August.
BL: Right now what is Judge Brody asking for from both sides in the suit?
MFW: Well, she's asking for details basically. She sent a message saying, 'You've told me that there's enough money here, but you haven't sent me details to prove that. I want the data that shows why you say there's enough money.' The league council has said that actuaries and economists have looked at the data, and this is what led to the recommendation for the settlement offer. But the judge says, ' You didn't give me that material, and I need it to be able to understand whether this is really going to be enough money or not.'
BL: Why has it been so hard for anybody to get a look at the data you're referring to?
MFW: Well, I think that's been a real question amongst some of the lawyers and players. We had a story the other day with two of the top lawyers involved in the case, including one who was part of the discussions for the settlement, basically shredding the lead council and talking about this problem of secrecy that had surrounded the details.
There have been real questions from the players and lawyers about why they can't get specifics. We still are not seeing where they're coming up with this number. Presumably, once they file these papers, they will be filed publicly — one would hope — but that data actually could be fairly explosive in raising questions about the prevalence of players who have this issue.
BL: Very shortly after Judge Brody's ruling, attorney Thomas Girardi said that he would recommend to a substantial number of the 1,200 former players that he represents to reject the settlement and continue to sue the league. What's the likelihood that the NFL is going to end up paying more than $765 million in compensation?
MFW: Well, the short answer is that I just don't know. I think it's a really real question. People have speculated that that's the next step here. That there isn't really enough money. That the two parties will have to come back together, and the league will have to come up with more if it wants to avert future litigation.
But Tom Girardi's statement to us was rooted in his concern that he has a lot of players who, when push comes to shove, are not going to end up getting compensated for the problems that they have, and he's going to suggest they opt out, and I think one of the questions that arises is that if you have a lot of players opting out and choosing to pursue their litigation without the settlement, what's the point in which the NFL decides, "It's not worth it to us. We need to figure out a better way to make sure most players are involved in the settlement, so that we don't have to deal with further litigation."
BL: Do you have a sense yet of the impact of Judge Brody's decision on football in general and the NFL in particular?
MFW: I don't. You know, people were very surprised by her order. People thought she was going to rubber stamp essentially the preliminary approval and move forward with seeing if this case would go through and enough players would accept it. The league is trying to figure out, I assume, how do we get through this thing. They clearly settled on the eve of the season hoping and wanting that this would go away. My brother [ESPN's Steve Fainaru] and I have been saying for some time now that we view this, in some ways, as the beginning of the legal issue than the end of it.
This segment aired on January 18, 2014.