'Ping Pong Diplomacy': The Intersection Of Sport And Society In China
09:24
Play
This article is more than 6 years old.
At the end of a chapter titled "Down To The Country" in his new book Ping Pong Diplomacy, Nicholas Griffin characterizes the achievement of two national table tennis teams in 1971 as "the single greatest foreign policy feat of the century."
---
Highlights from Bill's conversation with Nicholas Griffin

BL: Mr. Griffin I know I'm jumping into the middle of the story, but remind us of the impact of ping pong diplomacy almost 45 years ago.
BL: To most people the term ping pong diplomacy calls up images of the U.S. team visiting China and the Chinese team visiting the U.S. while Richard Nixon and Henry Kissinger looked on approvingly. Tell us a little about various episodes of ping pong diplomacy occurring well before 1972.
NG: Well I suppose it all starts with [founder and president of the International Table Tennis Federation Ivor] Montagu within weeks of Mao winning the Chinese civil war and taking power. Montagu's already writing letters saying, "why don't you pick ping pong as your national sport?" He then got on a plane and went out there very early on and they listened to him. I presume it's because they felt very comfortable knowing that they had a communist spy in charge of an international sporting body.
But there was also this need for the Chinese to win at something and win at something quickly as a way to show that new China was getting onto its feet. And one of the great favors he did them was in 1961 during the Great Leap Forward, he offered Beijing the chance to host the World Championships and this was of course a tremendously important year because the Great Leap Forward had turned out not to be great and not much of a leap forward.
And by this time there were millions dead. And it depends on who you ask, but it's somewhere between 17 and 35 million had starved to death in those previous three years. While the rest of the nation wasn't doing so well, the athletes had been treated comparatively like kings and queens and fed extremely well even when the food ran out they sent their shooting team into the desert to go and shoot goats and bring back meat for the team.
BL: Two of the most significant figures in the story of Ping Pong Diplomacy are Zhuang Zedong, one of China's strongest players, and Glenn Cowan, of the U.S. Team. Tell us a little about their relationship.
NG: It's a fascinating one because it's not built on much. The famous story goes — and you're supposed to believe this — that they meet when Glenn Cowan is leaving a practice arena at the World Championship's in Nagoya and there's a bus there and he just happens to get on this bus and the doors close. He pulls away and suddenly he realizes he's on the Chinese national team bus.
It's a lovely story, but I don't believe it's true. The Chinese were waiting for him. He had been looked at very steadily earlier in the week. They thought they found someone who was overtly friendly and Zhuang Zedong being the best player in China was supposed to deliver that message. So there's no real friendship. There's not enough time for a friendship in a way between them.
---
Bill's Thoughts on Ping Pong Diplomacy
[sidebar title="An Excerpt From 'Ping Pong Diplomacy'" align="right"]Read an excerpt from Ping Pong Diplomacy by Nicholas Griffin.[/sidebar]The term "ping pong diplomacy" usually refers to events in 1971. U.S. citizens played ping pong in China. Chinese players visited the U.S. Richard Nixon and Henry Kissinger beamed at the beginning of what has been called "the greatest geopolitical realignment" of their generation.
But Nicholas Griffin's book is about a great deal more than what happened in 1971. He traces the development of ping pong as an important element in China's reinvention of itself and focuses on a fellow named Ivor Montagu, an Englishman as crazy about Communism as he was about ping pong. Montagu's wealthy background and his energetic promotion of the game he loved apparently blinded his countrymen to Montagu's activities as a spy working for the Russians.
Ping Pong Diplomacy is an entertaining depiction of the unlikely, international significance of a game that fell out of the spotlight almost as quickly as it had stepped into it, but it's also an important account of a fascinating – albeit sometimes hideously gruesome – era in China, wherein ping pong was supposed to distract people there and elsewhere from the horror of mass starvation.
This segment aired on January 25, 2014.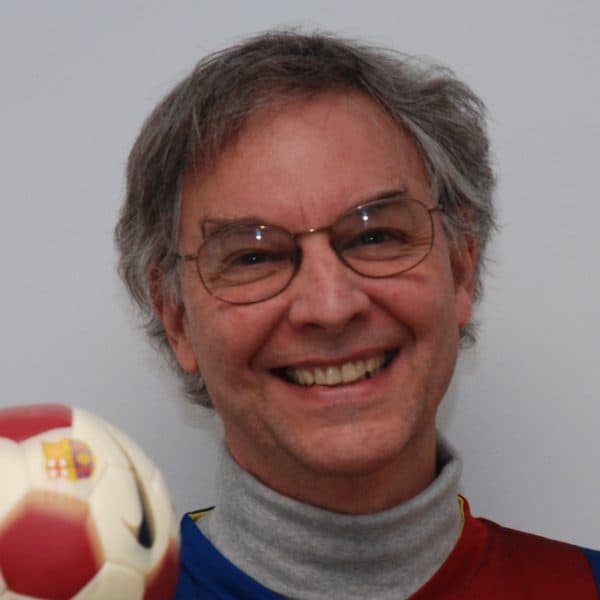 Bill Littlefield Host, Only A Game
Bill Littlefield was the host of Only A Game from 1993 until 2018.