Mid-Season NBA Update With SI's Chris Ballard
06:15
Play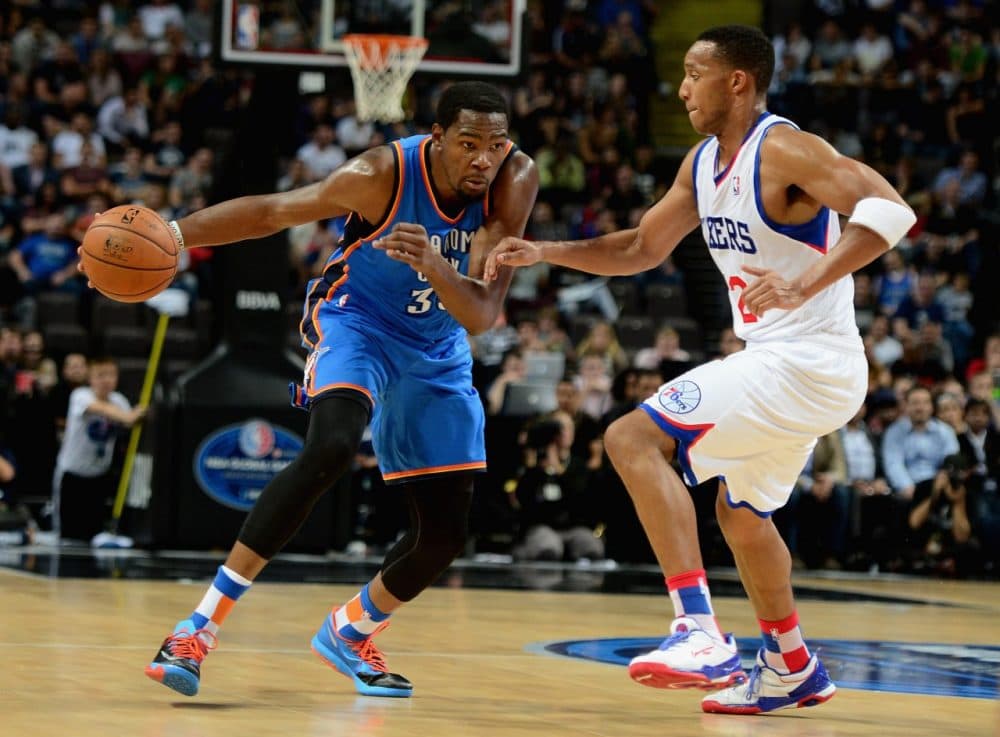 This article is more than 6 years old.
NBA All-Star Weekend is underway in New Orleans. To catch us up on the first half of the season and to preview what's ahead, Bill Littlefield spoke with Sports Illustrated Senior Writer Chris Ballard.
BL: Chris, in your opinion, what's been the NBA's biggest storyline through the first half of the season?
CB: Either Kevin Durant playing at this surreal level, which has been remarkable to watch, or it's been the implosion of both New York teams, which has also been fun to watch.
BL: As long as you're not in New York.
CB: Exactly.
BL: The Miami Heat have won the last two NBA championships—and they have LeBron James—but the Indiana Pacers lead the Eastern Conference standings. What are the chances the Pacers stay on top?
CB: I think it's good. I think this is going to be so much fun to watch. You're going to have these preliminary rounds in the Eastern Conference and then we're going to see Pacers-Heat, and it's going to go seven games, and it might come down to who has home-court advantage, which I know Indiana is spending a lot of time worrying about.
We all know LeBron will probably up his level in the playoffs but the combination of defense and Paul George playing at an MVP level—I think Indiana's got a real shot.
BL: Shifting to the Western Conference, each year we wonder when the San Antonio Spurs will finally give up chasing the NBA Championship and compete at something more age appropriate. Bingo perhaps. Have we finally reached the year when the Spurs can't keep up with the rest of the Western Conference?
CB: Yeah, I can just see Tim Duncan doing shuffleboard, right? They've been ravaged by injuries and what's always remarkable is how well whoever [Spurs coach Gregg] Popovich sticks in there continues to play. You know, they've got guys who most NBA fans have never heard of who are scoring 20 points a game on any given night. I think unfortunately for NBA fans who are bored by the Spurs, this is not the year that they're going away.
BL: At the All-Star Break, 11 of the Eastern Conference's 15 teams have losing records. How bad is the East?
CB: Well it's so bad that you had a team like Toronto which was intentionally trying to tank this season is now in the third spot and has to decide, well I guess we're the third best team in the East, we can't trade Kyle Lowry.
BL: You said so matter of factly that Toronto was trying to tank the season. I'm sure the new commissioner [Adam Silver] is not happy to hear that.
CB: I think if he were speaking off the record Adam would be very much aware of that. They're going to have to figure something out because it's not fun to watch a team like Philadelphia just totally deconstructing a roster in hopes of getting high draft picks, but that's what they're rewarded for doing. You can't fault these teams. This is how it's set up to try and succeed in the NBA.
BL: We have to talk about one other team in the context of this matter. The Milwaukee Bucks are 9-43 so surely they're not trying to win games.
CB: Well what's fascinating is they were. You feel a little bit bad for Milwaukee because they were trying to be good this season as opposed to some teams which were admitting off the record before the season they were trying to sell off spare parts so they could get a high draft pick. Milwaukee wanted to be good, and they have just had so many injuries and such a bad mix of players there that now they're put in a position where they really have no choice but to try to tank.
BL: See my suggestion to try to deal with this potential tanking is relegation. A couple of the really bad teams in the East just go to the Development League.   
CB: That would be fascinating to watch.
BL: Both New York teams, as you mentioned, not doing so well, though the Nets had a lovely little moment there where their coach got named Coach of the Month, Jason Kidd. Who wins when this is over?
CB: I think the Nets will end up being the better team for the season. I don't think the fans win, that's for sure. You look at the Knicks, and they're probably going to make a coaching change—or at least they should make a coaching change. Talk about whether Carmelo [Anthony] goes or stays. That seems even more dysfunctional right now than Brooklyn to me.
BL: I was watching the Olympics the other night and somebody made the point that everything stops when the Olympics are going on. Has there been less of a buzz around the NBA season in general because the Olympics are going on at the same time?
CB: I feel like maybe not as much as usual. I think especially when you have players like LeBron and Durant and [Steph] Curry who fans really like. You know there have been eras when the best players aren't really that likable or aren't that fun to watch.
BL: One point of interest always among NBA fans is how well the No. 1 pick is gonna do. This year, Cavaliers' selection Anthony Bennett, not so good, perhaps. How about next year?
CB: How about next year. I think it's going to be a really interesting decision for whichever team gets the top choice. You can go Jabari Parker, who's the most NBA ready, you can go [Andrew] Wiggins, who some people believe still has the most upside, or, it's interesting, we've got our first high school to the NBA guy in Dante Exum in a while coming from Australia. You've got four or five legit guys who could go first, all of whom could be multi-year All Stars and hence all the very fevered tanking that's been going on.
BL: LeBron James characterized himself as one of the top-four players in NBA history along with Larry Bird, Michael Jordan, and Magic Johnson. Has anybody in your business or perhaps on press row said maybe he might want to look back a little further in NBA history at, say, Bill Russell or Wilt Chamberlain or Kareem Abdul-Jabbar? 
CB: Yeah that was interesting. He could be right. He could end up being right about him being that good, but that's usually something you let other people say, right? And especially if your frame of reference is just guys you've seen on NBA superstar's videos growing up. You might want to look back and see a guy who averaged 40-plus points per game or once scored 100 in a game or Bill Russell—well, LeBron's won two titles, well look how many rings Bill has.
This segment aired on February 15, 2014.