Sochi's Empty Venues: Good Seats Still Available
Play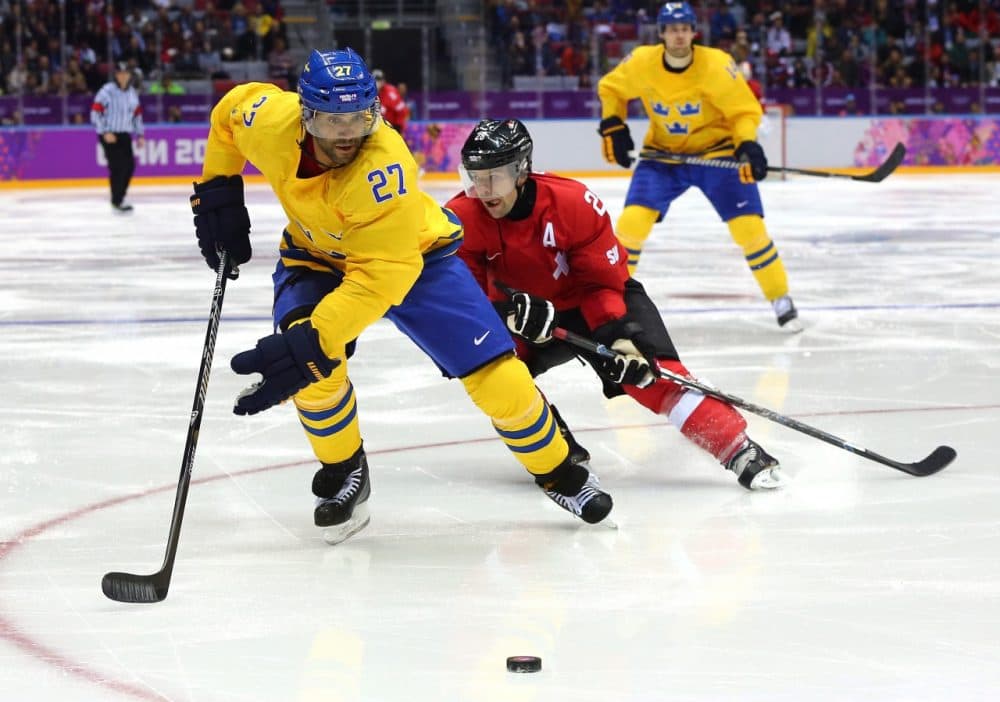 This article is more than 8 years old.
Russia has sunk more than $50 billion into the games — the most in Olympic history. The Kremlin has spared no expense creating and outfitting the state of the art mountain and coastal venues. They have the best equipment and accouterments meant to impress spectators and athletes.
Unfortunately, so far, many of the seats have been empty. In the men's individual ski jumping on Sunday, spectators disguised themselves as green bench seats. In women's hockey on Tuesday, Germany vs. Sweden, the Shayba Arena was at about 60 percent capacity.
Alexander, who didn't want to use his last name, shrugs his shoulders and says the low turnout looks bad for Russia.
"It's not not enough. We need more. There's not enough people here!"
The vice president of communications for Sochi 2014, Alexandra Kosterina, blamed the empty seats on late arrivals.
[sidebar title="'Women' Vs. 'Ladies' In The Olympics" align="right"]Only A Game's Karen Given explains why some Olympic sports are for women and others are for ladies.[/sidebar]
"We've had some problems with basically a Russian mentality," said Kosterina. "Russians like to come to the event not prior, but as close as possible. That is why indeed we had an issue of a lot of spectators being late for the games."
Anita Defrantz is an American who sits on the executive policy-making board of the International Olympic Committee. She also thinks the low turnout is due to the Russian mentality. She believes they're just more reserved.
This is not the first time an Olympics has seen low attendance, but security is tighter here than at past winter games. Some locals have complained that they not only need a ticket, they have to get what officials are calling a "spectator pass," a laminated credential that often involves waiting in long lines.
So why are full stands so important at these games?
Masha Lipman, a political analyst with the Carnegie Center, says it's because Russian president Vladimir Putin has staked his, and the country's, reputation on the games, but things have changed since the Kremlin was awarded the games.
"[In] 2007, Putin was at its peak of his popularity in Russia, and the high price of oil at that time was driving Russia's economic growth which reached a level of 7 or 8 percent," said Lipman. "It looked like Russia was on the rise. At that time Putin's idea was to hold this huge international event, not political, but a festive sport event which the whole world will be attracted to Russia. And Russia would deliver a grand spectacle, and the press about Russia would be about festivity and athletic achievement, and Russia would be able to deliver, Putin thought."
Part of Putin's plan involved transforming Sochi and the surrounding area into a world-class ski resort and holiday destination rivaling the Alps.  He promised the games would create millions in tourism revenue along with more than 140,000 jobs.
Unfortunately for Alexander, if the low turnout is any indication of success, he'd rather have the old Sochi.
"It's going to be too expensive here now," said Alexander. "All that money they spent on the games! They should have just spent it on Russia, people need money to eat."
Meanwhile, officials with Sochi 2014 say many of the upcoming events, including men's hockey and speed skating, are completely sold out, and spectators have learned to budget enough time to arrive on time for the games.
This segment aired on February 15, 2014.