From Sochi: Olympic Update With John Powers
Play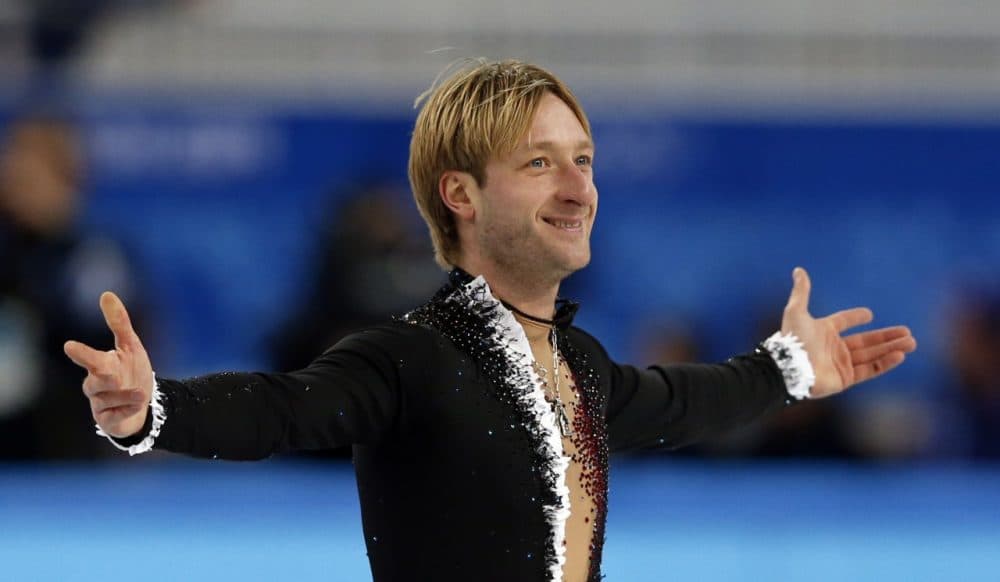 This article is more than 8 years old.
One of the biggest stories from the Winter Olympics involves a celebrated skater who retired before what was supposed to have been his big event, but not before helping his country win a gold medal. John Powers of the Boston Globe was in Sochi to witness that curious occurrence. He shared his thoughts with Bill.
BL: Before we get to Evgeni Plushenko's withdrawal, we should talk about the men's figure skating results. Yuzuru Hanyu of Japan took the gold, Patrick Chan of Canada the silver and Denis Ten of skating powerhouse Kazakhstan won the bronze. Were these three expected to medal?
JP: Actually yes. The big question was whether Chan, who's a three-time defending World Champion, would end what we call the Canadian Curse. No Canadian man has ever won the gold medal. We look to Kurt Browning, Elvis Stojko didn't do it. Chan looked to have a good chance but had a very flawed skate. The irony was Hanyu won despite falling down twice.
[sidebar title="Only A Game Covers The 2014 Winter Olympics" width="320" align="right"]Check out all of Only A Game's in-depth coverage of the Olympics in Sochi.[/sidebar]
BL: U.S. skaters Jason Brown and Jeremy Abbott came in 9th and 12th, respectively. Is either of these showings a disappointment?     
JP: I think so. I think the Americans were not expecting a medal here, but Abbott had a bad fall in the short program, came back and skated OK, but couldn't make up ground. Jason Brown might have had a shot. He doesn't have a really difficult program, but certainly the door was open for third place. But he had a fall. I think it was the worst combined performance for the Americans since 1936.
BL: Evgeni Plushenko, 31, came out of retirement and helped the Russians win the team figure skating gold. What made him decide after that his work in Sochi was finished?
JP: I think his back had been bothering him. We saw it a little bit in the long program in the team event when he doubled a couple of jumps rather than risk hurting. He had several falls in practice during the week and did his warmup, and it just wasn't working. He couldn't get around — a lot of pain, so he basically said no mas in Russian.
BL: Plushenko of course had magnificent success in previous Olympics. Do you have a sense of what his legacy is or is it too early?
JP: I think he'll certainly go down as the best men's figure skater of all time looking at the era in which he operated. It's so hard to stay on top in the era of, basically, sky walkers. He was the first Russian sky walker really. He pushed Alexei Yagudin to the gold medal. In '02, he won one. In '06, he takes three years off, he gets a silver medal in Vancouver. And then he came back here basically having not done anything in two years and helped his team win a gold medal. So I'd say for someone who was on top and helped push the sport forward, Evgeni stands alone.
[sidebar title="Women or Ladies?" align="right"] OAG's Karen Given looked into the distinction between the two monikers[/sidebar]BL: Women's figure skating begins on Wednesday. It seem as if Yulia Lipnitskaya, who is half Mr. Plushenko's age, is poised to assume the role of darling of these Olympics. Is that the way it's likely to work out?
JP: Absolutely, she is in the forefront of the new Russian crop of teen queens. They of course have never won the ladies at all, so that would be a novelty for them. But she's got a pretty tough duo to beat here. The defending champion from South Korea who is Queen Yuna Kim, is here, as well as Mao Asada from Japan. If Asada wins, then Japan will have swept the men's and women's. First country to do that since the Americans did it with Carol Heiss and David Jenkins in 1960.
BL: John, Russia has not exactly blown away the field in terms of the medal count. I wonder, does that make the figure skating competition that remains especially important to the hosts?
JP: I think it does, although they did win the pairs which is very important to them. What they really need here is the men's gold medal in ice hockey. That would make up with a lot of shortfalls elsewhere. But if they could win the women's gold medal in figure skating, which would be a novelty to them, that could makeup for a lot. They were pretty much picked for fifth overall. They don't have a really deep team in the X Game sports. They haven't done very well outside of skating so far, but I think if they could get [the ladies gold medal in figure skating] and the men's ice hockey medal that might be enough for them.
BL: You're, of course, a veteran of these extravaganzas, John. Has anything surprised you? And don't feel you have to limit yourself to events involving ice skaters.
JP: One thing that has been remarkable here is how extraordinarily comfortable and state of the art the venues are. Of course with $50 billion you should have it, but I have not been in a venue yet that is not the best one that I have ever been in. And of course it's all walking distance. You can literally see four or five events a day — at least ice events — and then take a dip in the Black Sea if you want to.
This segment aired on February 15, 2014.