UConn Women Lose One Vote, Still No. 1
04:13
Play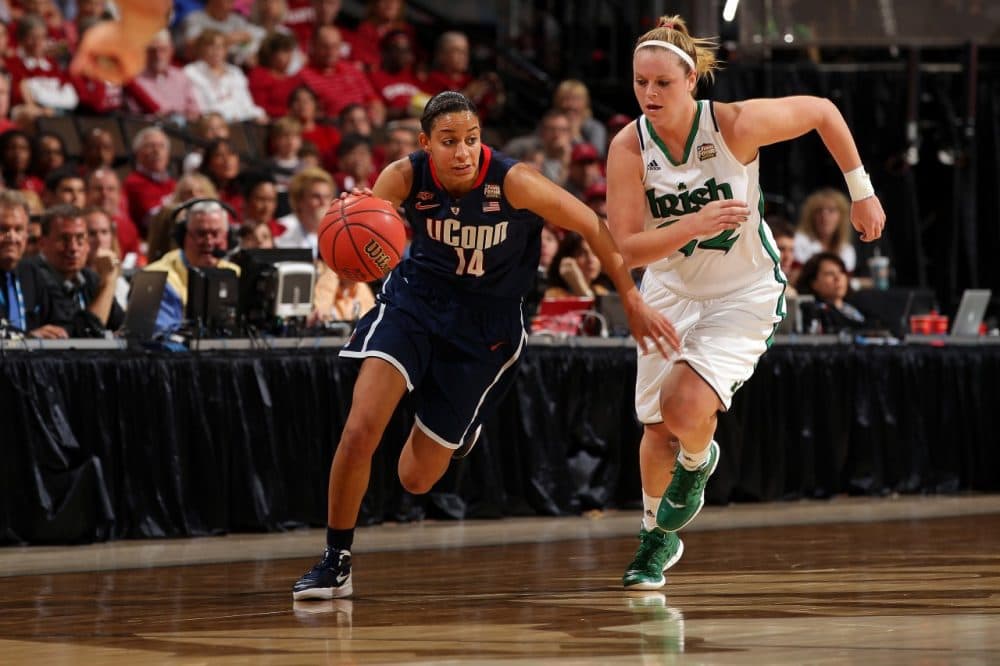 This article is more than 7 years old.
This week, the women's basketball program at the University of Connecticut suffered a devastating setback. For the first time since the preseason, they failed to garner every first place vote in the USA Today coaches poll. John Altavilla of the Hartford Courant joins Bill to discuss what this means for the reeling Huskies.
---
BL: John, what happened?
JA: It's about time somebody slapped some sense into that program. Every program needs a loss before the start of the tournament. [It] just creates more humility.
BL: That's the closest thing UConn is gonna have to a loss.
JA: It is. And it's always a lot of fun when you play in the tournament when you're mad. It's just a very subjective thing. Polls can either mean a lot to you or nothing to you — UConn they mean nothing.
BL: UConn was 28-0 going into the weekend. Notre Dame, the team that got the rogue number one vote, is now 27-0. Was this completely unjustified? 
JA: Oh no! In fact there has been a fairly active conversation going on about whether Notre Dame belongs as the number one seed in the overall tournament come March Madness. Because their strength of schedule and the conference in which they play, the Atlantic Coast Conference, is so far superior to what Connecticut has played that you could make a very strong argument in their behalf that they should go into the tournament as the number one overall seed. They are a very good team. They are an experienced team. They have All-American's on there team. You know, if the NCAA selection committee on March 17 so deems them the number one overall seed in the country, I don't think Connecticut can argue with that.
BL: UConn Head Coach Geno Auriemma coached in his 1,000th game last weekend in Houston. He has a gaudy winning percentage of over .860 in 29 seasons. As you wrote earlier this week, Auriemma warned people not to start planning the celebration for his 2,000 game. Why?
JA: Well he'd be 89 years old. He's not much for statistics and I've never seen anybody yawn off such an amazing personal accomplishment and milestone with such apparent disregard as Auriemma did last weekend when we were writing and congratulating him about this 1,000th game milestone, he just seems so totally disinterested in it. I think those of us who look at his career and see where he's headed probably think that it is coming to its end, probably within the next four to six years. Who knows? If everything goes according to his plan and he wins a couple more national championships, wins his 1,000th game which might be coming in four years time. What else is there left to accomplish? He's got restaurants. He's got wine bottles and Sunday spaghetti sauce bottles with his name on it. What is there more for a man to aspire to at that point in his life? He'll be 62 . He has a caché of cigars he needs to smoke, and he can go ride off into the sunset like Gary Cooper, I imagine.
This segment aired on March 1, 2014.