Baseball With A Side Of Bacon
04:53
Play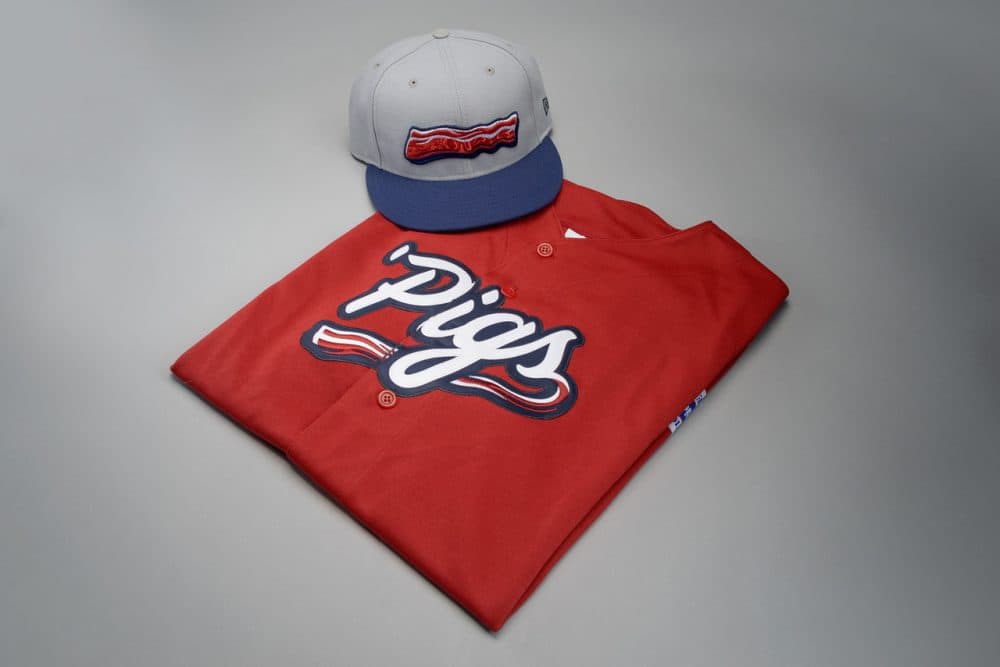 This article is more than 7 years old.
Bacon is trendy. Fans of the sizzling salty treat can drink bacon vodka, brush their teeth with bacon toothpaste, and even wear a bacon tie. So it's no surprise that when the Lehigh Valley IronPigs, a minor league baseball team in Pennsylvania announced their new bacon-themed uniforms, bacon lovers started salivating. Matt Provence of the IronPigs joined Bill to discuss their new uniforms.
---
BL: Matt, the IronPigs will wear their bacon uniforms on Saturdays. Is Saturday a particularly good day of the week for bacon?
MP: Any day of the week, Bill, is a good day for bacon! Saturday at the ballpark is kind of our fun day and we've always had a bolder, more aggressive, and more fun uniform so this perfectly fits what we want to do. And luckily the fans have been marvelous. They've really eaten it up so to speak.
BL: I was wondering how long this interview would go on before we'd begin to get into the puns like that.
MP: It's hog heaven over here Bill let me tell you about it!
[sidebar title="More Wacky Unifroms" align="right"] Learn about an ice hockey team that frequently wears commemorative uniforms [/sidebar]BL: The Saturday home uniform include a cap with a sizzling strip of bacon, a brick red shirt with the team name underlined by another strip of bacon and the "first of its kind" bacon-style piping down both legs of the baseball pants. Was it difficult to find a uniform manufacturer who could take on this challenge?
MP: For them to do custom piping like that was maybe the most difficult part of the whole trial. But it worked out and the online sales of the bacon cap [are] just tremendous. Every state except Hawaii in the union we have received orders from and from as far away as California we've been in the hundreds. So the popularity of the hat is sizzling so to speak and now we're just getting a full appreciation of how much the country loves bacon.
BL: Fans can show their support of the team by wearing a scratch-and-sniff t-shirt that promises to "literally make your mouth water." Have you tested these t-shirts? Do they in fact make your mouth water?
MP: Yeah and they smell like bacon. And you know I guess the whole thought process, if you couple that with the warm up pants that have the bacon trim down the side, you become a lot more inciting to your loved one — you'll look and smell even more inciting to them.
BL: This is assuming that your loved one is not a vegetarian of course!
MP: Fair point.
BL: The IronPigs have never had trouble selling merchandise — they're called the IronPigs for goodness sake. So why the change?
MP: Well we've kept our primary logo and of course our name is still the same. I think it's all about enhancing what you do well and we are a minor league team that understands that the value of what we provide is entertainment. First and foremost, before the baseball, before the extra innings and the game winning home runs, it's all about entertainment. This is why I think our fans have really embraced our concepts. We do things that are out of the box. We do things fun. This time last year, we were talking to news agencies all over the world when we unveiled our urinal gaming systems -- compliments to our management team, they've been able to pull out thing after thing that meets with open arms with our fan base.
BL: Well Matt, I'm sure you'll understand why you can't drop 'urinal-based entertainment system' into the conversation and then speed off in another direction. You better tell us what that's all about.
MP: It's not yet mainstream. See, last year we came up with this concept and we became the first operation in America to use urinal gaming systems. Out male fans really got a kick out of it because it allows them to come in and as they approach the urinal a video game lights up and they play whatever game is on tap. Most of the time we have a downhill skiing game where you slalom into penguins to try to accrue points, but it's been a real great amount of fun for our fans. But at the same time it's been terrific for promoting prostate awareness.
BL: Does anyone come to see baseball?
MP: I do! Does that count? That's funny. We used to say minor league baseball fans were 10 percent for the baseball, 90 percent for the entertainment. And I never really fully appreciated that until I shook hands with people as they left the ballpark and realized that if you asked them who won, maybe half know. If you ask them what the final score was, 10 percent knew. And then you realize if you ask them if they had a good time they say, 'yes.' It really didn't matter what the outcome of the baseball game was so long as they felt like they had a good source of entertainment at a good price point. And really that's what minor league baseball has come to.
This segment aired on March 1, 2014.